This is a Hestan NanoBond Wok Review, with both PROs and CONs, after daily use for 30 days. – Jaden
Hestan NanoBond Wok Review
The piece of cookware in my kitchen that gets the most use and abuse is the wok. I use the wok for much more than just stir frying – the extra large surface area for cooking means I can cook twice the amount of food in even the largest of sauté pans, the high, curved vessel means I get perfect sear without oil splattering all over my stove, and the domed lid allows me to steam a whole fish, 2 pounds of vegetables or a batch of dumplings.
Hestan is a California-based company specializing in restaurant cooking equipment and high-end cookware (for both home and restaurant use). They work with esteemed chefs, such as Thomas Keller, to design equipment that offers the durability and precision that The French Laundry kitchen deserves.
Hestan's newest innovation is a line of cookware using patented method of bonding thousands of layers of titanium alloys to stainless steel. This results in a surface that is 4x stronger than stainless steel, extremely resistant to scratches and very lightweight.
We have previously tested and reviewed the Hestan NanoBond skillet back in December 2017, it still looks brand new.
The Hestan NanoBond Wok is a 14″ stainless steel wok, made in Italy. The retail price is $520.
"Triple-bonded stainless steel construction with aluminum core delivers 35% greater heat conductivity than other aluminum-clad cookware." – Hestan.
Even though a lid is essential to wok cooking, it is rare to find a lid that comes with a wok! We love that a wok lid, made of stainless steel comes included.
Flush rivets on Hestan NanoBond Wok
One of my favorite features: the rivets are FLUSH. That means easy cleanup (bits of food and grease tend to collect around bumpy rivets, one of my pet peeves in cookware).
Here's what I mean about rivets that stick out:
Cleaning the Hestan NanoBond Wok
The Hestan Cookware is so shiny and smooth. The titanium coating means you can use scouring pads and steel wool without worry on the finish.
But actually, there's no need for steel wool. Here's the BOTTOM wok after a few uses. The discoloration is from cooking oil, heat, washing without drying the wok and from just scraping on the black iron stovetop grates. The wok comes with stainless steel cleaner.
A little squirt and a soft cloth.
Back to mirror-like finish.
My 9-month old Hestan skillet (we previously reviewed back in December 2017) wasn't washed very well. Here is some old grease residue.
No stainless steel cleaner, just a damp, soft cloth.
Back to new.
Large flat base, big wok
I don't use a wok ring on my stovetop, and the Hestan NanoBond Wok's large flat base works perfectly without a ring – it sits sturdy on the stove, and allows more of the flame to touch the cooking surface. That means a hotter wok, faster searing and perfect stir-fries.
The extra-large 14″ size means I can stir fry like crazy, flipping, tossing, stirring….and the ingredients will not fall out of the wok.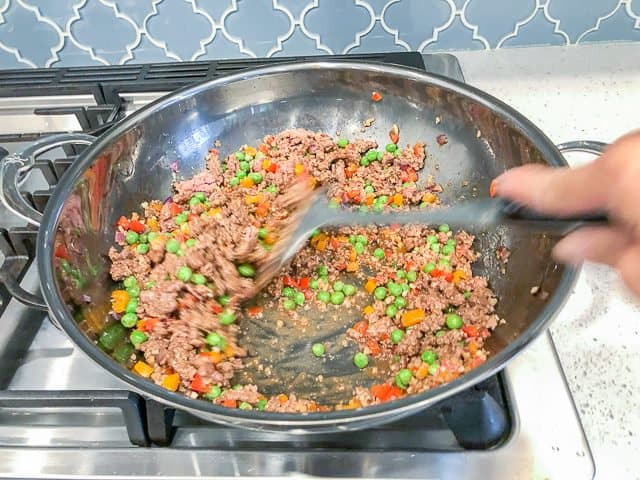 Practically non-stick
The Hestan NanoBond Wok is technically not "non-stick" but it sure behaves like one. The titanium stainless steel is so strong and non-porous that very little sticks to the surface. The cookware is chemical-free, non toxic.
After a hard-core stir fry session with metal utensils, let's fry an egg with just a spritz of cooking oil.
It doesn't stick.
I can even tilt and jerk the wok to flip the egg without a spatula…and it still doesn't stick. Look, there's no oil in the wok!
The Hestan NanoBond Wok is expensive
You can purchase the wok directly from Hestan or from Williams Sonoma for $520. It's the most expensive wok I've seen. However, I've also tested and owned over 22 different woks in the past 12 years of Steamy Kitchen, and this is a definite "worth it" splurge for the avid cook who can afford it. Of the 22 woks we've tested, all but 2 have gone to donation after testing or have deteriorated. This is a keeper.
Comes with a lid
Oven and broiler safe up to 1,050F
Dishwasher safe (but I would never use the dishwasher, personally)
Why I would buy a wok over any other pan: You can use a wok for stir frying, steaming, boiling, baking, braising, searing, deep frying….well, anything.
Hestan NanoBond Wok Giveaway
We're giving away one Hestan NanoBond Wok, our test unit that we've used in this post. Giveaway only for USA entries.