Roast the most flavorful spiced pumpkin seeds ever with these three "flavor blast" store-bought global spice blends from Ethiopia, Japan, and the Middle East. This makes the perfect crunchy topping for your Buddha Bowls!
Want 3 fresh new ways to make roasted pumpkin seeds more exciting than ever?
I'd like to introduce a trio of exciting, tantalizing spice blends from across the world and how to use them to make flavor-packed roasted pumpkin seeds (and all kinds of dishes beyond)!
Because… let's face it—you can only survive on plain old sea salt-flavored snacks for so long.
I chose these spice blends because each of them nails those complex flavors and textures I like to call "massive flavor blasts."
Pumpkin seeds are an easy way to get started on using each of these spice blends. Soon enough, you'll be incorporating them into your weekly cooking rotation!
We're going to start with:
Za'atar – sprinkle on hummus
Za'atar (zuh-TAR) is a blend of oregano, thyme, sumac and sesame seeds. Though it refers to a variety of herby plants common in the Middle East, here we mean the spice mix—a simultaneously woodsy, floral, tangy and nutty experience, not unlike the herb.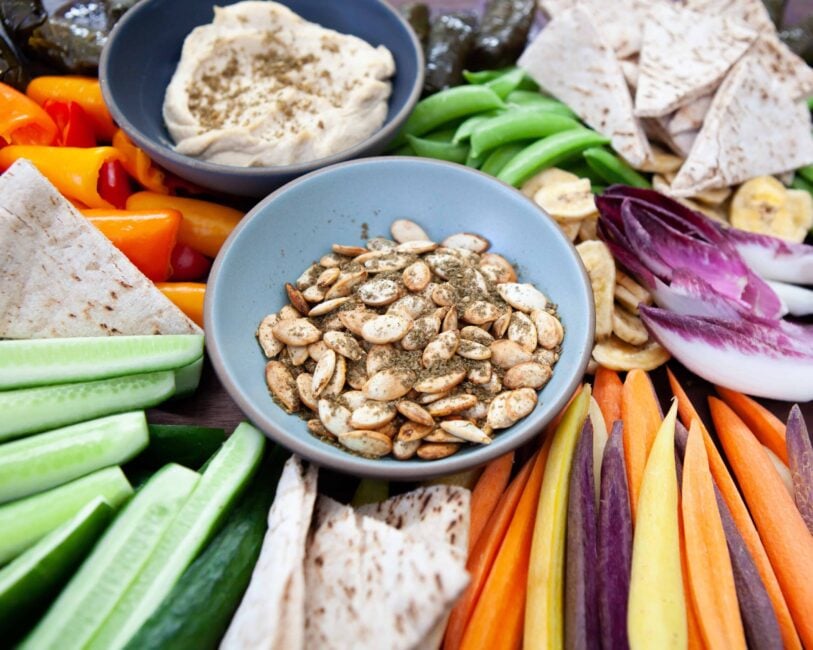 You can sprinkle this spice blend onto anything from hummus to roasted vegetables. I love toasting flatbread or pita bread in the oven with a brush of olive oil and a generous sprinkling of za'atar on top. And, of course, using it for roasting pumpkin seeds.
We added the Za'atar spiced roasted pumpkin seeds to our gorgeous hummus board, which makes a fantastic Fall and Winter appetizer or grazing board.
Find a za'atar for your budget and flavor preference:
Introducing: the next spice!
Berbere: My Go-To Spice for Colder Months
Berbere (BEAR-bur-ay) is an Ethiopian blend of warming spices like chilis, cardamom, cloves, garlic, and ginger. Though bold red in color, the taste is quite mild – not spicy, but more warm and smoky.
If you've never tried berbere, please seek it out. It will quickly become one of your favorite go-to seasonings. This is the spice I dream about!
My other favorite way to use this spice is on chicken or pork for the grill.
Once you roast this in the oven, you can really sense the warmth of the spice. These pumpkin seeds will go great on a charcuterie and cheese board.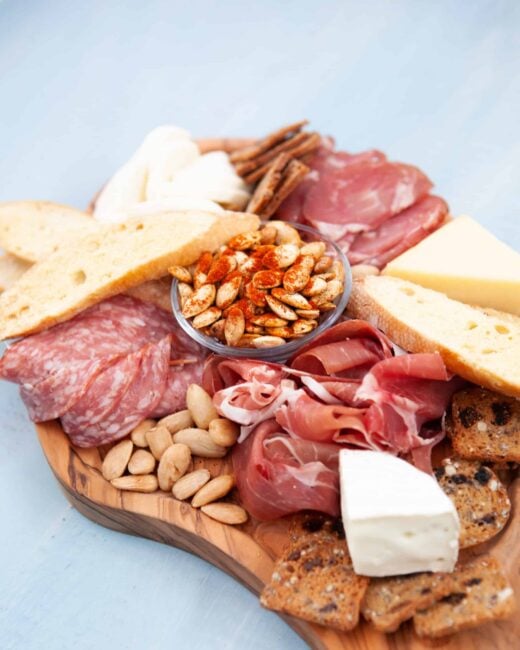 Then just pour a couple glasses of wine, throw Barry White on streaming, and you've got an entire meal right here.
And onto our last spice…
Shichimi Togarashi
Shichimi Togarashi (she-CHEE-mee toe-ga-RAH-she) is a Japanese spice blend is translated to "7-flavor chili pepper," not to be mistaken with ichimi togarashi, which comes in a similar bottle but has only one pepper ingredient.
shichi = seven in Japanese
ichi = one in Japanese
Rather, your lucky 7 shichimi variety contains an array of ingredients, like chili peppers, orange peel, ginger, sesame seeds, poppy seeds and nori. Yeah, it's truly one of a kind.
Of all the spice blends, this is the spiciest, but honestly it's not that bad. You'll get a kick right here at the tip of your tongue. You'll see this pepper, interchangeably with ichimi togarashi, as a finishing spice at the table at every ramen and udon shop in Japan.
My favorite non-traditional use? Sprinkle it on French fries and popcorn to give it just a little kick!
Our shichimi togarashi-toasted pumpkin seeds will go on as a crunchy topping for a Japanese Poke Buddha Bowl. I just used store-bought poke for a simple lunch. The pumpkin seeds add a really fun, spicy crunch.
You'll notice that these poke bowl pepitas lack a shell. Feel free to keep them on for charcuterie boards, but remove them for Buddha bowls, salads, and other non-finger-foods!
To roast the pumpkin seeds, follow the same easy method no matter how you spice 'em.
How to Roast Pumpkin Seeds – Step by Step
Start with untoasted pumpkin seeds, shelled or unshelled. Sometimes these are packaged as "pepitas"—it's just a fun name.
If starting from raw seeds straight from the pumpkin gut, here's how to prep them for this recipe:
Gently rinse pumpkin seeds to remove the clinging pumpkin fibers.
Heat pumpkin seeds in warm oven (about 200 degrees F) until dry and easy to crack open.

Alternatively, dry them in the sun or in a dehydrator.

Crack/peel the seeds (skip this if you only want snacking seeds with the shell on!)
Simply toss the dry (not yet toasted) pumpkin seeds on a baking sheet with oil to coat and some generous dashes of za'atar, berbere, or shichimi togarashi seasonings.
Bake until the seeds are crunchy, with a nice snap, and the spices have formed a nice coating on top.
Yep, you mix and bake on the same pan – it doesn't get easier than this.
Tips for Perfect Pumpkin Seeds
Check the pumpkin seeds when they're nearly done roasting to make sure they don't burn. Once they're done, move them off the baking sheet and sprinkle on more salt and seasonings as desired.
Be generous with seasonings as they will mellow out in the oven.
Roast pumpkin seeds with the shell on if you're serving them as finger food, but without the shell if you're adding them to any meal eaten with a utensil.
I eat roasted pumpkin seeds, shell and all! I don't bother with shelling them, as the shell is thin and crispy.
Beyond Pumpkin Seeds: Other Ways to Use these Spices
and make your own!
Delicious Places for Pumpkin Seeds!
Check out all our Buddha bowl toppings.
Roasted Pumpkin Seeds Recipe
Take roasted spiced pumpkin seeds to the next level with store-bought za'atar, berbere, or shichimi togarashi seasonings!
Ingredients
1

cup

dry untoasted pumpkin seeds

hulled

2

teaspoons

olive oil

plus more for baking sheet

1 to 2

teaspoons

spice blend of your choice

Sea salt to taste
Instructions
Preheat oven to 350 degrees F (175 degrees C). Line a baking sheet with parchment paper and slick it with olive oil or spray with cooking spray.

In a bowl, toss together the pumpkin seeds, olive oil, and spice blend. Don't be afraid to use a lot of spice! It will mellow out in the oven.

Spread the seeds evenly on the baking sheet and roast for 20 minutes, until golden and fragrant. Immediately remove the pumpkin seeds and parchment off the hot baking sheet (to prevent burning. Sprinkle generously with salt and let cool before storing.
Notes
Adjust extra salt based on the existing salt content in your chosen spice mix.