Jump to Recipe
I don't know about you but by the time I'm done loading my plate with stuffing, gravy, cornbread, and cranberry sauce, all I want is a nice, fresh salad. This leftover turkey Cobb salad is easy, delicious, and good for you…an all-around winner if there ever was one!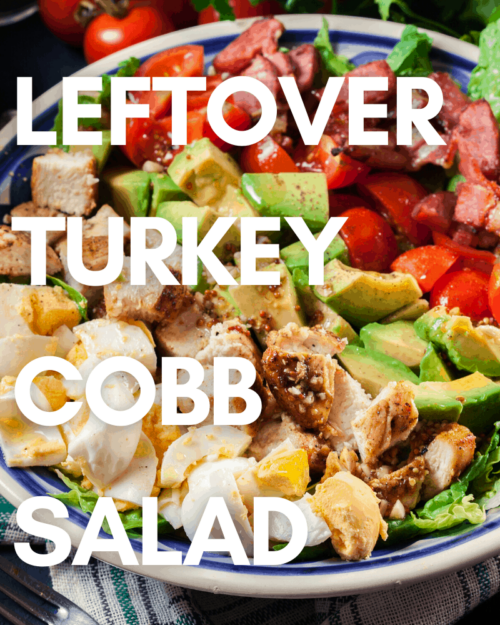 Giving New Life to Leftover Turkey Recipes
Our mission is to stop food waste at home, especially during the holidays, when families gather for that big massive feast!
When using leftover turkey for a new meal, the biggest secret is to make sure it tastes COMPLETELY different than your holiday meal. Because let's face it – holiday leftovers never taste as good as it did the first time around! Nobody wants to relive that same meal four nights in a row!
Also in this Giving New Life to Leftover Turkey series:
What's in a Cobb salad?
A Cobb salad is a quintessential American salad stuffed full of all sorts of delicious components you probably already have in your fridge! Best of all, if you don't have one of the ingredients, there are so many others that if you leave one out, you won't even notice. Whip up a Cobb salad with the below ingredients and enjoy!
Chopped salad greens
Tomato
Crisp bacon
Grilled or roasted chicken breast
Hard-boiled eggs
Avocado
Chives
Roquefort cheese
Dressing

What dressing goes with Cobb salad?
Answer? Any kind you like! Check out our four favorite homemade dressings here, and pick your favorite or just use a traditional red wine vinaigrette.
Turkey Cobb Salad
This turkey cobb salad uses up Thanksgiving leftovers AND tastes delicious and refreshing!
Ingredients
1

head

lettuce

1

tomato,

finely diced

1

avocado, sliced

2

TBSP

chives,

finely chopped

1/4

cup

bacon,

crumbled

4

hard boiled eggs

sliced

leftover turkey,

sliced

1/4

cup

Roquefort cheese,

crumbled

dressing
Instructions
In a large bowl, toss the lettuce, tomato, avocado, chives, bacon, hard boiled eggs, leftover turkey, and Roquefort cheese.