Happy Friday Steamy Kitchen! To kick off the start to the summer of 2021, we're giving away 4 different prizes and some tips that can be used for a DIY backyard camping trip.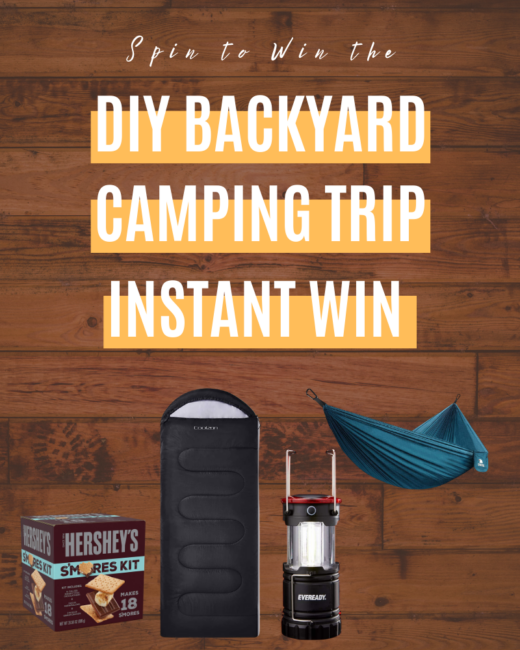 DIY Backyard Camping Trip Tips
1. Load up on pillows and blankets, the house is only a few steps away so you can make this the comfiest tent ever! Just keep in mind the temperature so no one overheats under a bunch of blankets. I don't know if you have that problem, but it gets hot here in Vegas! I just heard of this amazing invention on Amazon, it's called a cooling blanket and it's perfect for cool summer nights. Check it out here.
2. Pack the essentials, a lantern or this cool LED flashlight also great for when the power goes out in the house (trust me I've had experience). Next, sleeping bags, music, a tent or you could sleep under the stars. Surely don't forget something to throw on the grill or kabob and most importantly, the s'mores.
3. Cook over the fire or grill something, the most memorable part of camping is cooking something on a stick over the open fire. Nothing beats the smoky smell and flavor of food roasting on a fire after a long day. Check out this recipe for Asian Steak Kabobs that you can cook over either flame (you'll want to marinate overnight).
4. For fun, go on a walk through the neighborhood with binoculars and appreciate the nature and birds in your area. What I like to do is use this bird feeder and then sit back and let nature come to me. If you have kids, make up fun games like treasure hunts, digging for dinosaurs, nature rubbings with crayons and paper and also scroll through this backyard games page on Amazon for something the whole family would like!
5. DO NOT, I repeat, do NOT go inside. It is essential to the "DIY Backyard Camping Trip" that you remain in your backyard for the true camping experience. Going inside the house will make it feel like you are still at home, this activity is meant to be an escape from your home–I guess you can go inside to use the bathroom.
Now for the instant win prizes!
Covacure Camping Hammock
This hammock is made from special designed 70-Denier Nylon, tear-resistant, breathable, quick-drying and easy to clean, 2 times density than similar products on the market. The Triple-Stitching and ultra-strong nylon straps provide reliable support to reduce pressure points. Maximum weight up to 330lbs. A durable and comfortable hammock for both adults and kids.
Coolzon Lightweight Sleeping Bag
This sleeping bag is incredibly roomy for any adult or child. It's easy to get in, get out and turn around to find a comfortable sleeping position. The zipper stays closed, and the plush filling means you'll sleep like a baby. It is also waterproof, breathable and warm with the best balance between waterproof, breathable and warmth to make you more comfortable when using.
Eveready 360 LED Camping Lantern
Brighten any area with the Eveready Collapsible Camping LED Lantern. With convenient top handles, it can be carried as a lantern or collapsed it into a single beam flashlight with side holding handle for up to 91 meters of distance. It delivers 360° of area light with 280 lumens as a lantern and 60 lumens of light as a directional spotlight.
Hershey's S'mores Kit
The HERSHEY'S s'mores kit (28.55 oz., 18 ct.) Provides you everything you need to make delicious s'mores whether over an outdoor bonfire or in a microwave in the comfort of your home. This HERSHEYs s'more kit will get you ready to make this all-American treat anywhere and at any time.
DIY Backyard Camping Trip Instant Win
Spin to win below!