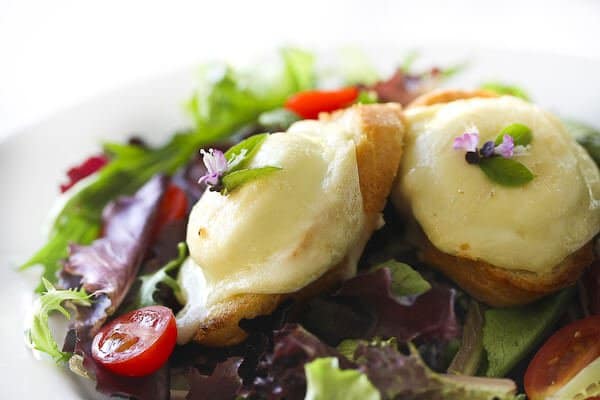 Happy New Year! I thought I'd start the new year right with a light salad (just don't eat too many of those warm goat cheese rounds on toasted baguette, ok?!) Wishing you and your family a fun-filled, healthy and prosperous New Year!
It's a brand new year and I've just now started my winter garden, which includes celery, salad greens and herbs such as sweet basil, parsley, cilantro, Thai basil, chives and thyme. Some gardeners will say I'm late, others will say I'm too early, but all I know that this little snippet of time between Christmas and New Years is the perfect schedule for my household.
My mother-in-law, an avid quilter, and my father-in-law, a skilled woodworker, are both in town. Neither of which has anything to do with MY garden, except for the fact that the mere presence of them forces my husband to work less at the computer and be on his best behavior as a model parent.
"Oh, dear husband, since you're not programming code at your desk this week, how about helping plant our family garden that provides nourishment to your children?" Of course, I have to wait for the perfect moment to bring this subject up, both in-laws have to be present and we must be at the dinner table enjoying a lovely family moment. How could he say no? He looked at me, cocked his head and smiled.
Round 1, wife.
Yes, I know how to get things done in my household, sometimes it involves a bit of sneakiness and creativity. But then my husband got right back at me the next evening at dinner when he winked at me and announced, "so now that we have a salad garden, can we think of recipes other than the same boring mixed greens?"
Round 2, husband.
This recipe is from a brand new cookbook called
In a Cheesemaker's Kitchen written by the founder of Vermont Butter and Cheese Company, Allison Hooper. The company is most known for their goat cheese, but also make cultured butter and cow's milk products like Quark, Fromage Blanc and Mascarpone. I'm in love with their Quark cheese, which is a German-style fresh cheese.
For this salad, I've used their Bijou cheese, which is goat cheese that is molded and into small, adorable rounds. The cheese is aged for one week, and the longer it is aged, the shaper and more robust the flavor becomes. I've cut each button-shaped round into three thick slices to top on a baguette slice and after a couple of minutes under the broiler, the cheese melts and oozes all over the bread. Try this recipe with any type of cheese you like, even a spoonful of crumbled gorgonzola on each bread slice.
The beautiful purple flower on the cheese is actually the little flower bud from Thai basil from my garden. Regular sweet italian basil will have light green buds and white flowers.
Salad with Warm Goat Cheese on Toasted Baguette Recipe
adapted fromIn a Cheesemaker's Kitchen by Allison Hooper
Ingredients
4

large handfuls of salad greens

1

cup

cherry or grape tomatoes, cut in half

8

slices

French baguette, 3/4" thick

8

slices

of aged goat cheese, or other cheese, about 1/3" thick

olive oil
For the basil vinaigrette:
2

tablespoons

finely minced fresh basil

1

tablespoon

Dijon mustard

3

tablespoons

champagne vinegar (or white wine vinegar)

1/3

cup

olive oil

salt and pepper
Instructions
To make the dressing, whisk together the basil, mustard, vinegar and olive oil. Season with salt and pepper.

Brush each baguette slice with olive oil. Place a goat cheese round or slice on each baguette. Place under broiler until the cheese is soft and a little runny, about 2-3 minutes.

Toss together the salad greens with the tomatoes. Drizzle some of the basil vinaigrette (you may not use all of the vinaigrette) and toss to coat. Serve the salad with 2 pieces of the warm toasted cheese baguette per person.