An easy glazed ham recipe that's perfect for Easter! Perfectly cooked ham with a tangy and fruity mango ginger glaze. Only a handful of ingredients needed!
Why This Glazed Ham Recipe Is So Good
Easy to make, only 6 ingredients needed.
Perfect for Easter or summer.
A delicious, fruity glaze.
Uses the ham with natural juices
Ingredients
Ham (preferably "ham with natural juices")
Mango nectar or juice
Mango jam
Light brown sugar
Grated fresh ginger
Ground cloves
How to Cook Glazed Ham with Mango Ginger Glaze – Step by Step
First step is to score the skin with a knife in a diamond pattern. Go one direction diagonally, then the other way so that you get "diamonds." The scoring is totally not necessary, but it looks really pretty and also will help the glaze really stick onto the ham in a later step.
Place your ham in a oven-safe vessel not too much larger than the ham itself. Either a roasting pan, or large saute pan will do. Here's my beloved cast iron. See how there's only a couple inches of space around the ham?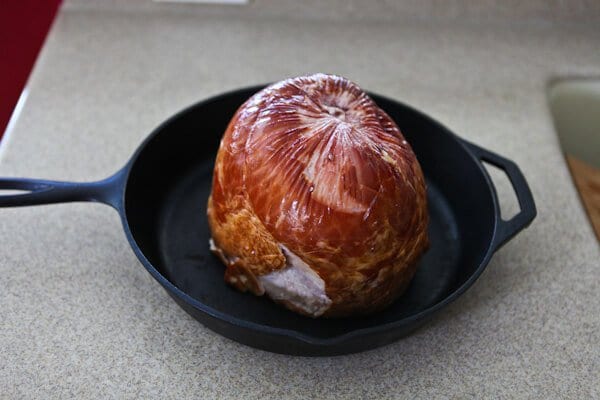 Take the mango nectar and shake! shake! shake!
Pour it in the pan so that it goes — oh— until it reaches about 1/2 inch up the sides. The juice helps with keeping the ham moist.
Cover with foil…which in the oven will help create steam with the mango juice. So, instead of just warming your ham in the hot, dry oven – you're creating a moist, flavorful (mango!) environment. You're gonna do 15 minutes per pound.
Stick it in the oven 275F. We're gonna warm this baby up low 'n slow….
In the meantime, let's make the glaze. Grate some fresh ginger. Sure, you could chop it with a knife…but why?
This is a better way….the tough fiber stays on top of the microplane grater:
In a sauce pot, add the ginger and the mango preserves:
Some ground cloves:
And brown sugar:
Warm and whisk!
Until you get this:
Hey, remember that ham!? Well after the 15 minutes per pound is up (for me it was about 1 1/2 hours) it will look like this:
Glorious.
Now's the time to crank your oven to 425F while the oven is coming up to temp, brush with some of the Mango-Ginger Glaze. (You'll only use some of the glaze, reserve the rest):
Alllll over the ham:
And then….15 minutes later…..it's DONE. That sticky-sweet Mango-Ginger Glaze is perfect:
Remove the ham to a cutting board and let rest. In meantime, let's finish the glaze for serving. There's a lot of pan juice left:
Pour some of that into the Mango-Ginger Glaze that's left over — just to thin it out a bit and add more depth of flavor:
Hello….well rested ham!
Here's how to slice the ham. See that bone in the middle? That gets in the way – so we're going to take a knife and cut horizontally right above the bone:
And then go the other way:
Now, we're ready to slice:
How beautiful is that?!
Drizzle a bit of the Mango-Ginger Glaze on top of each serving:
So, there you have it. 6 ingredients for Easter Ham.

I've found people to be in one of two ham categories: the spiral camp who loves the thin, orderly even slices….or the thicker, ragged hand-cut hearty slices. Well, okay, three….there's the people who don't even eat ham, and if that's you, then I suggest you move on to the cheerful strawberries.
I think most are spiraly people who love the way the slices fold over and fan so elegantly. We just live in such a crazy world that maybe people crave order and evenness in their ham.
But please, please resist the urge to get the spiral. And I understand my request may disrupt your desire for uniformity, but I have good reason. Ham that's pre-cut into fancy spirals don't taste as good. It's more susceptible to drying out in the oven.
You know how an oven is hot and dry like the desert? Well, a spiral cut ham exposes a lot of surface area to that desert. A ham that's uncut just has limited surface area that's exposed, resulting in a moister, more succulent ham.
If following my advice leads you to sweat and fret over having to hand-cut your ham slices, counter it by also serving green beans that you can stack evenly in a nice, neat row. That should hold you over.
A Delicious and Easy Glazed Ham Recipe
I think "cooking" is a misnomer — it's really "warming up." Did you know that ham is already cooked? All you need to do is warm it back up and slather it with a nice sticky-sweet glaze. And I'm gonna teach you the Mango-Ginger Glaze.
Get this – this Easter ham is 5 ingredients + the ham.
And it will be fabulous. I promise. I made this on Daytime a couple of weeks ago and the moment the cameras shut off, the crew zipped on over to the kitchen and hovered over the ham for an hour, picking at the pieces as they pretended to be in the studio kitchen talking with me.
Oh yeah, they totally pretended like they were in the kitchen chit-chattin' with me as an excuse to eat the ham.
It was all about the pork.
What's The Best Ham?
When you're buying ham, look for "Ham" or "Ham with Natural Juices" — don't bother with anything labeled "with water." Trust me on this. There are many grades of ham – and the best quality is the one with the least amount of water/additives.
A Fruity Glaze For Ham
Why glaze? Consider that ham is cured pork, and the process of curing mainly involves the use of salt (usually in the form of brine) as a preservative. Sugar is also used in curing, as is smoke. But mainly it's salt, which means that when it comes to seasoning, ham mostly tastes like salt. Which makes glazing the primary way for you to add other flavors to your ham to balance out the salt.
The mango adds sweetness and some tartness, and for an even kickier glaze, you can stir in some mustard, vinegar, and/or some dried chili flakes.
Top Tips For This Glazed Ham Recipe
Opt for ham with natural juices, for the best flavor.
Make sure to let the ham stand for 90 mins before cooking.
To know when your ham is cooked, press the tip of your index finger to the tip of your thumb. The fleshy area below the thumb should give quite a bit.
For a spicy glaze, you can stir in some mustard, vinegar, and/or some dried chili flakes.
More Easter Ham recipes
Have you tried this Glazed Ham recipe? Feel free to leave a star rating and I'd love to hear from you in the comments below!
Easter Ham with Mango Ginger Glaze Recipe
An easy glazed ham recipe that's perfect for Easter! Perfectly cooked ham with a tangy and fruity mango ginger glaze. Only a handful of ingredients needed!


Ingredients
6-7

pound

ham

preferably "ham with natural juices"

1-2

cups

mango nectar or juice

1 1/2

cups

mango jam

or apricot jam

3/4

cup

light brown sugar

1 1/2

teaspoons

grated fresh ginger

1/2

teaspoon

ground cloves
Instructions
Let the ham stand at room temperature for 90 minutes.

Preheat oven to 275F and set the rack at the lowest position. Rinse and pat dry the ham. Using a sharp knife, score the skin of the ham in a criss-cross pattern. Place ham on oven-safe skillet with high sides or a large pot. Pour the mango juice into the pan, and add additional water if necessary to bring the liquid level to 1/2 inch. Cover the pan tightly with tin foil. Roast in oven for 1 1/2 to 2 hours (about 15 minutes per pound) or until the internal temperature of the ham reaches 100F.

While the ham is cooking, prepare the glaze. Combine the mango jam, brown sugar, ginger and cloves in a small sauce pot and cook over low heat until the glaze is thick and sticky. Turn off heat and set aside.

When the ham has finished cooking (step 2), take the ham out of the oven. Turn the oven to 425F. Brush the ham with about 1/4 of the glaze all over. You should have some mango juice in the pan, if not, add additional mango juice or water to reach 1/4". Once the oven comes to temperature, return the ham, uncovered to oven. Bake for 15 minutes until the liquid is bubbly and the ham has turned to a nice, deep golden brown. The internal temperature of the ham should be 120F. Remove ham to a cutting board and let rest for 15 minutes.

Return the remaining glaze to the stove on medium-low heat. Your roasting pan should have some mango juice left - carefully pour about 1/2 cup of the mango pan juice into the glaze. Whisk and adjust with either more juice or mango jam to create a beautiful, slightly thick glaze for serving.

Carve the ham and serve with the Mango-Ginger Glaze.
Notes
Cooking times vary - 15 mins per lbs
Nutrition
Calories:
731
kcal
Carbohydrates:
45
g
Protein:
49
g
Fat:
38
g
Saturated Fat:
14
g
Cholesterol:
141
mg
Sodium:
2711
mg
Potassium:
721
mg
Fiber:
1
g
Sugar:
36
g
Vitamin C:
4
mg
Calcium:
37
mg
Iron:
2
mg