15 Minute Udon Miso Noodle Soup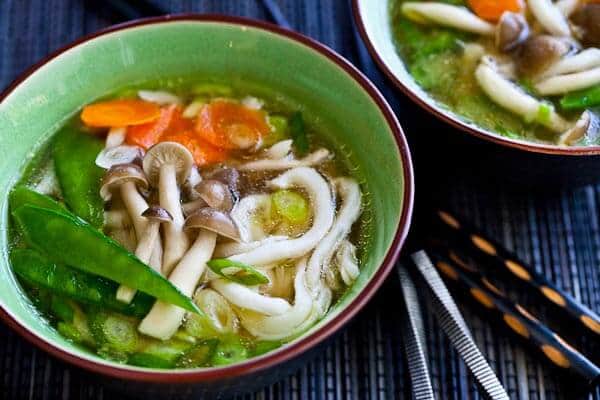 Fast food Japanese style! Start to finish, this healthy and light Japanese Udon Miso Noodle Soup takes less than 15 minutes.
Udon noodles are white, fat 'n slighty chewy, wheat-based noodles from Japan. You can find them in the refrigerated section of your Asian grocery store and many regular grocery stores. They also come in dried noodle form too, but I prefer the fresh, already-cooked noodles. If you can't find (or you don't eat wheat), substitute with any type of noodles, even regular ol' linguine noodles.
The type of mushrooms I used in the recipe is called shimeji mushrooms, or white beech mushrooms. They're incredibly healthy, love the slightly slippery texture and these from Hokto Kinoko are grown here in the U.S. organically.
What makes this udon miso soup so flavorful is the addition of miso. Miso is fermented soybean paste, one of the main ingredients in Japanese miso soup. It's a great staple to have in your refrigerator since there are so many recipes that use miso (Rachael's Gyoza, Japanese Noodles with Shimeji Mushrooms, Grilled Miso Tenderloin and Sake Miso Marinated Butterfish) and the stuff lasts for about 6 months in the refrigerator.
Here's a short video of how to make Japanese Udon Miso Noodle Soup with a great tip on what NOT to do with miso.
So this recipe is from Cat Cora's Classics With a Twist cookbook. Cat's been touring as part of Macy's Culinary Council. They've got an A-list team of celeb chefs touring nationwide, and I highly recommend checking to see if they'll be in your 'hood.
Since I was in NYC when Cat was in Tampa, my assistant attended and got a chance to interview her. Coincidentally, last Thursday, I was taping a cooking segment on Daytime and guess who popped up on an satellite interview! Hoping that one day I get to meet her in person.
Udon Miso Noodle Soup
Servings: Serves 4
Prep Time:5
Cook Time:10
Store fresh udon noodles in the refrigerator or in the freezer. If you don't have fresh udon noodles, you can substitute with dry pasta or dried noodles of your choice. The vegetables are up to you - keep the vegetables thinly sliced so that they cook quickly. Sliced zucchini, small broccoli florets, cabbage and even frozen corn/peas are great. I've used shimeji mushrooms from Hokto Kinoko, but you can use fresh shitake or just regular white button mushrooms.
If you are using a different kind of miso other than shiro miso (white miso) lessen the amount by a couple teaspoons. Shiro miso is the least salty and intense of all miso.
Ingredients:
One 12-ounce package fresh udon noodles (or substitute with dry pasta/noodles)
4 cups chicken or vegetable stock
1/2 cup thinly sliced carrots
1/2 cup snow peas, sliced on the diagonal
1/2 cup fresh mushrooms
2 tablespoons white miso (shiro miso)
1/2 cup green onions


Directions:
1. Cook the udon noodles according to the package directions, drain and set aside.
2. In a large saucepan, bring the stock to a boil. Lower the heat to medium and add the carrots and cook until the carrots are crisp-tender, 1 to 2 minutes. Add the snow peas and cook until slightly tender but still bright green, about 1 minute. Add the mushrooms, cook for 30 seconds and remove from the heat.
3. Spoon the miso in a medium bowl and add a ladleful of hot broth. Whisk until the miso is completely dissolved, then pour the entire miso mixture into the pot with the soup. Do not boil the soup with the miso, as the miso will become gritty. Stir in the noodles and the green onions.