15 Minute Udon Noodle Soup with Miso
Fast food Japanese style! Start to finish, this healthy and light Japanese Udon Noodle Soup with Miso takes less than 15 minutes. You'll learn:
Step by Step how-to video for Udon Noodle Soup
Adding miso makes the soup savory, and flavorful
Important tip: what NOT to do with miso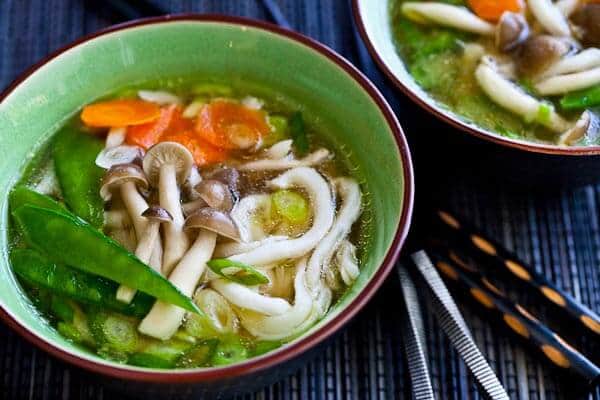 Japanese Udon Noodles
Udon noodles are white, fat 'n slighty chewy, wheat-based noodles from Japan. There are 3 different forms of noodles: dried, fresh-prepared, and make from scratch. (If you are eating low-carb or gluten free, try Shirataki Noodles)
Dried udon noodles
Dried udon noodles are easy to find – most grocery stores will carry it (look in the Asian section). When cooking udon noodles, there's no need to salt the boiling water. Almost all Asian style noodles contain salt, so adding more is unnecessary. Hime is my favorite brand of dried udon noodles that are easy to find. You can even buy them on Amazon for less than $10.
Fresh, prepared udon noodles
Fat, chewy, delicious noodles!
Fresh udon noodles are already cooked, all you need to do is boil for a minute or so to warm up the noodles. Read the package instructions.
What about making udon noodles from scratch?
If you're interested in learning how to make udon noodles from scratch, Iron Chef Morimoto shared his recipe with us!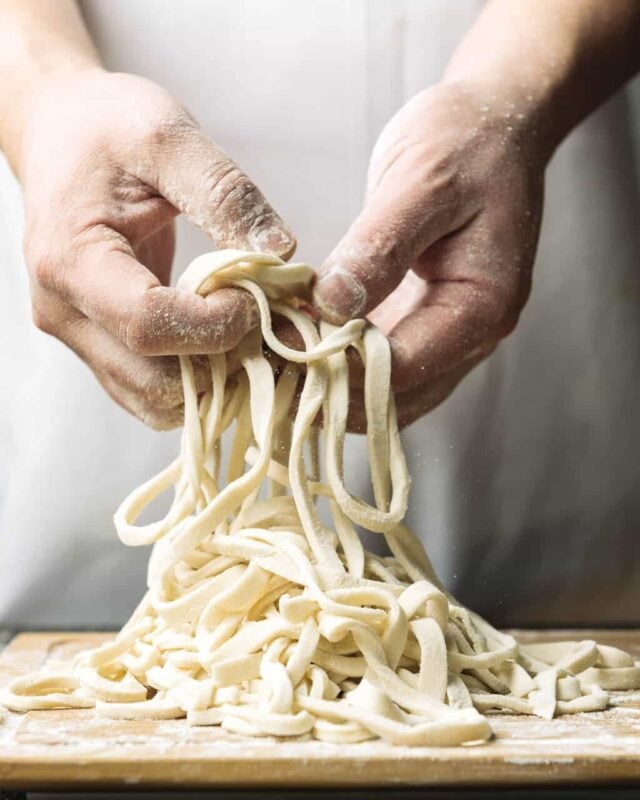 Miso Paste for Udon Noodle Soup
What makes this udon miso soup so flavorful is the addition of miso. Miso is fermented soybean paste, one of the main ingredients in Japanese miso soup. It's a great staple to have in your refrigerator since there are so many recipes that use miso and the stuff lasts for about 6 months in the refrigerator.
The miso that I prefer to use for Udon Noodle Soup is Shiro Miso, or White Miso. It's milder and less salty than red miso (aka) or yellow miso (shinsu).
Other recipes that use miso paste:
Vegetables for Udon Noodle Soup
The type of mushrooms I used in the recipe is called shimeji mushrooms, or white beech mushrooms. They're incredibly healthy and I love the slightly slippery texture.
You can use any type of vegetables you'd like, but make sure to slice them thinly. For example, the carrots are sliced as thin as possible, into coins, so that they will cook in just a few minutes.
Snow peas
Carrots (sliced thinly or use julienne carrots)
Fresh mushrooms
Corn kernels
Hard boiled egg (already hard boiled, just cut in half)
Thin, roasted seaweed slices (nori)
Fresh bean sprouts
Spinach
Daikon sprouts
Fresh tomato slices
Video: How to make Udon Noodle Soup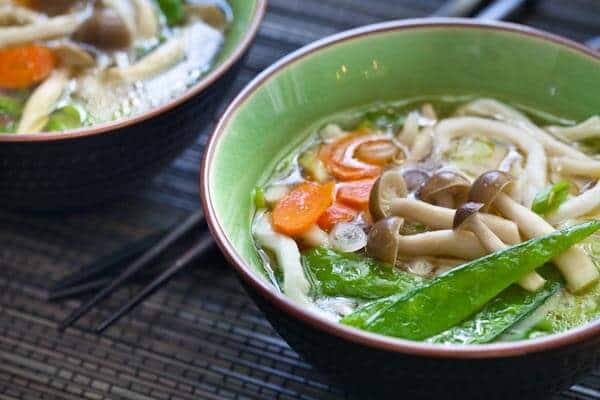 Udon Noodle Soup Recipe with Miso
Store fresh udon noodles in the refrigerator or in the freezer. If you don't have fresh udon noodles, you can substitute with dry pasta or dried noodles of your choice. The vegetables are up to you - keep the vegetables thinly sliced so that they cook quickly. Sliced zucchini, small broccoli florets, cabbage and even frozen corn/peas are great. I've used shimeji mushrooms, but you can use fresh shitake or just regular white button mushrooms. If you are using a different kind of miso other than shiro miso (white miso) lessen the amount by a couple teaspoons. Shiro miso is the least salty and intense of all miso.
Course: Main Course
Cuisine: Japanese
Servings: 4 people
Calories: 346 kcal
Ingredients
12 ounce udon noodles
6 cups prepared low sodium vegetable stock or chicken stock
1/2 cup thinly sliced carrots
1/2 cup snow peas sliced on the diagonal
1 cup fresh mushrooms sliced
2 tablespoons white miso paste
2 green onions chopped
Instructions
Cook the udon noodles according to the package directions, drain and set aside.

In the meantime, in a medium pot, bring the stock to a boil. Lower the heat to medium and add the carrots and cook until the carrots are crisp-tender, 1 to 2 minutes. Add the mushrooms and snow peas and cook until slightly tender but still bright green, about 1 minute.

In a medium bowl, add the miso paste. Add a ladleful of hot broth. Whisk until the miso is completely dissolved, then pour the entire miso mixture into the pot with the soup. Do not boil the soup with the miso, as the miso will become gritty. Stir in the noodles and the green onions.
Nutrition Facts
Udon Noodle Soup Recipe with Miso
Amount Per Serving
Calories 346 Calories from Fat 18
% Daily Value*
Fat 2g3%
Sodium 2761mg120%
Potassium 186mg5%
Carbohydrates 67g22%
Fiber 6g25%
Sugar 13g14%
Protein 15g30%
Vitamin A 3615IU72%
Vitamin C 9.9mg12%
Calcium 20mg2%
Iron 0.7mg4%
* Percent Daily Values are based on a 2000 calorie diet.