While we were in Mexico for Food Blogger Camp back in February, I got a sneak peek at the photos that my good friends, Todd and Diane of White on Rice Couple shot of Cristina Ferrare's new cookbook. I'm sure you heard of Cristina – she's got a cooking show, "Big Bowl of Love" on the Oprah Winfrey Network.
Diane and Todd shot all the recipe photos as well as "lifestyle" shots – i.e. a dinner party with friends – if you have a chance to pick up this book, please do. Not only is it chock full of gorgeous food shots (every recipe has a photo) but the recipes featured are non-fussy — what I call "easy sophistication."
I've got so many recipes bookmarked that this book will keep me busy for a while. Today's recipe, Flank Steak with Goat Cheese on Toast, is inspired from the book. I had originally planned these for a Spanish Tapas party my friend, Wendy was hosting, but we ended up with an obscene amount of food, so I kept the marinating steak in the refrigerator and made the dish the following day.
***
Our Spanish Tapas Party
While Tom's prepping his dish, Wendy and her sister in law, Kelly are the background with Spanish cookbook in hand reading the recipe.
Tom and his wife, Patty – right here smiley-happy next to the cheese – own the Tae Kwon Do studio that the boys and Scott go to. And yes, the boys can kick mama's butt.
This was just appetizers….by the time dinner was ready, the entire table was full of food. Most of the dishes were Spanish tapas – we had some wonderful Spanish Tapena wine to go with our dinner party, courtesy of the winery. Tapena wines has recently gotten some amazing reviews and awards – the 2011 Monterey Wine Competition awarded them Import Wine of the Year.
While boys were outside fishing, the gals hung out by the apps and wine.
Tom made these crispy-light rice cakes topped with manchego cheese. I never knew he had this cooking talent!
Even Andrew loved the Manchego Cheese wrapped with Jamon Serrano — hungry after fishing!
After dinner? A single malt scotch tasting in the ultimate "man cave" – complete with leather chairs, cigars, deer heads (Shawn goes hunting once a year) and bull-horn chandelier.
I encouraged Scott to write a post on Scotch tasting, it would be his first-ever post on Steamy Kitchen. He declined until I told him that if he starts a "Scott's Scotch Corner" on Steamy Kitchen, all his scotch would be a "business expense"
Look for a post from him soon.
***
Flank Steak on Goat Cheese on Toast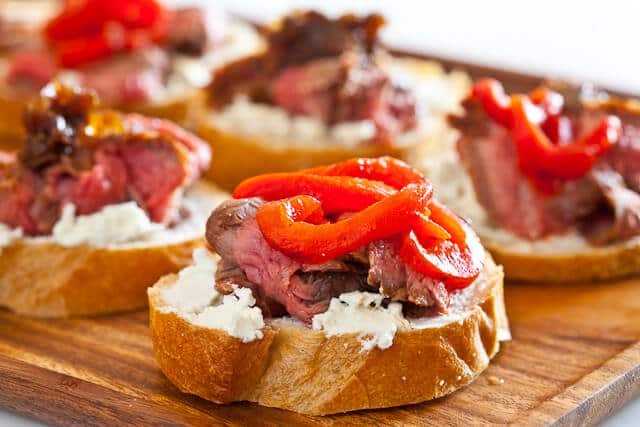 The flank steak is marinated in red chili flakes, smoked paprika, olive oil, salt and pepper.
Toppings included goat cheese, roasted red bell peppers and a balsamic fig and onion "jam" that I found at the market.
You can substitute with any sweet-savory jam or chutney. Mango chutney would be wonderful too. I have a list of recipes for jams at the end of the post.
Slice the roasted red bell pepper thinly.
Here's the grilled flank steak. Notice the grain running left to right? (not the grill marks, but the grain of the meat)
Slice ACROSS the grain.
Slice as thin as you can – the steak is easier to eat!
Flank Steak with Goat Cheese on Toast
Ingredients
1

tablespoon

smoked paprika

2

teaspoons

red chili pepper flakes

2

tablespoons

olive oil

salt and freshly ground black pepper

1 1/2

pounds

flank steak (or skirt steak)

1

8 oz jar roasted red bell peppers, sliced

6

ounces

goat cheese

1/2

cup

fig jam (or your choice of jam/chutney)

1-2

loaves

baguette
Instructions
In a resealable bag, mix together the paprika, pepper flakes, olive oil, salt and pepper. Add the steak, seal bag and refrigerate up to overnight.

To cook the flank steak, heat a grill pan over high heat. Grill the flank steak, turning once, about 8-10 minutes total for medium-rare. Let steak rest before slicing.

While the steak is resting, slice the bread into thin slices. Toast the bread in the oven if you'd like.

Slice the steak very thinly (as thin as you can) ACROSS the grain. Top each toast with goat cheese, steak, a couple of red bell pepper slices and/or small spoonful of fig jam.
Other Recipes
Fig Jam Recipe – Anh's Food Blog
Spicy Fig Orange Microwave Jam – Simply Recipes
Fig Jam Four Ways – Love and Olive Oil
Spanish Mussels with Green Sauce – Hunter Angler Gardener Cook
Pimientos piquillos rellenos de bacalao en salmorejo – Hedonia
Espinacas con Garbanzos – Spinach and Chickpeas – Smitten Kitchen
Ensaimadas – Delicious Days
Albondigas Soup Recipe – Simply Recipes
Apartment Therapy's 9 Classic Spanish Dishes
Tortas de Patatas – Smitten Kitchen
Morcilla Stuffed Squid – We Are Never Full
Sangria – Live to Eat
Mango-Mint Gazpacho – The Perfect Pantry
Oven Baked Tortilla Espanola – The Perfect Pantry
Spanish Tapas Party Giveaway!
I'm giving away a Spanish tapas party with Tapena wines – come enter the giveaway!