Skirt Steak Tacos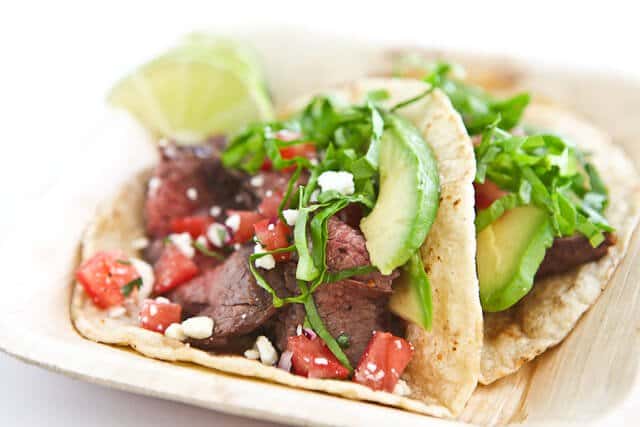 I've discovered that I'm not the only one who's fiercely loyal to their local supermarkets. While some are loyal to a particular market because it's convenient (close to house or office), I'm more influenced by the quality of two things: produce and meat (though my kids will argue that for them, it's the variety of ice Creams and the breadth of their snackity-snack aisle).
For the produce, I'm all about freshness and locally grown items. I cringe when I see tomatoes come in from another country when we have tomato farms not even 10 miles from my house!
For meats, I love the variety of cuts, quality of meats. Beef is especially important – my husband lives for steak. When he heard that I'm the new face of Sweetbay Supermarket's Beef Campaign, it was like I gave him the best gift ever. Eat steak every week!?  I told him it was his early Father's Day present.
On busy weeknights, we often have steak tacos using one of my very favorite cuts of beef, the skirt steak. The skirt steak is so incredibly flavorful and when cooked and sliced the right way, one of the most tender cuts you'll find.
The recipe for Skirt Steak Tacos is simple and only takes 20 minutes start to finish. Instead of drowning my taco in a heavy salsa, I like to keep it simple and fresh with diced tomatoes, shredded lettuce, crumbled Mexican cheese and a slice or two of avocado. A squeeze of lime to finish it off and it's perfect.
Skirt steak is a long, boneless, flat cut that has meat fibers running in one direction. The fat is only on the outside of the skirt steak – trim away the excess fat and you'll have a very lean steak cut. The fat pulls off very easily.
See how the strong grain is running up and down along the meat? The key tender ribbons of steak is to cut across the grain – I'll show you in a bit.
I season the steak with just salt and pepper and quickly sear both sides of the meat over high heat.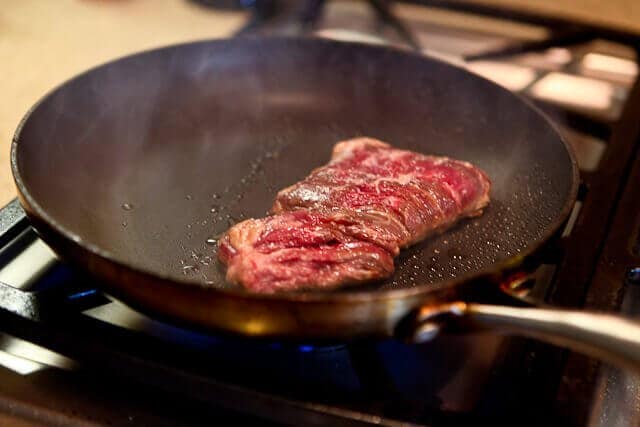 See how nicely seared the meat is?
Once both sides are seared, turn the heat down to medium and cover to let it finish cooking. If you have very thin skirt steak, this step is not necessary. Just a couple of minutes is all you need. My personal preference is that skirt steak is best medium to medium-rare.
Let the meat rest for a bit before slicing.
Because the grain is running top to bottom, I want to slice across the grain.
For tacos, I slice the steak as thin as I can.
You can see how tender the skirt steak is!
Skirt Steak Tacos Recipe
Servings: 4
Prep Time:10 minutes
Cook Time:10 minutes
Ingredients:
2 pounds skirt steak, trimmed of excess fat
salt and freshly ground black pepper
2 teaspoons cooking oil
2 cups loosely packed shredded lettuce
2 tomatoes, diced
2 tablespoons finely minced cilantro
1-2 avocado, pitted and sliced
1 cup crumbled queso fresco (or other shredded cheese of your choice)
1 lime, cut into wedges
8 flour or corn tortillas


Directions:
1. Season the skirt steak with salt and pepper on both sides. Heat a skillet or grill pan over high heat. When hot, swirl in the cooking oil. Add the skirt steak to the pan and sear for 2-3 minutes each side. If the skirt steak is very thin (about 1/2 inch thick), it should be medium-rare at this point. If the skirt steak is thicker, turn the heat to medium and cover to cook for an additional 2-3 minutes.
2. Let the meat rest for 5 minutes before slicing. Slice the skirt steak across the grain into very thin ribbons.
3. Assemble tacos by layering steak, lettuce, diced tomatoes, cilantro and avocado slices. Top with cheese and serve with lime wedges.