This is a decadent, romantic meal for two that only takes 40 minutes, start to finish, and only uses one pan. Easy to cook, easy to clean up…because your time is better spent enjoying your Valentine's Day!
(pssst….we are giving one of these Hestan Sauté Pan + Lid away too!)
What is Ribeye Cap Steak?
The tastiest cut of meat on a cow is arguably the ribeye steak (my butcher would say skirt steak.) The ribeye steak  is full of marbling, which gives the cut intense flavor and tenderness at the same time. Super tender prime rib roast that you order from a steakhouse is just the ribeye steak, whole, roasted slowly.
What can be better than a whole ribeye steak? Enjoying the very best part of the ribeye steak – the cap – the most tender, most marbled section of the ribeye steak. This section is called "spinalis dorsi."
Butcher shops will cut the cap off the ribeye roast and make a nice, thick rolled steak, tied with twine. I purchased this prime Ribeye Cap Steak at Costco for $9.99 per pound. What a deal! USDA Prime steak….the most flavorful cut for less than $10 per pound. This is enough steak to feed four people.
The Ribeye Cap Steak is a type of cut that you savor in small bites. Because it is so well marbled (a.k.a. fatty), it doesn't take much to satiate your palate.
Plus, these bad boys are about 2-inches thick.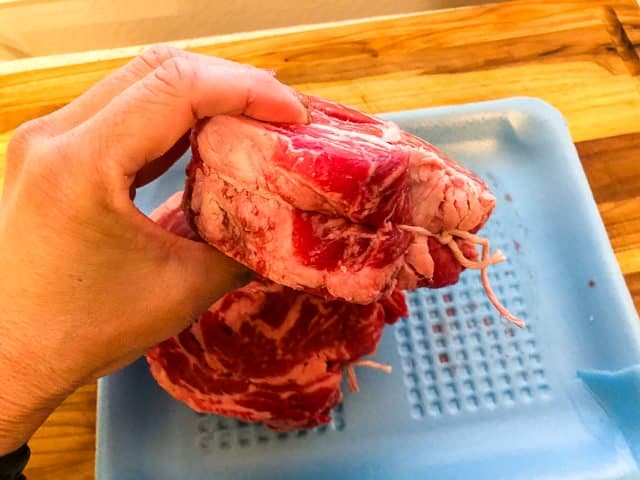 We are serving the Ribeye Cap Steak with roasted baby potatoes and baby carrots.
You can use 5″ long, skinny baby carrots that are sold in a bunch. Find the skinniest carrots. You can also use a bag of baby carrots. Cut the potatoes into quarters and you can leave the baby carrots whole. If they are fat carrots, cut them into 3/4″ thick slices.
Heat a large sauté pan over high heat (this is my Hestan molecular titanium stainless steel cookware that I'll talk more about in a bit.)
Season Ribeye Cap Steak with salt and pepper, Sear both sides of the steak.
Add all the vegetables in, put the whole thing in a 375F oven for 15 minutes.
Check temperature of the steak, once it reaches about 125F, I pull it out. I like my steaks medium rare.
Remove steak to a plate, tent with tin foil and let rest (to come up to temperature for medium-rare, 135F)
Increase temperature of the oven to 400F. The pan with the vegetables go back into the oven for another 5-10 minutes, until cooked through.
Why We Use Hestan Cookware
We've reviewed Hestan cookware before, a frying pan and a wok. It's become our favorite cookware in the Steamy Kitchen, outperforming any other set we've ever tried.
Our latest review is for the $1,499.95 ten-piece set — we are also giving one piece away. Come read our review and enter the giveaway.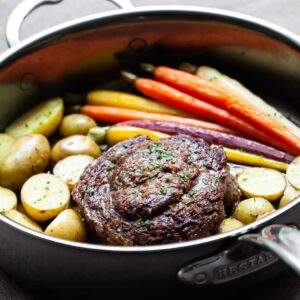 Ribeye Cap Steak Recipe - one pan dinner for two
This Ribeye Cap Steak Recipe with roasted potatoes and carrots comes together in 40 minutes, start to finish. Everything cooks in the same pan, so cleanup is easy. The timing is for a Ribeye Cap Steak 2-inches thick. If your steak is thinner, decrease the oven roasting time by 5-8 minutes. *For Low-Carb diets, replace the potatoes with cauliflower florets.
Ingredients
1

pound

Ribeye cap steak

2" thick

1/2

pound

baby potatoes

cut into 1" pieces

1/2

pound

baby carrots

peeled

2

tablespoons

cooking oil

1

tablespoon

minced fresh chives

optional

salt and freshly ground black pepper
Instructions
Preheat the oven to 375F. If using large carrots, slice into 3/4" pieces. Make sure the potatoes are cut small enough, the longest side should be no more than 1-inch.

Rub the ribeye cap steak with cooking oil and season with salt and pepper. Heat a large sauté pan over high heat until very hot. Sear the steak, 3 minutes each side.

Scatter the potatoes and the carrots around the steak in the pan. Roll the potatoes and carrots around to coat them in the cooking oil that is already in the pan (or if there's very little oil, drizzle a bit of oil over the potatoes and carrots.) Roast for 15 minutes. Toss the potatoes and carrots a bit to ensure even cooking, and return the pan to the oven. Check the temperature of the steak by inserting a probe in the middle of the steak. It should read about 100F.

Continue roasting for another 5 minutes, check the steak temperature once again. Remove pan from oven when the steak is 125F-127F (if you want medium-rare). The steak will finish cooking as it rests.

Remove the steak to a plate and tent with tin foil to rest (and come up to 135F medium-rare.) Increase oven temperature to 400F. Return pan with the potatoes and carrots to oven, and continue roasting until the vegetables are done, about 5-10 more minutes. Garnish with minced chives (optional).
Nutrition
Calories:
722
kcal
Carbohydrates:
29
g
Protein:
48
g
Fat:
46
g
Saturated Fat:
15
g
Cholesterol:
138
mg
Sodium:
213
mg
Potassium:
1353
mg
Fiber:
5
g
Sugar:
6
g
Vitamin A:
15670
IU
Vitamin C:
25.3
mg
Calcium:
66
mg
Iron:
5.8
mg