Flank Steak with Bloody Mary Tomato Salad Recipe
A boozy salad!? Welll, yes (bloody mary!) and no (there's no alcohol). Though I'm sure those who want a real boozy salad would find a way to insert a little vodka into this Flank Steak with Bloody Mary Tomato Salad recipe — or just swing back a shot as an apertif — ooooohhhweeeee!!
I spied this recipe on Bon Appetit's website, then saw that another friend had also made it – there was no way I was going to let summer end without making a bloody mary tomato salad!
The Steak
Well, use whatever you want! I used flank steak, though skirt steak would be just as great. If you're using flank or skirt, I like to grill, slice all of the steak and then serve the steak sliced. It's important to cut the flank or skirt steak ACROSS the grain (see tutorial)
Any other cut of steak, such as sirloin, you can just serve whole, like a regular steak.
Grill the steak to your liking and then let it rest while you make the Bloody Mary Tomato Salad.
Bloody Mary Tomato Salad Recipe
The ingredients for the salad is what you'd expect – the same stuff that goes into a bloody mary minus the booze:
The first step is to make a quick-pickle with the onions – it helps tame the bite of the onion, softens the onion and pickled onions are always a win in my book. Just pour some of the olive brine (juice) in a small bowl with very thinly sliced red onions:
You'll want to cut your celery really thin – here's what I did. First run the vegetable peeler a few times on the celery just to get rid of any stringies. Then slice the celery into thin slices at a VERY steep diagonal. This gives you very tender celery – no stringies!
Combine the tomatoes, celery, celery leaves and add in the red onion WITHOUT the brine (just lift the onions up with a fork or use your hands), but you'll save the brine to make the dressing, so don't throw it away!
In the brine bowl, add in the dressing ingredients and whisk.
Pour over salad and toss well.
Done.
Serve over your steak.
More Recipes to Explore
Perfect Prime Rib Recipe with Red Wine Jus (Steamy Kitchen)
1-Step, Fail Proof Prime Rib Roast Recipe on the Rotisserie (Steamy Kitchen)
Grilled Steak and Tomato Salad with Rum Vinaigrette (Steamy Kitchen)
Steak Recipe: Turning Cheap "Choice" Steak into Gucci "Prime" Steak (Steamy Kitchen)
Flank Steak Stir-Fry with Asparagus and Red Pepper (Simply Recipes)
Pan-Grilled Flank Steak with Soy-Mustard Sauce (MyRecipes.com)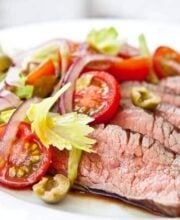 Flank Steak with Bloody Mary Tomato Salad Recipe
Servings: 4
Prep Time:10 minutes
Cook Time:15 minutes
Bon Appetit
If you don't have celery seeds, feel free to use celery salt, however go light on using the olive brine in the salad dressing.
Ingredients:
FOR THE STEAK:
2 pounds flank steak (or use steak of your choice)
salt and freshly ground pepper
FOR THE SALAD:
1/4 red onion, very thinly sliced
1/4 cup olives, chopped + 2 tablespoons olive brine
1 pint cherry tomatoes, cut in half
2 stalks celery, sliced very thin and diagonally + handful of plucked celery leaves from the tops
2 teaspoons Worcestershire sauce
1/2 teaspoons prepared horseradish
Few shakes of Tabasco sauce
2 tablespoons extra virgin olive oil
1/2 teaspoon celery seeds
Freshly ground black pepper


Directions:
1. Prepare the quick onion pickle first. In a small bowl, combine the red onion with the olive brine (or juice). Let sit for 10 minutes while you prep the rest of the recipe.
2. Preheat the grill to high heat. Grill the steaks 5-7 minutes on each side for medium-rare. Season the steaks immediately with salt and pepper. Let the steak rest while you prepare the salad.
3. In a large bowl, combine the chopped olives, tomatoes, celery and celery leaves. Add the red onion to the salad, leaving olive brine in the small bowl.
4. To create the dressing, whisk together the remaining ingredients into the olive brine. Season with black pepper. The dressing should be tangy, salty and however spicy you'd like! Add additional olive brine (for more salt), horseradish or hot sauce if desired.
5. If you're using flank or skirt steak, slice the steak ACROSS the grain. Serve steak with the Bloody Mary Tomato Salad.