Roasted Tofu and Vegetables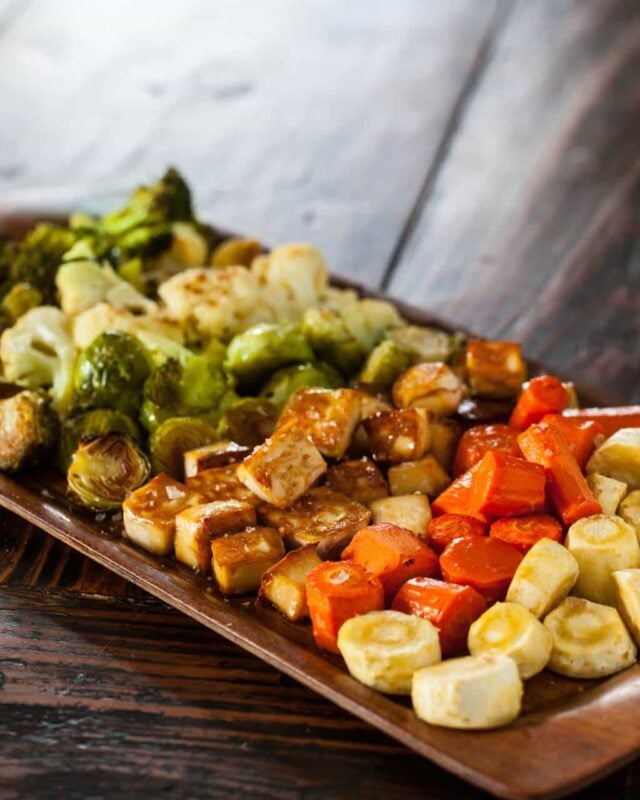 I had serious doubts the first time I heard of a recipe for Roasted Tofu. Tofu is made mostly from dried soybeans and water (plus a coagulant like seaweed salt). It's a pretty serious wiggly jiggly thing with such high water content. Roasting tofu would just dehydrate the water and shrivel up the soy, or so I thought. Several years ago, I tried it on a whim. With the expiration date on a box of tofu looming, I decided to cut the tofu into cubes and roast them in the oven with some olive oil.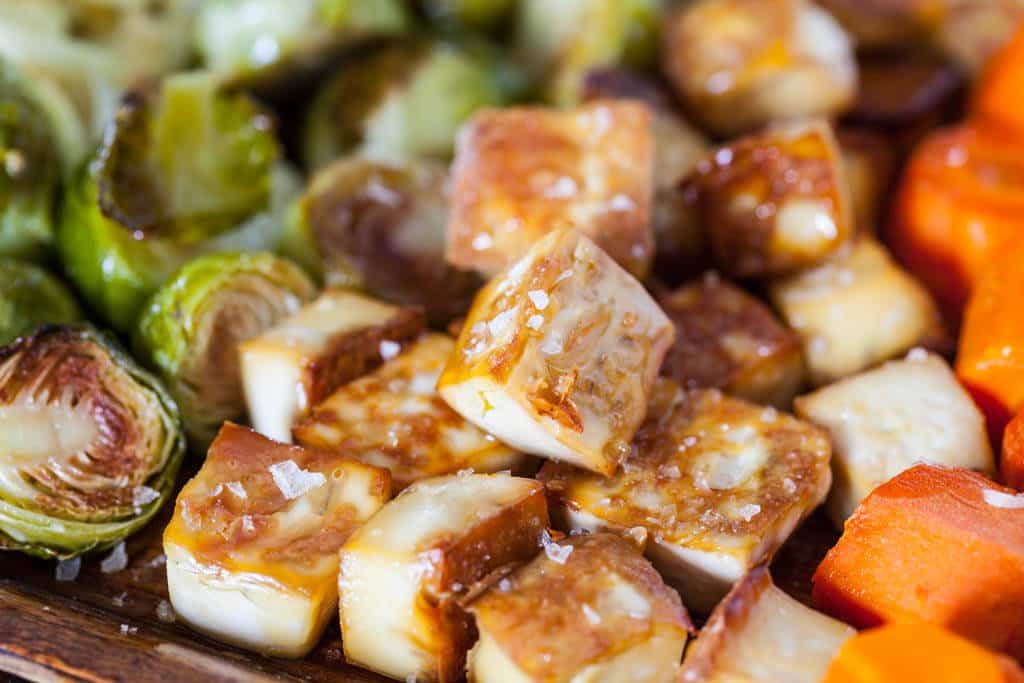 They turned out crispy, crunchy on the outside and creamy smooth-soft on the inside. What an amazing change in texture! Roasting the tofu changed the ingredient from being a "blank slate with no taste" to a flavor profile of its own – slightly nutty, slightly sea salty. The browned bits are shatteringly crisp from roasting in the olive oil. In this recipe, I used silken tofu from Mori-Nu.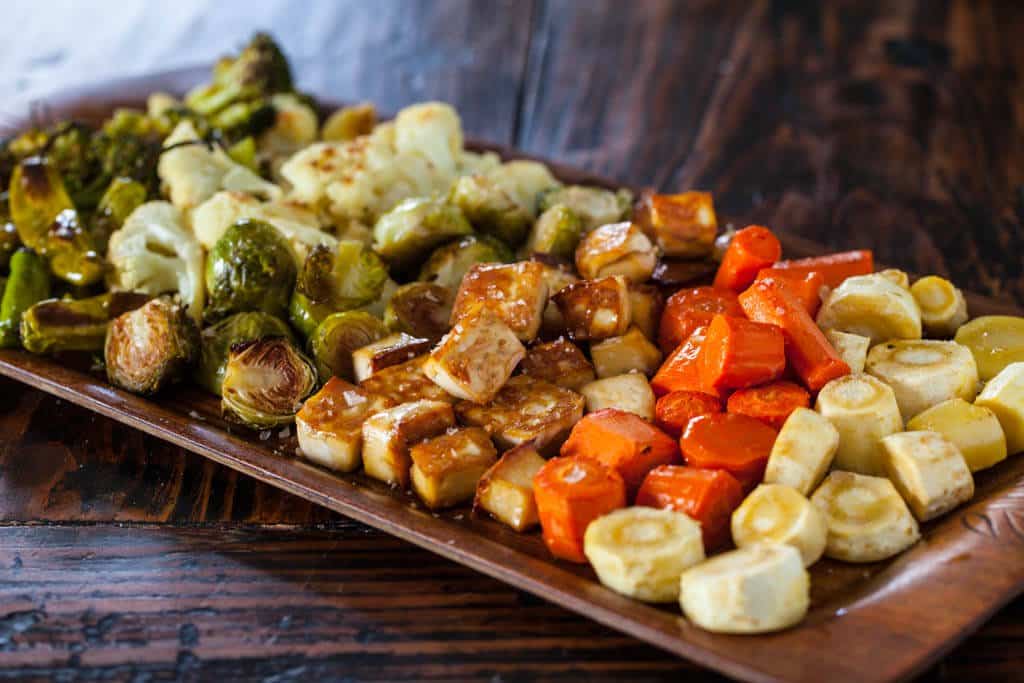 Even if you "overcook" the tofu, it's still wonderful with a crunchier, chewier texture. I love it both ways.
Okay, so not only do I have instructions and a video to show you how to roast tofu and vegetables, but I purposely made the batch bigger in the recipe for leftovers. The leftover tofu and vegetables create a velvety smooth, creamy soup for the following day!
***
Roasted Tofu and Vegetables Recipe Video
***
Roasted Tofu and Vegetables
Servings: 4
Prep Time:10 minutes
Cook Time:40 minutes
Ingredients:
1 package Mori-nu tofu (extra firm or firm)
1/2 head broccoli
1/2 head cauliflower
3 large carrots
3 parsnips, cut in chunks
1/2 pound brussels sprouts
olive oil
sea salt and freshly ground black pepper
Directions:
Preheat oven to 400F.
Drain the tofu and pat very dry with a paper towel to absorb as much moisture as possible. Cut tofu into 1″ cubes. Drizzle about 1 tablespoon olive oil on a baking sheet, carefully add in the tofu and shake the baking sheet a bit to coat the tofu. Go ahead and begin roasting the tofu while you work on the vegetables. If your oven does not fit 2 baking sheets side by side, place the tofu on the UPPER rack.
Cut the vegetables (see headnote) and in the other baking sheet, toss vegetables with about 2 tablespoons of olive oil so that they are all evenly coated. If your oven does not fit 2 baking sheets side by side, place the vegetables on the LOWER rack.
Set timer and roast for 30 minutes, then check the vegetables. The carrots & parsnip may need a little more time. Remove any vegetables that are cooked through. Take out the tofu pan and flip the tofu.
Increase oven temperature to 450F to finish off the tofu (and the carrots & parsnips if they need more cooking). Roast for an additional 10-15 minutes. The tofu should be nicely browned on both sides. Season with sea salt and freshly ground black pepper.
TO MAKE ROASTED VEGETABLE SOUP WITH LEFTOVERS:
prep time: 2 minutes
cook time: 5 minutes
Leftover roasted vegetables (reserve a few pieces for garnish)
1 quart prepared stock (vegetable, beef or chicken)
1/2 teaspoon cayenne pepper
sea salt and freshly ground black pepper
good quality olive oil
Place leftover vegetables and tofu into a blender or food processor with just half of the stock. Blend or process until smooth. Add in the remaining stock, cayenne pepper, and blend until desired consistency. Heat soup in pot. Taste and season with sea salt, freshly ground black pepper and additional cayenne pepper, if needed. Ladle into bowls, finish with a drizzle of olive oil. Garnish with roasted vegetables.