This Roasted Tofu is crunchy on the outside and creamy smooth-soft on the inside, with a wonderful flavor profile – slightly nutty, slightly sea salty. The browned bits are shatteringly crisp from roasting in the olive oil. An awesome vegetarian side. Complete with a host of deliciously roasted vegetables, like sprouts, carrots and cauliflower.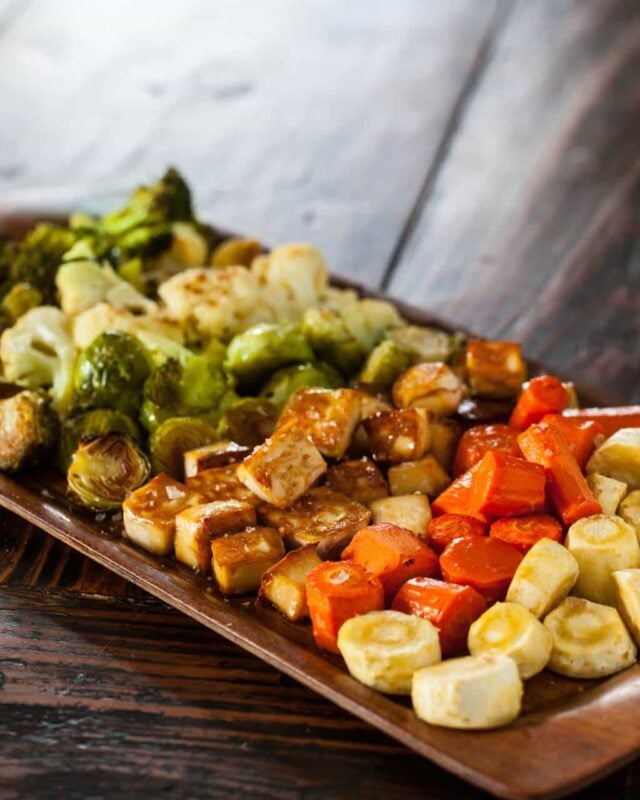 Why This Roasted Tofu With Vegetables Is So Good
The perfect mix of crunchy and creamy textures.
Super simple to make.
Totally customizable with your favorite seasonings.
A filling and delicious vegetarian side.
Ingredients For This Roasted Tofu With Vegetables
Tofu
Vegetables: Broccoli, cauliflower, carrots, parsnips, brussels sprouts
Olive oil
Salt & pepper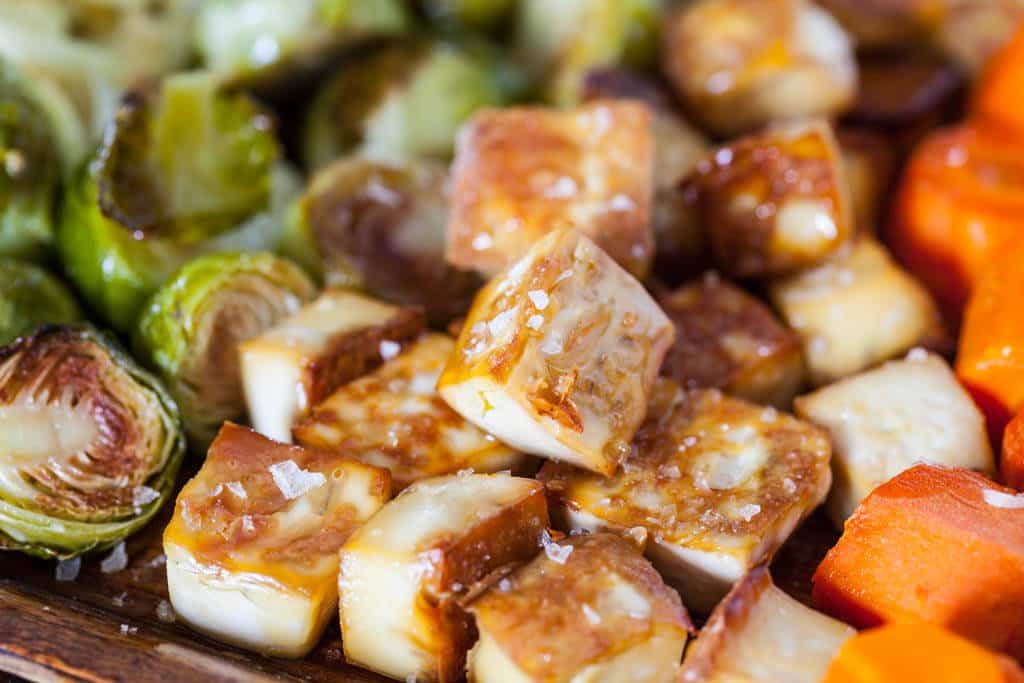 How To Make This Roasted Tofu With Vegetable – Step By Step
Preheat oven to 400F.
Drain the tofu and pat very dry with a paper towel to absorb as much moisture as possible. Cut tofu into 1″ cubes. Drizzle about 1 tablespoon olive oil on a baking sheet, carefully add in the tofu and shake the baking sheet a bit to coat the tofu. Go ahead and begin roasting the tofu while you work on the vegetables. If your oven does not fit 2 baking sheets side by side, place the tofu on the UPPER rack.
Cut the vegetables and in the other baking sheet, toss vegetables with about 2 tablespoons of olive oil so that they are all evenly coated. If your oven does not fit 2 baking sheets side by side, place the vegetables on the LOWER rack.
Set timer and roast for 30 minutes, then check the vegetables. The carrots & parsnip may need a little more time. Remove any vegetables that are cooked through. Take out the tofu pan and flip the tofu.
Increase oven temperature to 450F to finish off the tofu (and the carrots & parsnips if they need more cooking). Roast for an additional 10-15 minutes. The tofu should be nicely browned on both sides. Season with sea salt and freshly ground black pepper.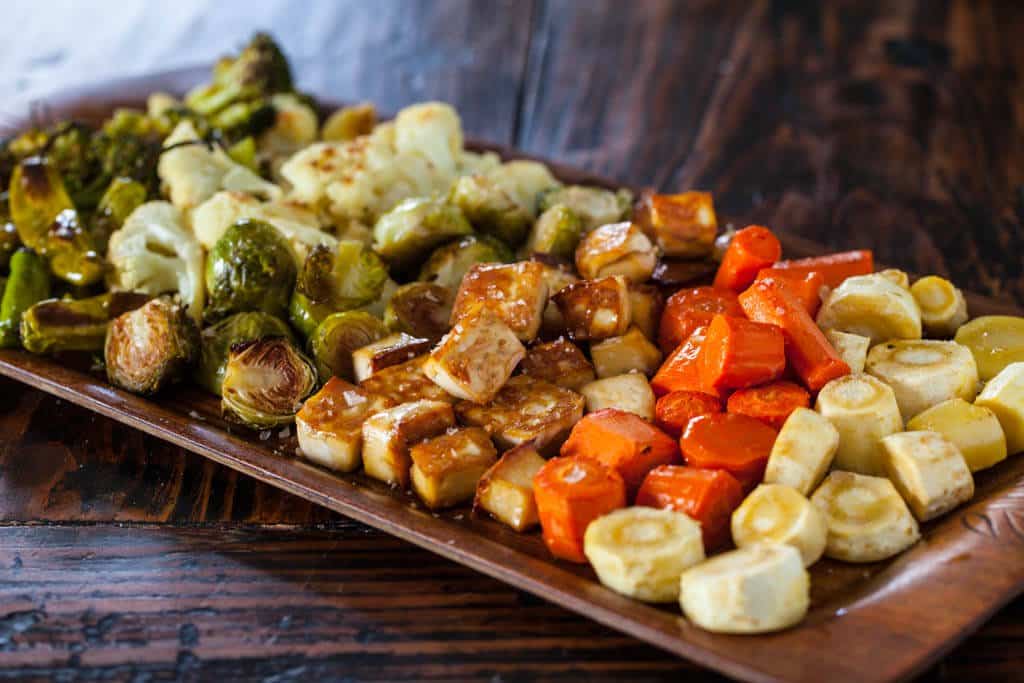 What Is Silken Tofu Vs Firm?
In this recipe, I used silken tofu from Mori-Nu. It provides a great range of textures when roasting, a crisp outside and soft center. Tofu is categorized as silken, regular, firm, extra-firm and super-firm. Silken, the softest type of tofu, can be compared to a young white cheese. Firm tofu, the most common, has the same consistency as feta, while the texture of super-firm can be compared to that of meat.
What To Do With Leftover Tofu?
I purposely made the batch bigger in the recipe for leftovers. The leftover tofu and vegetables create a velvety smooth, creamy soup for the following day!
It's a simple soup but so delicious! Here's the recipe:
prep time: 2 minutes
cook time: 5 minutes
Leftover roasted vegetables (reserve a few pieces for garnish)
1 quart prepared stock (vegetable, beef or chicken)
1/2 teaspoon cayenne pepper
sea salt and freshly ground black pepper
good quality olive oil
Place leftover vegetables and tofu into a blender or food processor with just half of the stock. Blend or process until smooth. Add in the remaining stock, cayenne pepper, and blend until desired consistency. Heat soup in pot. Taste and season with sea salt, freshly ground black pepper and additional cayenne pepper, if needed. Ladle into bowls, finish with a drizzle of olive oil. Garnish with roasted vegetables.
Can I Freeze Leftover Tofu?
If you won't use leftover – uncooked – tofu within a week of when the container was opened, the best place to store it is in the freezer. Frozen tofu can last for up to three months. Cut it into chunks and freeze on a parchment-lined baking sheet until solid, then transfer to an airtight freezer container or bag.
Frozen tofu is easy to thaw and will absorb marinades more effectively than tofu that has not been frozen. Remove the tofu from the freezer and discard the packaging. Place the frozen Tofu on a paper towel in the middle of a microwave-proof dish. Microwave it on high for 60 seconds or until defrosted.
Top Tips For Roasted Tofu With Vegetables
For extra crispy tofu, try tossing the tofu in cornstarch, which helps it take on a truly crispy crust. Place cornstarch in a bowl, add drained or marinated tofu pieces, and toss. A light coat is best; to shake off excess, dump it in a colander over the sink.
To drain it, slice the block and place the slices in a single layer on a paper towel-lined baking sheet. Top tofu with more paper towels and then a heavy object (a cast-iron skillet, cookbooks). Let sit at least one hour, preferably two. (Tip: If you know you want tofu for dinner, let it drain in the fridge during the day.)
If you want to infuse your tofu with more flavor, I recommend adding sauce after it's baked, rather than marinating it, because water-logged tofu isn't actually very good at absorbing flavor.
Feel free to add any additional vegetables to the mix. I also added some Japanese shishito peppers to mine!
Roasted Tofu and Vegetables Recipe Video
Check Out These Other Delicious Tofu Recipes
Have you tried this Roasted Tofu recipe? Feel free to leave a star rating and I'd love to hear from you in the comments below!
Sheet Pan Roasted Vegetables and Tofu
SHORTCUT ALERT! Use store-bought salad dressing. You'll use two baking sheets, one for the tofu, the other for the vegetables.
Do not toss the tofu into the salad dressing - we want the tofu to be as dry as possible, so we can get the outside nice and crunchy, while leaving the inside soft and creamy.
Ingredients
For the Tofu
1

pound

extra firm tofu

drained

2

tablespoons

olive oil

plus more for pan

1

tablespoon

cornstarch

1

teaspoon

garlic salt
For the Vegetables
2

pounds

vegetables of your choice

3

tablespoons

salad dressing of your choice

sea salt & freshly ground black pepper
Instructions
Set your oven for 2-rack cooking. Preheat oven to 400F. Line both pans with parchment paper. Slick the parchment papers with olive oil.

Lay 2 sheets of paper towel on counter. Place tofu block on paper towel. Place 2 more paper towels on top of tofu. Lay a large cutting board on top. Place some heavy items on the cutting board to put weight on the board. Let sit at least 15 minutes.

Cut the vegetables according to their density: dense vegetables (like carrots, potatoes, parsnip should be cut in 3/4" cubes), medium vegetables (like cauliflower) just a little larger. Cut broccoli just a little larger than the cauliflower. Thin vegetables (like onion, bell peppers) - cut into wedges. Toss the vegetables into the prepared salad dressing and lay the vegetables on one of the baking sheets.

Cut tofu into 3/4" cubes. In a large bowl, gently toss the tofu cubes with olive oil. Add in the cornstarch and garlic salt, and toss to coat evenly.

Place the tofu cubes in one layer on the other baking sheets. Go ahead and put that on the upper rack of the oven. Set timer for 30 minutes. While the tofu begins roasting, prepare the veggies.

Place the tofu on the upper rack and the vegetable son the lower rack.

Cook everything for 20 minutes. At the 20 minute mark, remove the vegetables and flip the tofu. Cook the tofu for an additional 5-10 minutes, or until it has reached your desired crispiness. It will get harder as it cools, so keep that in mind!

Season everything with salt and pepper to finish and serve over rice if you wish!
Nutrition
Calories:
302
kcal
Carbohydrates:
36
g
Protein:
16
g
Fat:
13
g
Saturated Fat:
2
g
Sodium:
864
mg
Potassium:
664
mg
Fiber:
9
g
Sugar:
2
g
Vitamin A:
11517
IU
Vitamin C:
24
mg
Calcium:
92
mg
Iron:
4
mg