Indian Spiced Black Bean & Tofu Burgers
Hi! Here's another way to incorporate more tofu in your life! I create delicious tofu recipes for Mori-Nu Tofu, made right here in the USA. Enjoy! Jaden
Y'all know I'm a true omnivore, given a choice between a vegetarian taco and a pulled pork taco, you know which one I'd choose. The closest I had ever gotten to a vegetarian burger was once I was accidentally given a Gardenburger at a restaurant instead of my order of a fancy $18 grass-fed, local, organic, massaged and manicured burger (the Gardenburger was for the other table).
But when you go to a mostly vegan/vegetarian cafe like Simon's Cafe in Sarasota, Florida, the burger of the day is a lentil burger. It came highly recommended from the waitress when I asked, "What do you recommend??"
I love hearing what the waiters and waitresses recommend – but then I sort of feel obligated to order what they recommend. I guess I feel rude for asking them to take their time to rattle off their menu favorites and then totally disregard what they just said!
The burger was nothing like I had imagined (While waiting for my meal, I was dreadfully thinking that the lentil burger would be dry, chalky, lentil-y, NOT MEAT….and then pissed off at myself for ordering it…..then pissed off that the waitress had recommended it.)
All that huffing and puffing was totally unnecessary, and energy wasted. The vegetarian burger turned out to be everything that a meat burger WAS NOT…and in the most delicious way. It was seasoned generously with a blend of inviting, warm Indian spices and made of finely minced bell peppers, mushrooms, lentils, oats and other grains. The goat cheese was a perfect match – creamy yet assertive (a little goes a long ways) with a tangy punch.
At the Steamy Kitchen kitchens, we've been testing different variations of bean burgers and came up with one that is just as fabulous as Simon's – and maybe just slightly even better since these are very simple to make and really a 3-step recipe!
Throw vegetables and canned black beans in food processor. Mix in silken tofu (acts like a healthy, low-calorie, protein rice binder) and panko bread crumbs. If you have any leftover grains (rice, quinoa, wild rice, couscous) you can add that too. Form into patties and fry both sides. Of course, I couldn't leave out the goat cheese!
Indian Spiced Black Bean & Tofu Burgers Recipe Video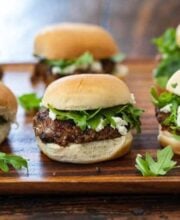 Indian Spiced Black Bean and Tofu Burgers
Servings: 6 (makes 6 burgers)
Prep Time:5 minutes
Cook Time:10 minutes
Ingredients:
1/4 red onion
1 bell pepper, cored
6 ounces fresh mushroom of your choice
One 16-ounce can black beans, rinsed and drained
2 teaspoons garam masala seasoning
1/2 teaspoon kosher or sea salt
6 ounces soft silken tofu (I prefer Mori-nu brand)
1 cup panko bread crumbs
2 teaspoons cooking oil
12 burger buns
mayonnaise (or soy mayonnaise)
2 cups fresh arugula
6 ounces goat cheese (or soy cheese)


Directions:
Roughly chop the onion and bell pepper (it makes it easier for the food processor). In a food processor, add the first 6 ingredients. Pulse until the mixture becomes finely minced.
Drain the tofu and pat dry. With a large spoon, mix the tofu and the panko bread crumbs into the patty mixture. You can taste the mixture and add additional garam masala seasoning or salt, if needed. Refrigerate the patty mixture for at least 20 minutes (or up to overnight). The mixture should be moist, but just firm enough to hold a patty shape - if it is too wet, mix in 1/4 additional bread crumbs. Shape the mixture into 6-8 patties.
When ready to cook, heat a frying pan over medium heat and swirl in the cooking oil. When hot, carefully add as many patties that can fit without touching. Fry each side until it is golden brown, about 2-3 minutes per side. Assemble the patties onto each bun with mayonnaise, arugula and cheese.