Vietnamese Pho Pressure Cooker – Paleo Friendly
It's been a loooong time since I've made home made pho – much too long! Normally I make beef pho the long and slow way – either in the slow cooker or barely bubbling on the stovetop:
Slow Cooker Vietnamese Pho Recipe
Vietnamese Beef Pho Recipe
Chicken Pho Recipe (Pho Ga)
But a very persistent reader has been emailing me about creating a Pressure Cooker Vietnamese Pho recipe for the past 2 years. If you can make awesome Pho in the slow cooker, why not a pressure cooker?
The only limitation of using a slow cooker or pressure cooker is space. Both appliances aren't that big, and if I'm going to take the time to make Vietnamese Pho, I want to make a BIG BATCH of it! Well, enough to serve 4 people and some broth for the freezer too (freeze in quart containers or bags to make the best "instant noodle" broth ever.)
My solution for Pressure Cooker Pho is to treat the pressure cooker as a "pho broth concentrator" – the ingredients in the recipe are sufficient enough to create such a rich pho broth concentrate. You can add water to adjust after the broth is complete.
Paleo Friendly Vietnamese Pho!
Here's a bonus. The recipe is Paleo friendly.
Big thanks to Nom Nom Paleo Food for Humans Cookbook by my friends Michelle Tam and Henry Fong for another stellar recipe. LOVE this cookbook, I can't recommend it enough and have purchased copies for my friends.
If you're non-Paleo, don't worry. I'm creating notes for Paleo and non-Paleo recipe the Vietnamese Beef Pho using the pressure cooker.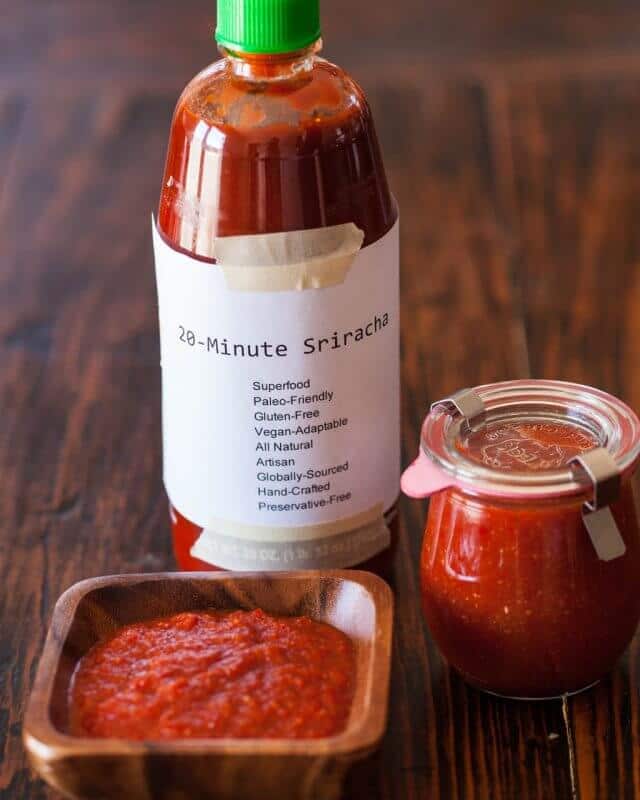 20 Minute Sriracha Sauce Recipe – Paleo Friendly –
Cauliflower Fried Rice Recipe – > – Paleo Friendly
Non-Paleo Notes: Vietnamese Pho is generally Paleo friendly, as-is. The only ingredient substitution is the type of oil and noodles. Paleo grain-free "noodles" can be Shirotaki noodles (slippery little noodles made from Asian mountain potatoes – found in refrigerated section next to tofu at the store), Zucchini noodles (watch my video reviewing different gadgets to cut zucchini noodles), Kelp noodles made from seaweed.
Traditional Vietnamese Pho Ingredients
If you're regular eatin' folk, the traditional Vietnamese Pho noodles are rice noodles. You can find fresh rice noodles at Asian markets or you can get dried rice noodles at your grocery store. They come in different widths, just get one that you like. Generally, I can easily find the 1/4″ thick noodles very easily.
Dried rice noodles cook differently from the regular wheat-based Italian style pasta that you're used to. The great news its that it's faster! Dried rice noodles cook in as quickly as 1-3 minutes! If you overcook the noodles, they become mushy and pretty much inedible.
Here's the best way to cook the dried rice noodles:
Soak the dried noodles in hot water (not boiling water, just hot water from tap) for about 10 minutes. This will soften up the rice noodles. Drain.
Bring a small pot of water to a simmer. You don't really need a ton of water (like you do for pasta) – just enough so that all the noodles can be submerged in the hot water. Turn off heat.
Add drained rice noodles to the hot water. Let it sit for 1 minute. Very thin noodles will be ready after 1 minute. Thicker rice noodles will need a couple of minutes. Drain.
Cooking noodles in the Pho broth?
I know you're gonna ask me: why not cook the noodles directly in the Pho broth? I never do this. Here's why:
Because the rice noodles cook so darn quickly, it's so easy to over cook them. I don't want to ruin a batch of hard-earned broth with overcooked noodles!
Cooking any type of noodles releases starch. For example, when you cook noodles, the water becomes cloudy from the extra flour. I don't want that in my Pho broth!
Related to #1 is that because the rice noodles can get mushy if submerged in boiling water too long, I add the noodles to each personal bowl first. When everyone is ready to eat (at the table, all staring at me, impatiently tapping their chopsticks on the table) – I will pour the Pho broth INTO the bowls one by one and serve immediately. Basically, I make the bowls to-serve.
No Pressure Cooker? No problem!
Just follow all instructions and simmer the broth for 4 hours on your stovetop. Put all ingredients into a large pot. Fill with 2-1/2 quarts of water. Bring to a boil, reduce heat so that the water is BARELY simmering – just tiny bubbles here and there. Simmer slightly covered for 3-4 hours. Skim surface of fats and stuff that floats frequently.
Vietnamese Pho Pressure Cooker (Noodle Soup) Recipe Video
Vietnamese Pho Pressure Cooker (Noodle Soup)
Servings: 6
Prep Time:15 minutes
Cook Time:2 hours
Ingredients:
3 whole star anise
2 tablespoons whole coriander seeds
1 cinnamon stick
3 whole cloves
1 green cardamom pod
2 tablespoons butter, divided (Non-Paleo version: cooking oil)
8 slices fresh ginger, unpeeled, 1/2 inch thick
1/2 large yellow onion, peeled
2 pound beef cross shanks, 1-1/2 inches thick
1-1/2 pound oxtails
1-1/2 pound beef brisket
3-1/2 tablespoons fish sauce
1 pound beef eye of round roast, very thinly sliced (keep refrigerated until ready to serve)
8 cups shirotaki noodles (Non-Paleo version: dried rice noodles)
FOR THE TABLE:
2 limes, cut into wedges
2 jalapeño peppers, sliced
1 bunch fresh cilantro
1 bunch fresh Thai basil (or regular Italian basil)
1 bunch fresh mint
2 cups bean sprouts
Sriracha sauce (store bought or 20 Minute Sriracha Recipe)


Directions:
1. In a large saucepan over medium-high heat, add all spices and toast until they become fragrant. Take care not to burn them! Place them in a coffee filter or piece of cheesecloth and tie it up. Place the sachet into the pressure cooker pot.
2. In the same sauce pan over medium-high heat, add 1 tablespoon butter (or oil) and add onion and ginger pieces. Brown until there is a nice sear on them. Remove them from the pan and place them in the pressure cooker.
3. Sear the meat in batches: add the remaining tablespoon of butter to the pan and sear the shank, oxtail and brisket. You'll do this in batches, all in a single layer. Give everything plenty of space so that they SEAR and brown. Crowding the pan will not brown the meat. Sear each side, remove each meat from the pan and add them to the pressure cooker.
4. Cover the contents of the pressure cooker with water or up to the fill line. Set your pressure cooker to cook for 60 minutes. This means it will cook under pressure for 60 minutes. It will take time to build up pressure (usually 30 minutes) and additional time to release pressure after cooking (usually 30 minutes).
Approximately: 30 minutes to build up pressure + 60 minutes under pressure + 30 minutes to release pressure. Exact timing is really not that important - and also depends on your pressure cooker system. Follow manufacturer instructions.
5. Once finished cooking and safe to open, open the pressure cooker and using a fine mesh or ladle, remove the top layer of fatty liquid that has accumulated on the surface of the broth and discard (there will be lots of it.) Remove the onion, ginger and spice sachet and discard. Remove the meat to your cutting board. Shred the brisket using two forks. Remove any other meat from bone.
6. The resulting broth is a concentrate. Dilute the pho concentrate with 4-6 cups of water. Season the Pho broth with fish sauce. Taste and add additional fish sauce if needed. Bring to a simmer on stovetop right before you are ready to serve.
Assemble the Pho Bowls:
Serve to order. In a large bowl for each person, add shirotaki noodles and meat (including the sliced eye of round). Pour the just-simmering hot broth into each bowl. Hot broth will cook the sliced eye of round. Serve with the remaining sides a la carte so each person can add whatever they'd like to their soup.