Easy Pad Thai Recipe – Cheater Version!
In this Easy Pad Thai Recipe:
Cheater sauce! Enchance store-bought pad thai sauce with fresh, flavorful ingredients
Less than 20 minutes, start to finish
Looking for a no-carb version? Replace noodles with zucchini noodles "zoodles"
Sometimes a cheater sauce is just the answer.
The Asian aisle at my local grocery store has soo many bottles and jars of Asian sauces – sweet-sour, kung-pao, ginger-garlic. Most of the time, I tell you to skip the pre-made stuff – it's just easier to combine fresh ginger, fresh garlic, soy sauce or other easy-to-find ingredients to make your own type of sauce:
Sweet & Sour Chicken
Healthy General Tso's Chicken
Chinese Beef & Broccoli
Sesame Chicken Salad
But when it comes to Pad Thai noodles, a do-it-yourself sauce can be tricky. The recipe for the sauce includes tamarind paste, which isn't that easy to find in most American grocery stores. Thai Kitchen Pad Thai sauce is the only one my store carries, and it's good! Let me know if you've tried others and have had good/bad results.
This recipe takes 10 minutes to prep and less than 8 minutes at the stove.
Pad Thai noodles comes together really fast – so easy to make yet so easy to mess up.
1. Dried rice noodles are not cooked the same way regular pasta noodles are cooked. If you try to cook dry rice noodles in a pot of boiling water (like you do with spaghetti) – you'll end up with a mushy mushy mushy mess. Instead, soak the noodles in hot (not boiling) water. That will soften the rice noodles and the stir-fry will finish cooking the rice noodles.
Even when making Vietnamese Pho Noodle Soup, another dish that uses dried rice noodles, I soak them in water – then briefly touch down in boiling water to cook. They'll cook in 1 minute!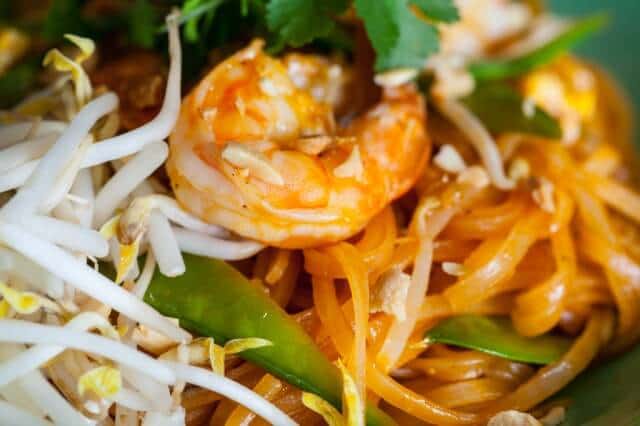 2. The shrimp, egg, garlic, ginger and vegetables all cook at different heat setting and different times. In order to make sure nothing is under or over cooked, you have to adjust heat and add the ingredients into the wok or pan in a certain order. Prepare all of your ingredients first, and have them all ready within arm's reach.
3. Shrimp is not very forgiving to cook with. Because of their size, they are so easy to overcook! Then they become rubbery. To make sure that the shrimp is perfectly cook AND also get a nice sear – we sear them each side first before we do anything else. The shrimp are only cooked half-way. We'll add them back into the pan near the end of the stir-fry. In fact, this is the technique that I use for stir-frying all meats and seafood. Sear at high heat, remove, then add back into finish cooking towards end.
4. Egg is also another funny ingredient – if you just crack an egg into a stir-fry, you'll end up with a soggy mess. The egg will coat all of the ingredients and weigh down the dish, making it very "wet" and mushy. Instead, right after the shrimp are taken out of the pan, the egg is added to the pan. Give it a good scramble, and when it sets, remove the cooked eggs from pan too. You can just put the egg in the same bowl as the shrimp. This way, your Pad Thai will get nice bits of perfectly scrambled egg.
I know this seems like a lot of information – but don't worry – here's a video and the recipe will give you step by step!
Cheater Pad Thai Recipe Video
Cheater Pad Thai Recipe
Servings: 4
Prep Time:10 minutes
Cook Time:8 minutes
Ingredients:
1 pound dry rice noodles (about 1/4" wide)
1 tablespoon cooking oil, divided
1 pound raw shrimp, peeled and deveined
1 egg, beaten
2 cloves garlic, finely minced
1/4 pound snow peas, sliced diagonally lengthwise
8 ounces bean sprouts
one 8-ounce jar prepared Pad Thai sauce
1 tablespoon water
optional toppings: Sriracha hot chili sauce, torn fresh cilantro, lime wedges, chopped peanuts


Directions:
1. In a large bowl, fully submerge the dry rice noodles in hot tap water (not boiling, just hot to touch). Let them soak for 8-10 minutes. Drain and set aside.
2. In a wok or large saute pan over high heat, add just half of the cooking oil. When the oil is hot, swirl it around the bottom of the pan and add the shrimp in a single layer. Let cook for 2 minutes. Try not to move the shrimp too much, let them develop a sear and then flip to sear the other side for an additional minute. The shrimp should be half-cooked. Remove the half-cooked shrimp to a bowl and set aside.
3. Keep the pan on the stove and add the beaten egg to the pan, stirring constantly to fry quickly. Remove cooked egg to the same bowl as the shrimp.
4. Turn the heat down to medium-low and let the pan cool down a bit. Swirl in the remaining cooking oil. Add the garlic to the pan and stir fry until the garlic becomes fragrant, about 30 seconds. Add the snow peas and bean sprouts and stir fry for another minute. Add the sauce to the pan from the jar. To get every bit of sauce from the jar, add a tablespoon or so of water, close lid, shake jar and pour that into the pan. Add the drained noodles into the pan. Turn the heat back up to medium-high. Stir to combine.
5. The moment the sauce begins to simmer, add the shrimp and egg back into the pan and stir fry everything until the shrimp are fully cooked through, about another minute. Add optional garnishes and serve immediately.