Thai Firecracker Shrimp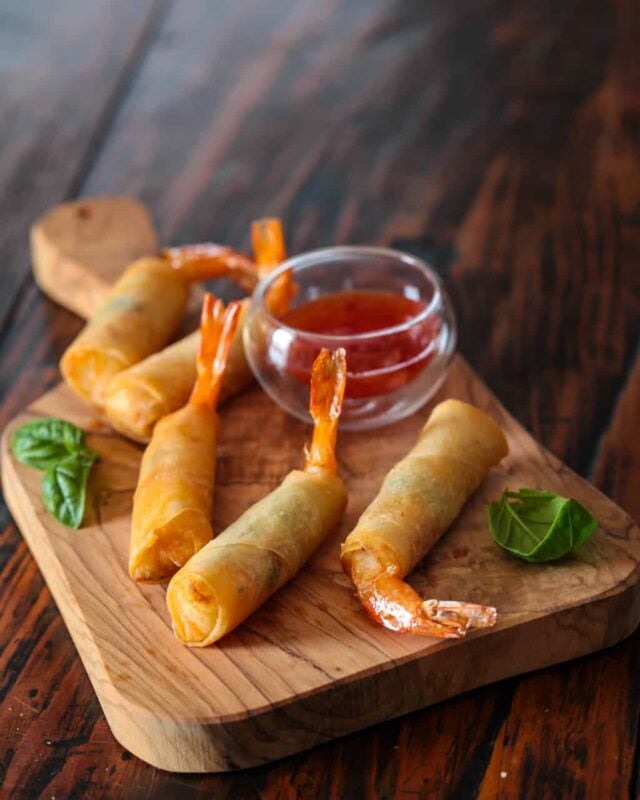 You'll learn:
Deceptively simple 5-ingredient appetizer, can be made ahead and frozen
Pad Thai sauce + fresh basil + peanuts + shrimp
Ingredients are pantry/freezer friendly, whip up last minute!
Step by step video: roll tight, pretty rolls
The most popular appetizer that I make on television is Firecracker Shrimp, with only 3 main ingredients that are pantry and freezer ready, it's an impressive appetizer that you can make last minute. I've changed up the recipe to add a Thai flavor, with prepared Pad Thai Sauce (from jar), shrimp, chopped peanuts, fresh basil and spring roll wrapper.
It's so easy to make, that my son helps me make the Firecracker Shrimp too. We recently did a chef demo at the Sarasota Food and Wine Festival. Nathan was my sous-chef and in charge of rolling. I was the fry-master.
Okay, truth be told, I was his sous-chef. Nathan was definitely the star, explaining to the long line of people waiting for a sample, how easy it is to roll the Firecracker Shrimp.
We brought 5 pounds of shrimp, but ran out (the Firecracker Shrimp were a hit!) Nathan cozied up to the chefs at the next booth, and scored us a big bucket of slow-cooked pork belly that they brought extra. Nathan ended up rolling up the pork belly in the Pad Thai Sauce and we fried those for mini egg rolls!
These Thai style Firecracker Shrimp can be prepared ahead of time, frozen then fried (direct from freezer to fryer) in 5 minutes. We make a big ol' batch and freeze them for easy homemade appetizers.
Thai Firecracker Shrimp Recipe Video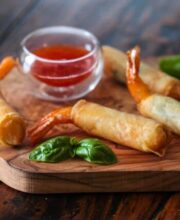 Thai Firecracker Shrimp
Servings: 6-8
Prep Time:30 minutes
Cook Time:15 minutes
 More Asian Appetizers