Geese & Ganders Review & Giveaway
Disclaimer: Products are provided to Steamy Kitchen for a thorough, honest review. We do not receive payment for reviews. Each review takes 5-10 hours of hands-on testing, writing and editing.
This is a Geese & Ganders Review – they are a party goods company, who have ditched the traditional boy & girl aisles in favor of unique, bold designs that appeal to everyone. They are offering a $100 gift certificate. -jaden
Geese & Ganders Review
My now 13-year old son, Nathan, celebrates his birthday right before Christmas. He's outgrown the kiddie style of birthday decor (between our two boys, we've done our share of Transformers, Mutant Ninja Turtles and Minecraft themes), and the other other type of party ware we can find in December are plain, solid colors and Christmassy stuff.
That's why we love Geese & Ganders.
Shopping online, we found colors that we could use for Nathan's birthday, Christmas and New Years celebrations.
The themes are whimsical, non-gender specific and beautiful.
Geese & Ganders features 4 different themes: Jurassic's black/white dinosaur plates are complemented with pops of hot pink and grassy greens.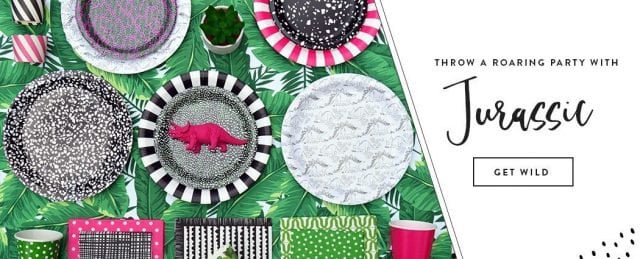 Party like a city superhero with skyline plates and geometric lines.
STEM, which stands for Science, Engineering, Math and Technology, is perfect for our future leaders and scientists!
Lastly, for the space explorers and star gazers, check out Intergalactic's fun splashes and galactic swirls of paint.
Rather than a specific theme, Nathan chose party ware based on colors. Opening the box from Geese & Ganders felt like a party was popping out!
Here's the birthday boy with PoPo (grandma) & Gong Gong (grandpa)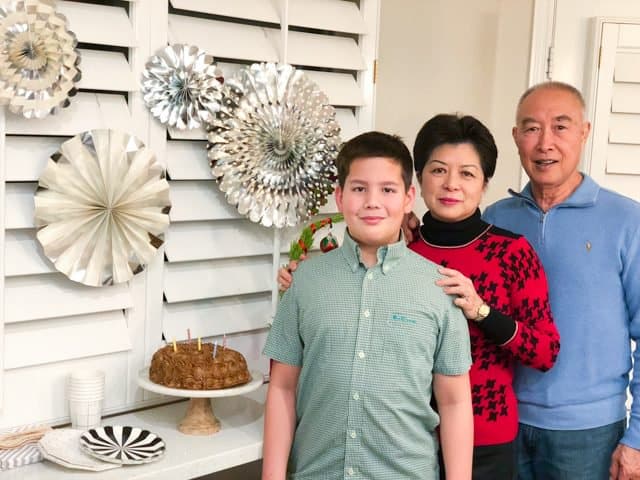 We kept the decorations up for Christmas and New Year's as well.
Geese & Ganders $100 Giveaway
---
Giveaway Ends: 2018-04-06
Number of Prizes Available: 1
Max Entries Per Day: 1
** Please add hello@steamykitchen.com to your contacts to help prevent email notifications from going into spam folders.
Never miss another Steamy Kitchen Giveaway!
Subscribe to our Giveaway Notifications
to keep up to date on all of our giveaways! We will even throw in a special gift when you confirm your subscription!
List of
Past Winners.
DISCLAIMER & OFFICIAL RULES: The giveaway product is provided by the sponsor of the giveaway and will be shipped from them directly. No purchase necessary to enter or win. Sweepstakes is open only to who are 18 years of age at time of entry. Steamy Kitchen and its sponsors only ship physical prizes to United States and to Canadian addresses. However, Steamy Kitchen reserves the right to provide an Amazon gift card for the value of the prize in lieu of shipping physical product due to shipping costs and logistics. Steamy Kitchen assumes no responsibility for late or misdirected entries due to SPAM, technological, or e-mail filtering issues or for prizes lost in transit. For this giveaway, entrants can enter the designated number of times per e-mail address per day. The use of any system, robot, agent, or software to automatically submit entries in connection with this Giveaway is prohibited. See rest of the Official Giveaway Rules.