This is a Power AirFryer Oven review, including both PROs and CONs of the product.
Power AirFryer Oven Review
We've been testing out the Power AirFryer Oven that's pitched by this guy on TV:
Both my Mom and I are big air fryer users – a couple of years ago, I purchased the Phillips Air Fryer for her. We've also reviewed air fryers from Kalorik, Bella, Simple Living, and the Power AirFryer XL (from same company as this review).
What's in the Power AirFryer Box
There's a lot of stuff in the box. So many parts! Lots of sharp pointy parts that look a little intimidating. Clockwise, from machine – rollie-poly basket for small foods, rotisserie fork (to jab into your chicken or roast), 10 skewers, rotisserie wheels, rotisserie handle, rotisserie stand (the black thing), a random screw, 4 racks.
PRO: The rollie-poly basket is amazing. Stick your food into the basket (like nuggets, sweet potato fries, etc.) and the basket rotates, so that the hot air circulates evenly.
PRO: Lots of recipes.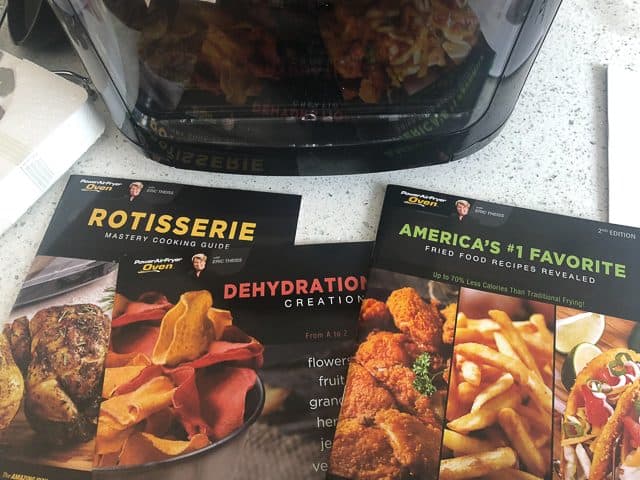 PRO: With the rotating rotisserie, the air fryer becomes more than just for "fried" foods like fries and onion rings. You can cook so much food in the Power AirFryer Oven.
PRO: The bottom tray is removable for easy cleaning.
CON: The inside is heavy duty plastic. The door is plastic. I was expecting metal, especially for an oven that costs $160. For $40 more, you can get a metal version. But that price seems so high. Here are their different models.
PRO: You can even use the Power AirFryer Oven as a dehydrator. Which makes total sense, because a dehydrator is basically just hot air blowing.
CON: The trays came a little warped, though I later when I used the trays for chicken wings, the heat helped straighten the trays a bit. The little plastic channels for the trays are very difficult to use. It takes me a couple of tries of very careful insertion in order to catch the grooves correctly. This is incredibly difficult when you have super hot trays, heavy with food on them.
PRO: The front door is removable for easy cleaning.
Let me show you side by side with my Philips Air Fryer.
PRO: The Philips Air Fryer basket means I can only have ONE layer of food. Stacking food on top of each other means air cannot circulate well. On the other hand, the Power AirFryer Oven's rolling basket allows me to cook more food, without having to turn or flip the food.
I actually spent $30 to buy this accessory for the Philips fryer. It gives me a small rack for a second layer of food and four TINY skewers, way too small and would only hold enough food for 2 not-so-hungry people.
PRO: The Power AirFryer Oven's skewer are much bigger and I get 10 of them. Enough food for our family of 4. These are sirloin steak skewers with bell pepper/tomato.
Loaded them up on the rack, used the handle to easily insert into machine.
PRO: 10 skewers! The space is TIGHT though. I feel like the machine needs another inch in height.
CON: So you're supposed to be able to fit an entire chicken for rotisserie. I tried 3 different stores to find a small enough chicken to fit into this opening. No luck. What you need is a 3 1/2 pound whole chicken that is no bigger than 5.5 inches wide (otherwise the chicken would touch the top grate).
PRO: The glass door of the Power AirFryer Oven means I can see my food cooking.
PRO: Amazing! Steak is perfect. Nicely seared on outside, perfect medium on inside.
PRO: Nice removable tray and removable door for easy cleanup. Wipe down the oven with damp cloth.
CON: The inside is a little hard to clean, especially with those grooves for the trays.
Let's try chicken wings breaded with egg and crushed Kellogg's Corn Flakes. I sprayed the trays with cooking oil, and I also sprayed the top of each wing with oil. The 3 layers BARELY fit. Again, I'd love an additional inch of space.
You have to rotate the trays. The top layer cooks fastest.
CON: As I mentioned, the trays are really difficult to insert into those grooves, especially with it being crazy hot and heavy with food.
PRO: Look! Super crispy, crunchy chicken wings! with just a spray of oil.
PRO: Oh they were GOOD.
PRO: Cleanup was not bad, as long as your food doesn't touch the walls or top of the Power Air Fryer Oven.
CON: We put the trays into the dishwasher. They rusted a bit. You have to wash and immediately dry the metal parts. Quick scrub and rust comes out.
The price for the Power AirFryer Oven is $169 (here's my affiliate Amazon link). It's an oven, a rotisserie, dehydrator and air fryer, all in one. I'm giving away my Philips Air Fryer and keeping this one. Despite some quirks of the appliance, I really think it's the best air fryer on the market. I don't have pictures of the rotating basket for fries, but it works amazing. The fries were evenly cooked and so crispy, with just a spritz of oil.
The Elite version with metal interior is $199. A larger, 8 quart size is sold on their website for $199.
Power AirFryer Oven Review & Giveaway