Kalorik Air Fryer Review – we're reviewing and giving away a Kalorik digital air fryer with egg poacher. Review includes both PROs and CONs. – jaden
Kalorik Air Fryer Review
If you have the typical American diet, an air fryer can help you cut calories and save time. Powerful air frying system circulates hot air to cook your food evenly and quickly, with just teaspoons of oil. Kalorik is an kitchen appliance company (we've reviewed their waffle maker, sous vide, and pizza oven) Kalorik has 10 different air fryers to choose from to fit your lifestyle. We're reviewing the model that includes an egg poacher.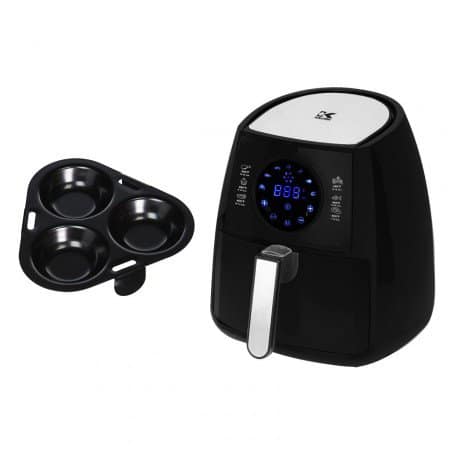 First, let's talk about the stats:
MODEL FT 44253 BK
• Digital control with LED display
• Touchscreen control panel with 7 preset menus, very easy to use
• Powerful air frying technology with rapid hot air circulation system gives your food a crispy fried finish
• Great for traditional French fries, Onion rings, but also cooks the perfect steaks, roasted potatoes, vegetables and much more
• Multi-functional and versatile, for frying, baking, grilling and roasting with little to no oil added!
• Temperature control up to 400F (200C)
• Timer up to 60min.
• 3.0L / 3.2qt food basket with FDA approved non-stick coating
• Over-heat protection
• Non-slip feet
• Safety protection circuit enables you to open the basket to check the cooking status at all times.
• Recommended cooking capacity up to 900g / 2.0lb.
• With Egg Tray to poach, air-fry, make omelets or pop corn
With a 2 pound food capacity, this is a smaller air frying unit, that's great for 1-3 people. If you have a family of 4 or larger, you should probably consider getting a larger capacity air fryer.
PRO: Easy to remove basket and tray.  I've had other air fryers that have frustrated me so much because the latch is difficult to use.
Poaching Eggs in an Air Fryer??
I was skeptical. Ok, more than skeptical….I was expecting a big fail. Poaching eggs is a delicate cooking process that takes patience and perfect timing. Not only that, but you also have to wait for your water to boil.
I sprayed a little canola oil into the pan, then cracked 3 eggs in, and sprayed a little oil again top of the egg
Set the machine to egg poaching, which is 6 minutes.
CON: Since the unit is marketed as an egg poacher, I wish the temperature and timing would be pre-printed on the front. The digital buttons are confusing. There are no words next to buttons, so I really have to look carefully to see what button I'm pushing. Sometimes minimalism doesn't work for kitchen appliances.
Hmmm…they don't look like poached eggs.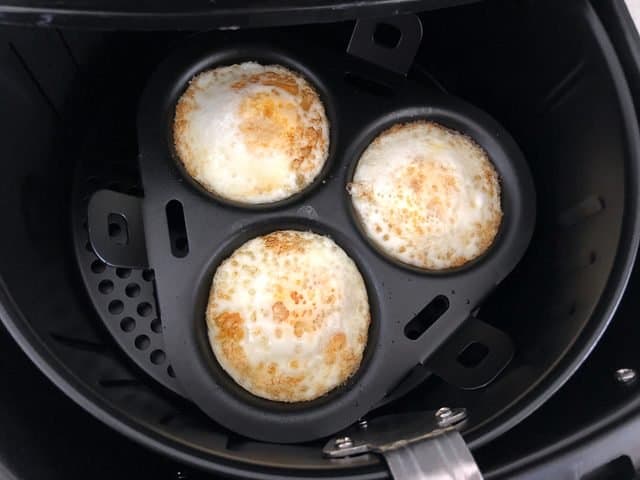 Egg orbs easy to remove.
PRO: But OMGGGG the eggs are so amazing! Okay, technically they aren't poached eggs. They are air-fried eggs. Imagine egg with the perfect crispy edges and the perfect runny yolk center. In 6 minutes. With minimal cleanup (I just threw the egg poacher pan in the dishwasher without needing to wash the basket or tray).
Healthy French Fries in the Kalorik Air Fryer
Sliced, washed and dried potato.
Into the basket with just a spray of oil.
A few minutes later, perfectly crisp, crunchy french fries.
A little truffle salt and shredded parmesan cheese….Truffle Fries.
Kalorik Air Fryer Giveaway