Hainanese Chicken Rice Recipe
Learn how to make authentic Hainanese Chicken Rice recipe:
How to choose the right chicken for your Hainanese Chicken Rice
Why you need to exfoliate the chicken
How to cook the perfect chicken that is juicy, moist & tender
Cook Hainanese rice that's flavorful & fluffy
Prepare a spicy, savory chili dipping sauce and a gingery-garlic sauce
Jess' Family Hainanese Chicken Rice Recipe
Hello! Meet a friend of Steamy Kitchen, Jess. Her family is Singaporean, and this recipe for Hainanese Chicken Rice is her family recipe.
Hey all,

Jess here!That's me chewing on a mango in my tiny kitchen preparing for a meal at Synergy Farm (a farm on an island!) where I intern at. I'm actually in my kitchen right now on my lunch break, looking out at the barn and the carrots in the north garden, munching on a quesadilla with beet greens and feeling amazed all over again at how I ended up here, on a farm, writing to all of you wonderful readers!

I've been here since late March, just after my 24th birthday. Before that, I was living in Cambodia helping girls get an education; before Cambodia, I was working at Google, and waaaaaay back before then (well not so long ago, actually) I ran an afterschool program in the Bay Area. I love adventure, and I love to consider the small ways I can change the world for the better, and over the past few years, I've become convinced that my way of making my world better is through food.

All this food love had to come from somewhere, and I tend to attribute a lot of it to good genes. My mum's side of the family is Singaporean and I grew up in a whirlwind of popiah, freshly baked curry puffs, and beef rendang. Though I'm open to all kinds of cuisines, I hold a special place in my heart for a good plate of chili crab or chicken satay.

When I was small, my family made many trips to my grandparents' house back in Singapore. Early in the mornings, before it got unbearably hot, my grandpa would head down to the local hawker center (a food court with lots of different stalls) to pick up breakfast. He would come back to the house with a bag full of packets wrapped in banana leaves, still hot, shiny with oil, and intensely fragrant. We'd each carefully unwrap our packet, uncover the pieces of tender, perfectly steamed chicken on top of savory rice. We'd tuck in to the fragrant ginger-garlic-chickeny heaven, topped in our favorite combinations of magical sauces and eat till we were ready to face the sticky tropical day.

These days you can still find Hainanese Chicken Rice in hawker centers across the island for a couple of dollars a plate, and also in high-end restaurants serving up authentic cuisine. This is what a hawker center looks like — like a mall food court, only with mee goreng and peanut soup instead of Sbarro!

Hainanese Chicken Rice often called Singapore's national dish. When I was a kid and my family would go back to visit Singapore, I had three loves: fried bananas, paratha, and chicken rice. When I was visiting family last November, it was one of the first things they took me to eat — the carcasses in the stall beckoned to me with the promise of super-fresh tender chicken — some things just don't change.

Though Hainanese Chicken Rice gets its name from its origins in Hainan, China, it was really when overseas Chinese brought the dish to Singapore that it got a new personality and became famous.

According to my mom, this recipe is really only authentic when made with a "kampong" chicken, which means basically, a chicken from the village: the kind that roam around in the sun and eat whatever grubs and grass and scraps of rice are available. These kinds of chickens look pretty skinny by our standards, but they have an amazing flavor that I can only describe as "extremely chickeny."

Here on the farm, we raise the closest equivalent to a "kampong" chicken that you'll likely find in the US — not as scrawny, but pretty much as delicious. Our chickens are organically fed and pasture-raised, which means they get to spend their days outside, hanging out in the sun, roam in the grass, pecking at greens and grubs. We raise about 120 in each batch and they take about 8 weeks to go from chick to chicken rice. As my mentor, Farmer Susan likes to say, these chickens live a really really good life and then have one really bad day. They are ridiculously good just boiled plain in a pot of water and salted slightly.

All that good care makes these chickens more pricey than your average bird and on a farmer's salary, it's tough to afford them, but thankfully in our chicken processing just a couple weeks ago, I was able to snag a couple of tiny 2-pounders that we wouldn't be able to sell, that were just perfect for chicken rice. -Jess
Make It Low Carb!
Low Carb Hainanese Chicken Rice:
Enjoy the chicken and the soup without the rice, or make Cauliflower Rice. Shred cauliflower in the largest holes of box grater. Add the shredded cauliflower to a wok or large pot with about 1 cup of the chicken broth. Bring to boil, turn heat to medium, and cover pot. Cook for 7 minutes, or until the cauliflower is soft.
How to cook Hainanese Chicken Rice
Hello guys and gals, it's Jaden back again – Jess gave me her family recipe for Hainanese Chicken Rice and I made it to show you step by step instructions. It's a multi-step recipe, with 4 components:
1) Chicken
2) Rice
3) Chili Dipping Sauce & Ginger Garlic Sauce
4) Soup (but you don't really have to do much other ladle into the bowls)
So, let's start with the CHICKEN.
Part 1: Making the best Hainanese Chicken
This is an organic supermarket chicken (I wish we were all as lucky as Jess to be able to have fresh chicken!) Here's the deal about the chicken. You gotta buy the best. Because this Hainanese Chicken Rice dish is all about the pure taste of the chicken, you really want to go with organic. It's worth the money for your health, the environment and taste buds.
When you buy a whole chicken and are cooking it skin-on, and ESPECIALLY if you're steaming or poaching the chicken, you want to make sure you get the "nasties" off.
I'm sure by looking at this photo you know what I mean. What I'm after is smooth, clean, unblemished skin.
So I give my guy a facial.
Yes, I'm totally serious!
I exfoliate my chicken.
How to give your chicken a spa treatment. Start with a small handful of kosher salt. Regular table salt is too fine to use for exfoliation. Sea salt is too expensive. Just use kosher salt. Even if you don't have that loose skin on your chicken, it doesn't mean you don't need to exfoliate — there's still hidden guck and yuck that is trapped in that chicken skin. TRUST ME. Your chicken will look and taste better this way.
Exfoliate chicken
Now RUB RUB RUB!!
Be gone wrinkles!
Be gone trapped guck!
Be gone dead skin!
Work those pores!
Rinse, pat dry and ta-da!!!
Glistening.
Glowing.
Soft.
Smooth.
Taut.
Chicken.
Check those lovely pores.
Season chicken
Season the inside and outside the chicken with salt and stuff the bird with ginger and green onions. Remember, you are not only seasoning the chicken, but also the poaching water too (which becomes the soup), so be generous with the salt.
Put it in a big pot and fill with water to just cover by 1 inch. Note that some of the stuffing might fall out. Which is totally okay. Don't worry.
Cook Hainanese Chicken
Bring that baby to a boil and then immediately turn the heat to low to keep a simmer. You'll begin to see some white, floaty scum, which is really denatured protein. I have a handy dandy scum skimmer. If you don't have a scum skimmer, buy one, it's only $2! The scum clouds the soup (and just doesn't taste good), so it's better to remove it.
After simmering on the lowest heat (just enough for little tiny bubbles to break surface) and your chicken reaches the correct temp (take the chicken temperature at the thickest part of the thigh that's not touching bone, it should read 170F). This is is done!
Prepare an ice bath and immediately lift the chicken out of the pot with 2 big slotted spoons or 2 big fat spatulas.
Tip: Don't try to grab the chicken legs to pull the chicken out. You'll end up tearing the skin and maybe even tearing the drumsticks out of the chicken…which results in you standing there holding two drumsticks, while the rest of the chicken plopsg back into the boiling hot broth….which then splashes back on your arms and face. Speaking from experience, of course.
Oh, and don't even THINK about pouring that clean, delicious broth down the sink! We'll be using that to cook the rice, prepare the sauce and to drink as soup! So, remember, gently lift the chicken out from under and try not to disturb its delicate (and exfoliated!) skin.
My pot of ice water wasn't big enough, but it worked, I just turned the chicken over a few times to make sure both sides were cooled. Plunging in an ice bath stops the cooking process immediately AND tightens the skin, making it springy and firm. The quality of the chicken skin is important in this dish! It's all about the skin texture.
Part 2: Soup for Hainanese Chicken Rice
See here? That's your soup! Taste, and season with salt, if needed.
Part 3: Cook Hainanese Rice
Clean rice
I use Jasmine rice, or long grained rice. To feed six people, I'm using 2 cups of raw rice. Place the rice in a large bowl and fill with water. Use your hands to swish the rice around. This helps rid of excess starch and other rice cling-ons, like dust. Carefully tilt bowl to drain out water, using your hands to keep the rice in the bowl. Repeat 3 more times. The water will never be "clear," but just less cloudy. Fill bowl again with fresh water and let the rice soak in water for 10 minutes.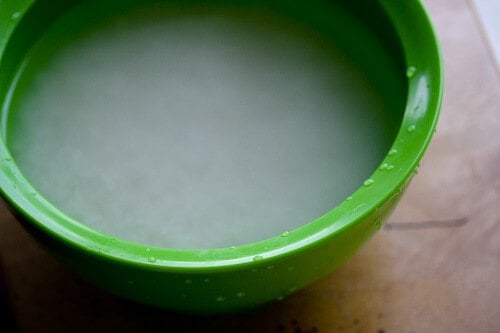 After soaking, drain out as much water as possible.
Saute garlic & ginger
Grab a pot and saute the garlic and the ginger. Mmmm…can you smell that??
Add the drained rice to the pot.
Fry the rice grains for a minute…this gives the rice SO much flavor! I like to add a bit of salt to the rice.
Cook rice with chicken broth
Remember that broth? Well, pour 2 cups of this into the pot. Normally when cooking rice, I'd go with a ratio of 1 cup rice : 1.25 cups water/broth. But since we've already soaked the rice and the rice has absorbed some of the water, I'm going with 1:1. Bring the rice to a boil, then immediately turn the heat to low, cover tightly and cook for 15 minutes. Remove from heat and let rest (still covered! no peeking!) for 5-10 more minutes. Done.
TIP: Oh, if you have a rice cooker, even better! Sauté the ginger and garlic in a small pot on stove (some rice cookers have a saute function). Add the rice, sauté for a minute. Then, pour everything into your rice cooker, including broth, and start cooking.
Perfect rice: Fluffy and flavorful.
Part 4: Chili & Ginger-Garlic Sauce for Hainanese Chicken Rice
Chili Sauce
If you're a fan of sriracha chili sauce, this will knock your socks off. Jess puts sriracha, lime, sugar, salt, couple tablespoons of that lovely chicken broth, garlic and ginger into a blender and wheeeeeee:
Ginger Garlic Sauce
I don't have a photo of the Gingery Garlic Sauce, but it is often served with Hainanese Chicken. The recipe is simple:
Fresh ginger + finely chopped garlic with a little salt and splash of vinegar.
The best way to chop ginger is to grate peeled ginger with a microplane zester. The zester (or grater) will create super-fine ginger, leaving the fibrous parts behind.
Garlic is best minced with a garlic press or a garlic mincer: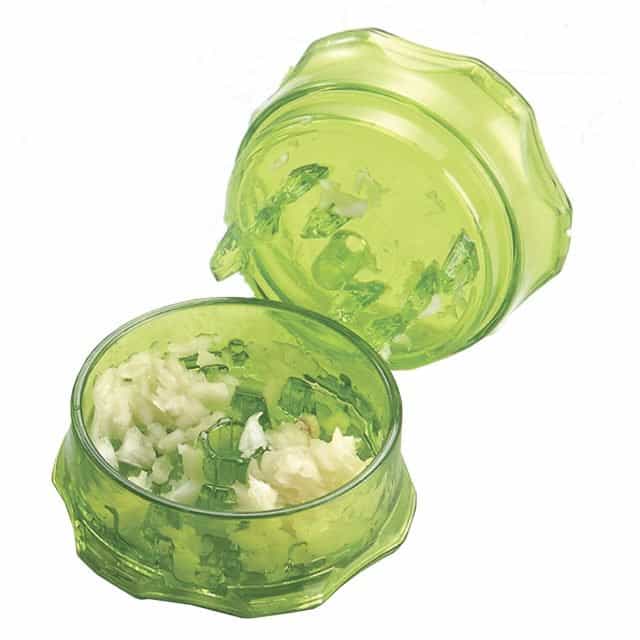 I love this gadget by Nextrend! It minces garlic with just a simple twist.
Once you have the ginger and garlic minced, you'll cook it very briefly in hot oil, just a few seconds!
Ready to serve
Enjoy!
More Recipes to Explore:
Chinese Boiled Peanuts Recipe (Steamy Kitchen)
Chinese Spring Rolls with Chicken Recipe (Steamy Kitchen)
Aged Sriracha Hot Sauce Recipe (Steamy Kitchen)
Sichuan Red Oil Wontons (Rasa Malaysia)
Hainanese Chicken Rice Recipe
While your chicken is cooking, it helps to prepare the ingredients for your chili sauce and rice. Both of these are usually assembled after the chicken is done because they require the chicken broth, but you can get started washing and soaking the rice, chopping the garlic and ginger. In this recipe, all of the poaching broth is reserved -- some is used in the rice, a small amount is used in the chili sauce, and the remainder is saved to be heated and served as a simple soup to accompany the chicken.
Course: Main Course
Cuisine: Chinese
Servings: 6 people
Calories: 544 kcal
Ingredients
FOR THE CHICKEN
1 whole chicken 3.5 lbs, 1.8kg, preferably organic
1 tablespoon kosher salt, plus more, for exfoliating
4 inch section of fresh ginger peeled and cut into 1/4'' slices
2 stalks green onion cut into 1" sections (both green and white parts)
1 tablespoon Asian sesame oil
FOR THE RICE
2 tablespoons cooking oil like canola, vegetable, peanut
2 cloves garlic finely minced
1 inch section of ginger finely minced (or grated on microplane grater
2 cups long-grain uncooked rice
2 cups reserved chicken poaching broth
1/2 teaspoon sesame oil
1 teaspoon kosher salt
FOR THE CHILI SAUCE
1 tablespoon lime juice
2 tablespoons reserved chicken poaching broth
2 teaspoons sugar
4 tablespoons sriracha chili sauce
4 cloves garlic
1 inch section of ginger peeled
FOR THE GINGER GARLIC SAUCE
4 tablespoons cooking oil canola, vegetable, grapeseed
2 tablespoon grated fresh ginger
2 cloves garlic finely minced
1/2 teaspoon salt
1 teaspoon rice or white vinegar
FOR THE TABLE
1 bunch fresh cilantro
2 cucumbers thinly sliced or cut into bite-sized chunks
Instructions
COOK THE CHICKEN
To clean the chicken, with a small handful of kosher salt, rub the chicken all over, getting rid of any loose skin and dirt. Rinse chicken well, inside and outside. Season generously with salt inside and outside. Stuff the chicken with the ginger slices and the green onion. Place the chicken in a large stockpot and fill with cold water to cover by 1 inch. Bring the pot to a boil over high heat, then immediately turn the heat to low to keep a simmer. Cook for about 30 minutes more (less if you're using a smaller chicken). Check for doneness by sticking a chopstick into the flesh under the leg and see if the juices run clear or insert a thermometer into the thickest part of the thigh not touching bone. It should read 160F. The chicken will continue to cook to 165F during rest.

When the chicken is cooked through, turn off the heat and remove the pot from the burner. Immediately lift and transfer the chicken into a bath of ice water to cool and discard the ginger and green onion. Don't forget to reserve the poaching broth for your rice, your sauce, and the accompanying soup. The quick cooling will stop the cooking process, keeping the meat soft and tender, and giving the skin a lovely firm texture. After cooling, pat the chicken dry with paper towels and rub the sesame oil all over the chicken. This will help prevent the chicken from drying out.
COOK THE RICE
Place rice into a large bowl, and fill with water. Use your hands to swish the water around, cleaning the rice. Tilt bowl to discard water, keeping the rice in the bowl Repeat 3 more times, until water is less cloudy. Fill bowl again, with fresh water. Let rice soak for 10 minutes.

In a wok or pot, heat 2 tablespoons of cooking oil over medium-high heat. When hot, add the ginger and the garlic and fry until your kitchen smells like heaven. Be careful not to burn the garlic and ginger! Add in your drained rice and stir to coat, cook for an additional minute. Add the sesame oil, mix well.

Add 2 cups of your reserved poaching broth, add salt and bring to a boil. Immediately turn the heat down to low, cover the pot and cook for 15 minutes. Remove from heat and let sit (with lid still on) for 5-10 minutes more.
CARVE CHICKEN
While your rice is cooking, remove the chicken from the ice bath and rub the outside of the chicken with the sesame oil. Carve the chicken for serving.
MAKE SAUCES
To make the chili sauce: Blend your chili sauce ingredients in a blender until smooth and bright red.

To make the ginger garlic sauce: In a small saucepan, heat the cooking oil until very hot, when you start seeing wisps of smoke. Turn off heat. Immediately add garlic and ginger and let it sizzle for a few seconds. Once it settles, stir in salt and vinegar.
SEASON SOUP
You should have six or seven cups of the reserved poaching broth left over to serve as soup. Just before serving, heat up the soup, taste and season with salt as necessary.

Serve the chicken rice with chili sauce, dark soy sauce, cucumber slices, and a bowl of hot broth garnished with cilantro or scallions
Recipe Video
Nutrition Facts
Hainanese Chicken Rice Recipe
Amount Per Serving
Calories 544 Calories from Fat 198
% Daily Value*
Fat 22g34%
Saturated Fat 5g31%
Cholesterol 80mg27%
Sodium 933mg41%
Potassium 494mg14%
Carbohydrates 56g19%
Fiber 2g8%
Sugar 4g4%
Protein 25g50%
Vitamin A 420IU8%
Vitamin C 9.3mg11%
Calcium 56mg6%
Iron 2mg11%
* Percent Daily Values are based on a 2000 calorie diet.