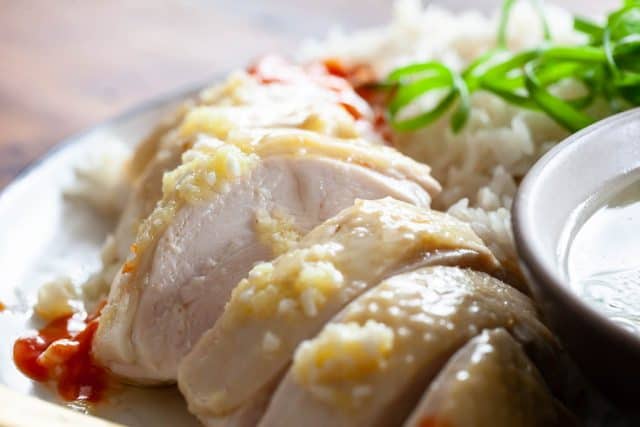 Learn how to make authentic Hainanese Chicken Rice recipe:
How to choose the right chicken for your Hainanese Chicken Rice
Why you need to exfoliate the chicken
How to cook the perfect chicken that is juicy, moist & tender
Cook Hainanese rice that's flavorful & fluffy
Prepare a spicy, savory chili dipping sauce and a gingery-garlic sauce

How to cook Hainanese Chicken Rice
This is my family recipe for Hainanese Chicken Rice and I'll show you step by step instructions. It's a multi-step recipe, with 5 components:
Chicken
Soup
Rice
Garlic Ginger Sauce
Red Chili Sauce
Hainanese Chicken Rice Recipe Video
Making the best Hainanese Chicken: EXFOLIATE!
This is an organic supermarket chicken (I wish we were all as lucky as Jess to be able to have fresh chicken!) Here's the deal about the chicken. You gotta buy the best. Because this Hainanese Chicken Rice dish is all about the pure taste of the chicken, you really want to go with organic. It's worth the money for your health, the environment and taste buds.
When you buy a whole chicken and are cooking it skin-on, and ESPECIALLY if you're steaming or poaching the chicken, you want to make sure you get the "nasties" off.
I'm sure by looking at this photo you know what I mean. What I'm after is smooth, clean, unblemished skin.
So I give my guy a facial.
Yes, I'm totally serious!
I exfoliate my chicken.
How to give your chicken a spa treatment. Start with a small handful of kosher salt. Regular table salt is too fine to use for exfoliation. Sea salt is too expensive. Just use kosher salt. Even if you don't have that loose skin on your chicken, it doesn't mean you don't need to exfoliate — there's still hidden guck and yuck that is trapped in that chicken skin. TRUST ME. Your chicken will look and taste better this way.
Exfoliate chicken
Now RUB RUB RUB!!
Be gone wrinkles!
Be gone trapped guck!
Be gone dead skin!
Work those pores!
Rinse, pat dry and ta-da!!!
Glistening.
Glowing.
Soft.
Smooth.
Taut.
Chicken.
Check those lovely pores.
Products I recommend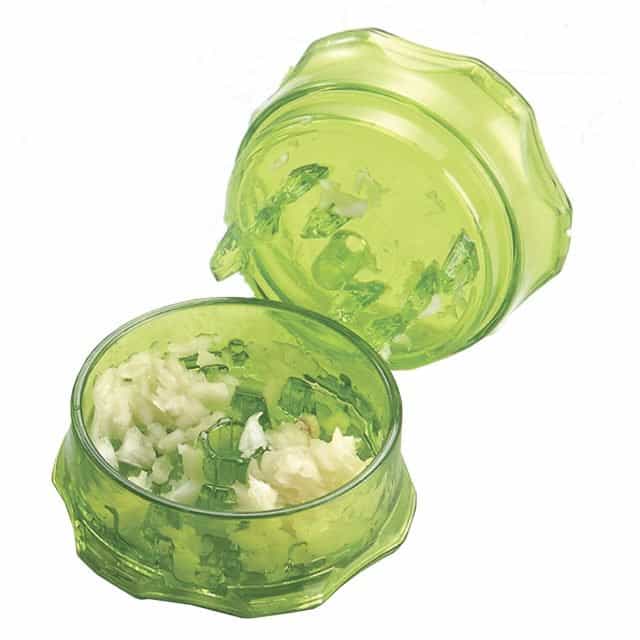 I love this gadget by Nextrend! It minces garlic with just a simple twist.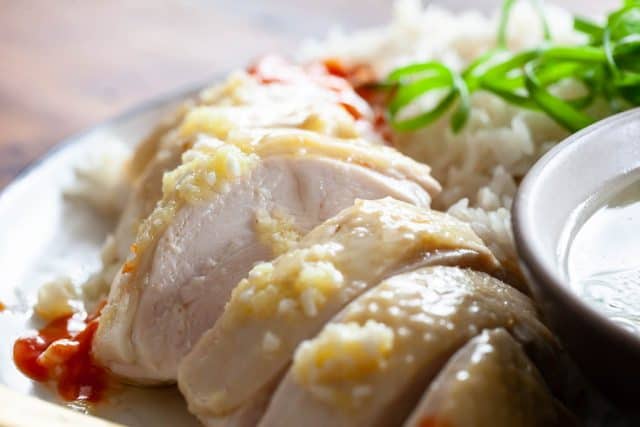 Enjoy!
More Recipes to Explore:
Chinese Boiled Peanuts Recipe (Steamy Kitchen)
Chinese Spring Rolls with Chicken Recipe (Steamy Kitchen)
Aged Sriracha Hot Sauce Recipe (Steamy Kitchen)
Hainanese Chicken Rice Recipe
While your chicken is cooking, it helps to prepare the ingredients for your chili sauce and rice. Both of these are usually assembled after the chicken is done because they require the chicken broth, but you can get started washing and soaking the rice, chopping the garlic and ginger. In this recipe, all of the poaching broth is reserved -- some is used in the rice, a small amount is used in the chili sauce, and the remainder is saved to be heated and served as a simple soup to accompany the chicken.
Ingredients
FOR THE CHICKEN
1

whole chicken

3.5 lbs, 1.8kg, preferably organic

1/4

cup

kosher salt for exfoliating

(the salt is for cleaning the chicken, this is not consumed)

4

inch

section of fresh ginger

peeled and cut into 1/4'' slices

4

cloves

garlic

2

stalks

green onion

cut into 1" sections (both green and white parts)

1

tablespoon

Asian sesame oil
FOR THE RICE
2

tablespoons

cooking oil

like canola, vegetable, peanut

2

cloves

garlic

finely minced

1

shallot

minced

1

inch

section of ginger

finely minced (or grated on microplane grater

2

cups

long-grain uncooked rice

2

cups

reserved chicken poaching broth

1/2

teaspoon

sesame oil
FOR THE CHILI SAUCE
1

tablespoon

lime juice

2

tablespoons

reserved chicken poaching broth

2

teaspoons

sugar

4

tablespoons

sriracha chili sauce

4

cloves

garlic

1

inch

section of ginger

peeled
FOR THE GINGER GARLIC SAUCE
4

tablespoons

cooking oil

canola, vegetable, grapeseed

2

tablespoons

grated fresh ginger

2

cloves

garlic

finely minced

1/2

teaspoon

salt

1

teaspoon

rice or white vinegar
Instructions
COOK THE CHICKEN
1. Boil a large pot of water. In the meantime, clean the chicken by exfoliating with kosher or coarse salt. Rinse chicken well, inside and outside.

2. PRE-BOIL CHICKEN: When water is at a hard boil, add the chicken. Return to hard boil, let scum come to the surface. Boil for 5 minutes. Discard all the water, including the scum.

3. Refill pot with clean water to cover the chicken by 1-inch, and add in the garlic, green onion and ginger. Bring the pot to a boil over high heat, then immediately turn the heat to low to keep a simmer. Cook for about 30 minutes more (less if you're using a smaller chicken). Check for doneness by sticking a chopstick into the flesh under the leg and see if the juices run clear or insert a thermometer into the thickest part of the thigh not touching bone. It should read 160F. The chicken will continue to cook to 165F during rest.

4. When the chicken is cooked through, turn off the heat and remove the pot from the burner. Immediately lift and transfer the chicken into a bath of ice water to cool. The quick cooling will stop the cooking process, keeping the meat soft and tender, and giving the skin a lovely firm texture. After cooling, pat the chicken dry with paper towels and rub the sesame oil all over the chicken. This will help prevent the chicken from drying out.
SEASON SOUP
Discard the garlic, ginger and green onion. Season the soup with salt to taste.
COOK THE RICE
1. Place rice into a large bowl, and fill with water. Use your hands to swish the water around, cleaning the rice. Tilt bowl to discard water, keeping the rice in the bowl Repeat 3 more times, until water is less cloudy.

2. In a wok or pot, heat 2 tablespoons of cooking oil over medium-high heat. When hot, add the ginger, shallots and the garlic and fry until your kitchen smells like heaven. Be careful not to burn the aromatics! Add in your drained rice and stir to coat, cook for an additional minute. Add the sesame oil, mix well.

3. Add 2 cups of your reserved poaching broth and bring to a boil. Immediately turn the heat down to low, cover the pot and cook for 15 minutes. Remove from heat and let sit (with lid still on) for 5-10 minutes more.

While the rice is cooking, make the sauces and carve the chicken for serving.
MAKE SAUCES
To make the chili sauce: Blend your chili sauce ingredients in a blender until smooth and bright red.

To make the ginger garlic sauce: In a small saucepan, heat the cooking oil until very hot, when you start seeing wisps of smoke. Turn off heat. Immediately add garlic and ginger and let it sizzle for a few seconds. Once it settles, stir in salt and vinegar.
Nutrition
Calories:
544
kcal
Carbohydrates:
56
g
Protein:
25
g
Fat:
22
g
Saturated Fat:
5
g
Cholesterol:
80
mg
Sodium:
933
mg
Potassium:
494
mg
Fiber:
2
g
Sugar:
4
g
Vitamin A:
420
IU
Vitamin C:
9.3
mg
Calcium:
56
mg
Iron:
2
mg