When tomato and fresh basil is THIS good, I hate to do anything other than enjoy it fresh in a salad. My Basil Vinaigrette is simple to make, takes 5 minutes in a blender. You'll love it. I promise.
First, the Basil Vinaigrette ingredients: fresh basil leaves, shallots (substitute with onion or garlic), sea salt, a couple slices of fresh chili pepper, good olive oil and a vinegar.
First you gotta chop up the shallots (or substitute with onion or garlic) and the pepper in the blender.
Next goes in the torn basil leaves, salt, vinegar and 2 tablespoons of water. You need that liquid to get things moving in the blender.
Let that baby whirl while you slowly drizzle in the olive oil. Look at that gorgeous mossy green!
Once it calms down a bit, the color turns bright vivid green.
The makings of a Caprese Salad.
Wait. Another beauty shot of the tomato.
Since I'm stacking this Caprese Salad up, I want to make sure that the bottom layer (which uses the bottom of the tomato) is flat — so that the whole stack doesn't fall over. So lop off the round butt of the tomato so that it has a flat ass to sit on.
Start stacking and layering your Caprese Salad!
Lastly…drizzle the Basil Vinaigrette over your Caprese Salad.
Love that drizzle action!
Caprese Salad with Basil Vinaigrette Recipe
serves 4 as first course
4 large tomatoes, sliced into thick slices
1 pound fresh mozzarella, sliced into thick slices
1/2 cup loosely packed basil leaves
sea salt & freshly ground black pepper
For the Basil Vinaigrette
1 small shallot, roughly chopped (substitute with 1 tablespoon chopped onion or 1 garlic clove)
2 slices fresh chili pepper
1 cup loosely packed basil leaves, torn
2 tablespoons water
2 tablespoons good white wine vinegar
1 teaspoon kosher or sea salt (1/2 tsp table salt)
6 tablespoons extra virgin olive oil
1. To make the Basil Vinaigrette, add the shallot and chili pepper to the blender. Next add the basil leaves, water, vinegar and sea salt. Blend. Slowly drizzle in the olive oil as you are blending.
2. To assemble the Caprese Salad, layer the tomato, fresh mozzarella and basil leaves. In between each layer, season with a bit of sea salt and freshly ground black pepper. Drizzle the basil vinaigrette on top.
Store extra basil vinaigrette in the refrigerator for up to 2 weeks.
This is summer fest!


Summer Fest 2009 is a four-week, cross-blog celebration co-created (alphabetically listed) by A Way to Garden, Matt Armendariz of Mattbites, Jaden Hair of Steamy Kitchen, and Todd and Diane of White on Rice Couple, with guest appearances from Shauna and Daniel Ahern of Gluten-Free Girl, Simmer Till Done's Marilyn Pollack Naron, and Paige Smith Orloff of The Sister Project.' And from you that's critical. Your contributions are desired, and needed.
Will you play along? Have a recipe or tip that fits any of our weekly themes? Starting today, with the subject of herbs, you can contribute in various ways, big or small. Contribute a whole post, or a comment, whatever you wish. It's meant to be fun, viral, fluid. No pressure, just delicious. The possibilities:
Simply leave your tip or recipe or favorite links in the comments below a Summer Fest post on my blog, and then go visit my collaborators and do the same.
The cross-blog event idea works best when you leave your recipe or favorite links (whether to your own blog or someone else's) at all the host blogs. That way, they are likely to be seen by the widest audience. Everyone benefits, and some pretty great dialog starts simmering.
Or think bigger: Publish entire entire posts of your own, if you wish, and grab the juicy Summer Fest 2009 tomato badge (illustrated by Matt of Mattbites).
Summer Fest 2009 Schedule:
Tuesday, August 18: TOMATO WEEK. How do you like them love apples? (this week!)
What did my co-hosts make for the Summer Fest Party?
Simmer Till Done Made a Savory Upside Down Tomato Basil Bread
Matt Bites does Tomatoes 10 Ways
Away to Garden shows us her Quick Tomato Sauce Ever So Slowly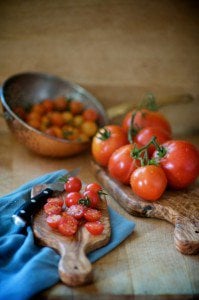 White on Rice tells us about their kiddie tomato thieves and makes Tomato Jam!
What a cute little girl! Paige from The Sister Project makes Curried Carrot and Tomato Soup
Gluten Free Girl makes Smoked Tomato Salsa