No matter what spiralizing tool you use, you'll find this quick zucchini noodle recipe useful for all kinds of dishes!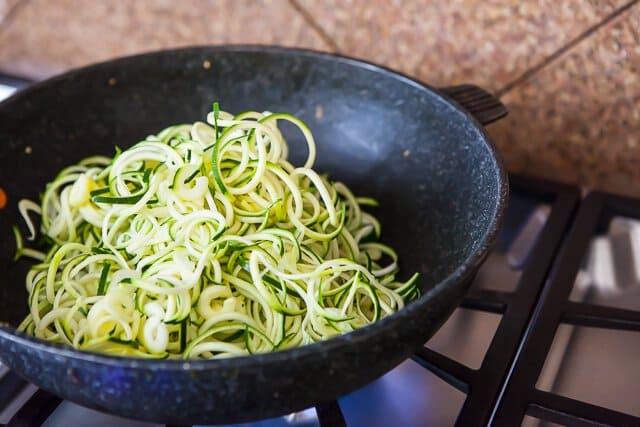 I'll bet you've come across the humble zucchini in your time on this delicious earth. In case not, perhaps courgette rings a bell?
When it comes to making zucchini noodles, we want to focus on two parts: the shaping and the cooking. Thankfully, the latter part is simple, even though zucchini doesn't come with cooking instructions, unlike spaghetti and other traditional noodles. The cutting/shaping part is also way simpler than making regular noodles from scratch, and I've got just the tips for that! Hint: they call it "spiralizing."
2020 update: Zucchini has enjoyed recent Internet-virality in the form of the a slow-cooked vegan "Bolognese" recipe made famous by Meghan Markle, Duchess of Sussex and fondly referred to as her "Sexy, Filthy Mush"; see it for yourself. (BTW, did I say zucchini? I meant courgette. 😉
On the other hand, zucchini noodles, aka "zoodles," have lingered quietly in the background since the Paleo paradigm spiked in 2016 and 2017. They remain a quick-cooking, low-carb method for catching all the flavorful sauces of various pasta dishes and one-bowl meals. Ever heard of Buddha bowls?
Spiralizing Zucchini Noodles
The most important step to making zucchini noodles is getting the right shape. No need to fool your mouth into thinking it's spaghetti, but we're generally going for long strands of even thickness that hold their own against whatever yummy sauce, proteins, and vegetables you mix in! We can achieve that using one of two ways!
Zoodle Tools – 3 Levels
First way: Use a vegetable peeler
Here's to all the casual, once-a-month zoodlers. Got a vegetable peeler that has two ends--like this OXO peeler? You're ready to start making zucchini noodles on the fly. Just use the end with the jagged teeth.
It's a vegetable peeler-julienner all-in-one!
Level 2: Dedicated spiralizer
For about $20 you can have yourself a little vegetable spiralizing station that doesn't take up much space! Just insert the zucchini into the spiralizer and turn the hand crank for a hands-free way to generate piles and piles of zoodles!
Level 3: Mandoline it!
To get a lot of different cuts, including spirals, try this multipurpose slicer that's basically a mandoline on steroids. You'll move the zucchini against the appropriate set of blades and let them fall into the container. Fewer moving parts but lots of interchangeable cutting blades. Aaand that's it for zoodling tools!
How to Eat Zucchini Noodles
Sure, they don't come with cooking instructions, but as for any pasta or noodle, it never hurts to give it taste!
Cooking zucchini noodles always takes about 1 to 2 minutes, whether you're microwaving, sauteeing, or boiling it.
Or, in even less time, you can enjoy them raw!
In any case, add your preferred seasonings and oils and taste as you go. For extra oomph, just try one of my favorite SIMPLE combos, especially if you're cooking it in a pan!:
CACIO E PEPE

| Grated pecorino cheese + black pepper
Minced cilantro + jalapenos

or Thai chiles
Heat the oil first, then briefly stir-fry the green onions before tossing in the zucchini.
GARLIC BUTTER

| Butter + fresh garlic or garlic powder
Melt the butter first to infuse it with garlic goodness!
Or the ONE ingredient that'll change everything? Just phone a very good friend of zucchini's! Try creamy microwave-"roasted" garlic.
Try the oodles of zoodle-friendly recipes!
Spiralized Zucchini Pasta with Creamy Avocado Sauce – The Watering Mouth
Other ways to get your noodle on:
Rice Noodle Buddha Bowl with Vietnamese Dressing Recipe
Pineapple Chicken Teriyaki Buddha Bowl Recipe
Show us some love and comment below on how you like your zoodles!
Zucchini Noodles Recipe
Master how to make zucchini noodles in no time—your way! After spiralizing, you can cook them in 3 easy, popular ways, or eat them raw!
Ingredients
1

large

zucchini

(unpeeled)

1

teaspoon

oil,

or as needed

Salt and pepper to taste

Dried herbs and other seasonings to taste
Instructions
Use the jagged end of a double-ended vegetable peeler, hand-crank spiralizer, or mandoline to cut the zucchini into spaghetti-like strands.

If using a spiralizer, set to "spaghetti" setting (about 1/8-inch). Cut the zucchini noodle strands into easy-to-eat lengths
To Sauté:
Heat a large pan or wok over medium-high heat. Swirl in cooking oil. Add in the zucchini noodles and stir-fry until the skin is vivid green, and the zucchini begins to turn translucent while retaining some of its curly shape. Season with salt and pepper. Take care not to overcook the zucchini.
To Microwave:
Toss zucchini noodles with salt, pepper, and oil, if desired, in a microwave-safe dish. Cook, stirring halfway through, until just tender, 1 to 2 minutes. No need to cover.
To Boil:
Bring a pot of water to a boil over high heat. Add zucchini noodles and boil under just tender, about 1 minutes. Drain in a colander and toss with seasonings.
Nutrition
Calories:
45
kcal
Carbohydrates:
5
g
Protein:
2
g
Fat:
3
g
Saturated Fat:
1
g
Sodium:
13
mg
Potassium:
422
mg
Fiber:
2
g
Sugar:
4
g
Vitamin A:
323
IU
Vitamin C:
29
mg
Calcium:
26
mg
Iron:
1
mg