If you love Vietnamese food, you'll love this easy rice noodle Buddha Bowl recipe with Vietnamese dressing over lemongrass beef and crispy veggies.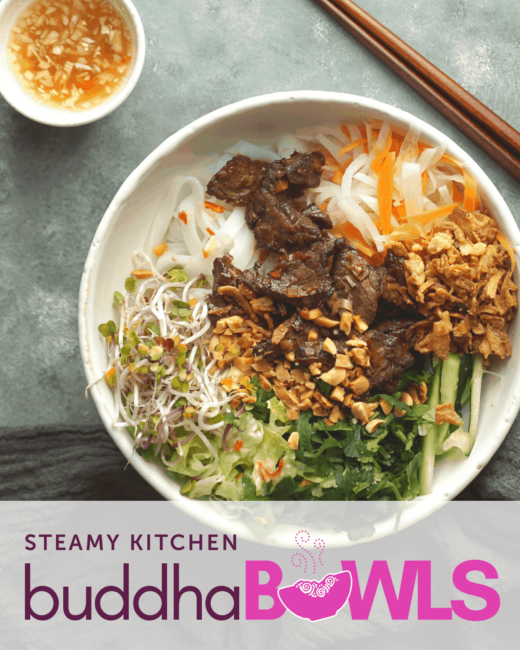 All About Buddha Bowls:
When you layer all the colorful, nutritious elements of a meal into a beautiful bowl with its own signature flavor profile, you're creating a Buddha bowl.
It starts with a base of grains or greens. Then scoop in two big handfuls of vegetables. Add in a lean protein. Finish it with a savory sauce or dressing plus a sprinkle of crunch.
Why You'll Love Buddha Bowls
Buddha Bowls, such as this Rice Noodle Bowl, offer a chance to combine different ingredients, including leftovers, into one nutritious bowl!
This Buddha Bowl draws from a real Vietnamese cold noodle salad known as bún: a colorful collection of crispy raw veggies, herbs, rice noodles, and grilled meat or shrimp. Think "summer roll in a bowl!"
+ For GRAINS: What do you have on hand? Rice, quinoa, barley? Here we cook up some rice noodles in a snap to keep it Vietnamese-approved.
+ For VEGGIES: Raid your drawer, and chop up your favorites. Fresh herbs are perfect here, but you won't need any fancy veg here! Think carrots, lettuce, and cucumber.
+ For PROTEIN: We chose beef flank (we'll teach you how to make it), but grilled shrimp, tofu, or pork are also classic favorites. Use up your leftover protein from the night before!
+ For SAUCE: Let's make a simple Vietnamese lime-and-fish-sauce dressing.
+ For CRUNCH: The Vietnamese love fried shallots over everything, and we can't recommend it enough! You can't go wrong with chopped peanuts either.
Here's our formula for a Rice Noodle Buddha Bowl with Vietnamese Dressing:
How to make Vietnamese Lemongrass Beef: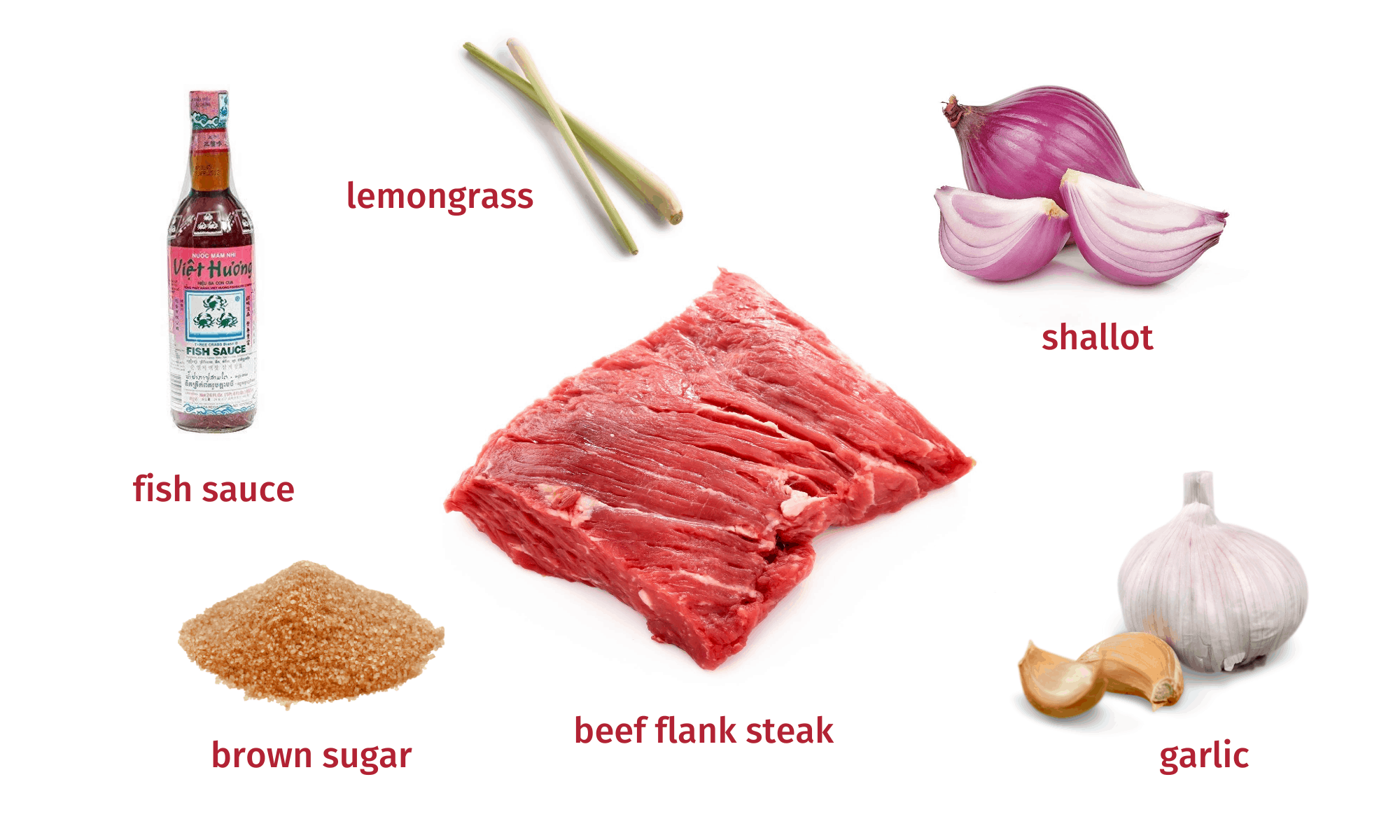 Slice your beef – we used flank steak – and let it marinate at least 30 minutes in:
Lemongrass
Shallot
Garlic
Good-quality fish sauce*
Brown sugar
You'll find lemongrass pretty straightforward: Crush it to release the flavor, discard outer leaves and grate (on a microplane grater) or process the bottom 3 inches with the shallot and garlic.
Taste, and add few more dashes of fish sauce, if needed. Makes 1 cup.
Make it vegetarian: Replace fish sauce with soy sauce or tamari, and sub firm tofu for beef; see how we drained tofu in minutes!
No lemongrass? Use 1 teaspoon fresh lemon zest instead. Substitute shallot with onion and throw in some ginger if that's more your speed!
Vietnamese Fish Sauce
*Look for one in a glass bottle. The color should be that of brewed tea. The "Three Crabs" brand is a staple in my pantry. A little fish sauce goes a long way, but you'll always find a use for it – such as the dressing for this Buddha Bowl!
Ingredients to make the Vietnamese Dressing (Nuoc Cham):
1/4 cup fresh squeezed lime juice (about 3 limes)
2 tablespoons sugar
3 ½ tablespoons fish sauce
2 cloves garlic, minced
2 Thai bird's eye chili, finely chopped
½ cup warm water
Taste, and add few more dashes of fish sauce, if needed. Makes 1 cup.
Topping It All Off:
You'll find these yummy crispy fried shallots scattered all over Vietnamese and Thai dishes. They're kind of like the fried onions over Thanksgiving green bean casserole but stronger in flavor and with a lot less breading.
Nothing works better to provide that nutty, fragrantly oniony contrast to the sweet tang of something like a papaya salad or noodle bowl! Here's where to find them.
Spoiler alert: though barely resembling onion rings in taste, fried shallots are just as, if not more, addictive!
Of course, you can opt for chopped roasted peanuts – a classic choice!
Other Tips for the Perfect Vietnamese Rice Noodle Buddha Bowl
Quick Vietnamese pickled carrots & daikon
How to Make Crunchy Roasted Peanuts in the Microwave
Grilled or broiled lemongrass shrimp
More Uses for Vietnamese Dressing (Nuoc Cham)
Vietnamese Spring Rolls with Orange-Almond Sauce
Red Lantern Grilled Sirloin with Chile, Garlic, and Ginger
Rice Noodle Buddha Bowl with Vietnamese dressing
Make a fresh Buddha bowl based on a Vietnamese rice noodle salad, complete with lime juice-fish sauce dressing and lemongrass beef. Just as good with tofu or shrimp! Store extra sauce in the fridge for up to 5 days.
Ingredients
For the BASE
1

12-ounce package

rice vermicelli noodles

or grain of choice

1

teaspoon

cooking oil

optional
For the VEGGIES
1

head

Bibb lettuce, torn into large pieces

4-6

cups

matchstick-cut carrots, cucumber, or jicama, shredded red cabbage, cilantro, mint, or Thai basil leaves
For the PROTEIN
1

(4-inch piece)

lemongrass, pounded, peeled

can also grind in food processor

1

small

shallot

1

clove

garlic

1/2

tablespoon

fish sauce

or soy sauce

1

teaspoon

brown sugar

12

ounces

flank steak, cut into strips

1

tablespoon

cooking oil
For the SAUCE
1/4

cup

lime juice

freshly squeezed

3 1/2

tablespoons

fish sauce

2

tablespoons

sugar

2

clove

garlic

minced

1

each

Thai bird chilies, sliced

optional

1/2

cup

warm water

as needed
For the CRUNCH
1/4

cup

fried shallots

or crushed peanuts
Instructions
Prepare the noodles:
Bring a pot of water to boil over high heat. Place vermicelli noodles in the boiling water an remove from heat. Let sit until softened, 4 to 5 minutes. Drain using a colander and rinse under cold water. Drain away excess water, tossing noodles with oil if they stick together.
Marinate the beef:
Puree lemongrass, shallot, garlic, fish sauce, and sugar in a food processor. Place in a medium bowl or resealable bag; add steak and toss to coat. Let marinate at least 30 minutes, up to a day.

Heat cooking oil in a pan over medium-high heat. Remove steak from marinade and sear in the hot pan, without stirring, until no longer pink, 3 to 4 minutes per side.
For the dressing:
Mix dressing ingredients together. Let chill until ready to use.
Assembling the bowls:
Divide rice noodles between serving bowls. Top with 2 handfuls of veggies, flank steak, and beef. Drizzle peanut sauce over ingredients and top with fried shallots.
Nutrition
Calories:
282
kcal
Carbohydrates:
26
g
Protein:
21
g
Fat:
11
g
Saturated Fat:
3
g
Cholesterol:
51
mg
Sodium:
1582
mg
Potassium:
881
mg
Fiber:
4
g
Sugar:
15
g
Vitamin A:
22733
IU
Vitamin C:
15
mg
Calcium:
84
mg
Iron:
2
mg