Jump to Recipe
I know I'm not the only one who gets bored of eating the same flavors for days after the big Thanksgiving meal, right? Take that leftover turkey and turn it into something completely unique with this recipe for pulled turkey cranberry barbecue sandwiches, and you won't even recognize that turkey as the same bird! As a bonus, using our sandwich hack, you can eat this delicious turkey sandwich for weeks with the help of your trusty freezer.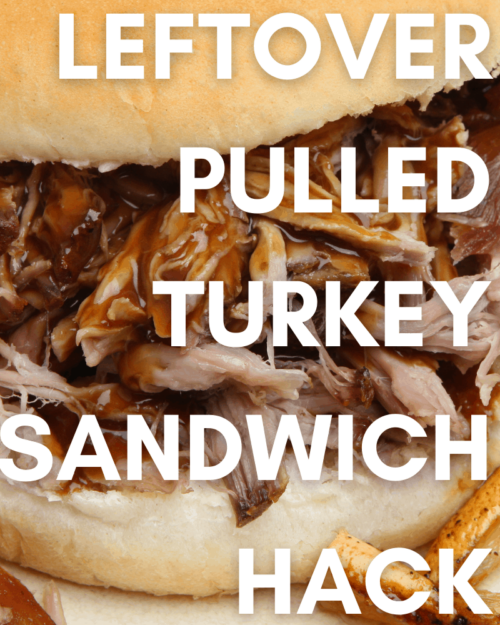 Giving New Life to Leftover Turkey Recipes
Our mission is to stop food waste at home, especially during the holidays, when families gather for that big massive feast!
When using leftover turkey for a new meal, the biggest secret is to make sure it tastes COMPLETELY different than your holiday meal. Because let's face it – holiday leftovers never taste as good as it did the first time around! Nobody wants to relive that same meal four nights in a row!
Also in this Giving New Life to Leftover Turkey series:
Make Cranberry BBQ Sauce
The key to this Thanksgiving leftover is the cranberry barbecue sauce. Even though we're using the leftover cranberry sauce from our Thanksgiving dinner, we're going to give it a completely new flavor by stirring a little bit of it into barbecue sauce! Here's how we do it:
First, add a few tablespoons of your leftover cranberry dressing to a large bowl. The sweeter you like your barbecue sauce, the more you should add! Then, whisk in a half cup of your favorite barbecue sauce until evenly combined. It's as easy as that!
Types of BBQ Sauce
There are all sorts of barbecue sauces out there (each region of the US has their signature sauce!), and you should use whatever container you already have open in your fridge! If you don't have a container on hand, you can check out this recipe for barbecue sauce that you can make with ingredients you already have on hand.
Best Hack for Freezing Sandwiches
You can easily make this with your leftovers and enjoy it the day after your big meal. Let's face it, though — it gets boring to eat the same thing so many days in a row! If you use the freezer to keep these sandwiches, you can have a pulled turkey cranberry barbecue sandwich in less than two minutes even after the holidays are over! All you need is parchment paper and gallon-sized freezer bags.
Here's how to freeze a sandwich:
Lay out parchment paper, then layer on thin slices of turkey.
Spread on the sauce, keeping the sandwich flat and in the shape of a submarine sandwich.
Slide the sandwich into a freezer bag and repeat with more layers.
90 Seconds from frozen to warm sandwich:
Okay. It's been a few days and those frozen cranberry barbecue turkey sandwiches are calling your name! With this easy hack, you can have a nice, warm sandwich in less than two minutes!
All you have to do is pop a frozen layer into the microwave for 90 seconds. Then lay this right on your bread. You can use this hack with any type of meat, including prime rib or ham. How easy was that?!
Spice Up Your Sandwich
We love adding quick pickles to any barbecue sandwich to add a little pop of acidity and flavor. If you already have a container of pickles open in your fridge, use that, but if you don't, chop up whatever you have hanging around in your vegetable drawer into thin rounds and add them to a mason jar with enough seasoned rice vinegar to cover them. They'll be ready to eat in no time and store well in the fridge, getting more and more flavorful every day!
Leftover Turkey Cranberry BBQ Sandwich
This easy sandwich combines all of your favorite Thanksgiving leftovers into one sandwich.
Ingredients
Thinly sliced turkey meat

2-3

tablespoons

of prepared cranberry sauce

1/2

cup

barbecue sauce

Quick Pickles
Instructions
In a large bowl, mix the cranberry sauce and the barbecue sauce until well combined.

Lay out a 6"x8" piece of parchment paper. Overlap layers of thinly sliced turkey breast in the size of your submarine loaf. On top of the turkey, spread a large spoonful of stuffing and cranberry barbecue sauce. Top with another 6"x8" piece of parchment paper. Place this "sandwich filling" into a gallon sized freezer bag, keeping the package flat.

Repeat for as many sandwiches as you want. Freeze.

When ready to enjoy, take as many packets as you want out of freezer and defrost overnight in refrigerator, or just pop in the microwave for 1 minute 30 seconds if you would like a warm sandwich. Top with pickles when ready to eat.