Every family has different favorite meals, but one thing that's the same in every household is how much food is leftover after a big dinner is over. We HATE throwing food away, so we're on a mission to repurpose anything you might have leftover after preparing meals. One thing I often find myself throwing in the fridge after cooking a feast is cabbage.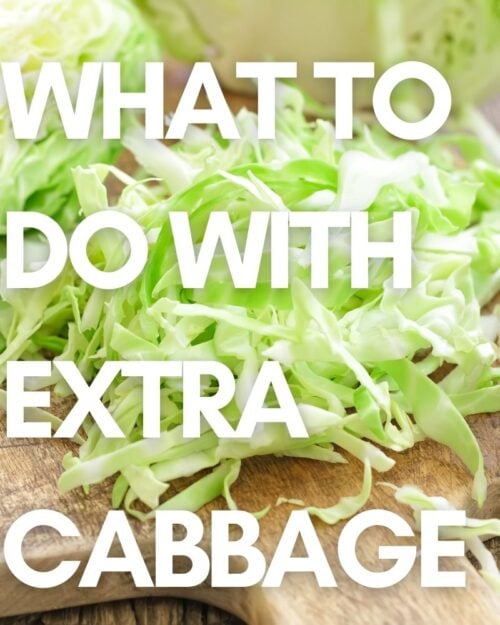 Our Mission: Help give new life to your leftovers!
Our mission is to stop food waste at home! We have tons of ideas for proteins, but what about almost sour milk?
Give New Life to Leftovers
If there is one thing we really don't like, it's food waste. Repurposing these leftovers in creative ways ensures that nothing will get wasted, which makes us totally happy! So much food is wasted in the US, but we are here to make sure that never happens again by bringing your leftovers back to life!
Extra Cabbage Recipe Ideas
#1: Roll up some Cabbage Rolls Using Extra Cabbage
The best part of this Love Your Leftovers recipe is just how many leftovers you can use up by making cabbage rolls! It's easy to use up cabbage this way, and you can use most cabbages (savoy or green!) to make these cabbage rolls. All you have to do is steam the leaves of cabbage, cut a triangle out of the middle, then fill the rolls with the stuffing!
No matter what protein you enjoyed for your holiday feast, you can chop up the leftovers and roll it up with rice, an egg, and seasonings to make these cabbage rolls. We love using up leftover brisket in this way! Try some of the combinations below, and let us know your favorite.
#2: Bake Cabbage Gratin Using Extra Cabbage
When I think of the perfect winter meal, I think of gratin. Something about a creamy, rich sauce makes it the perfect comfort food. To lighten up this dish, I love using all sorts of vegetables. Whether you have leftover green beans, leftover brussels sprouts, or just plain leftover cabbage, any of those will make a delicious combination or solo star for a gratin that will steal the show from the other leftovers! You can serve gratin as a side or as a main dish. Just don't forget to top it with crushed leftover crackers from your charcuterie board!
To make cabbage gratin, it's important to roast the cabbage before you bake it with the cream sauce. This easy tip will get you the perfect gratin texture! Depending on what other vegetables you're including in your gratin, you may need to roast those ahead of time as well. Other vegetables, like green beans and brussels sprouts, will be fine to go in on their own! Here are some of our favorite gratin recipes:
#3: Make Kimchi Using Extra Cabbage
If you happen to have a ton of cabbage leftover and you don't want to have to worry about using it later, make it into one of our favorite toppings for Buddha Bowls, tacos, and fried rice: KIMCHI! Kimchi is so easy to make, especially using this recipe that Amy Kim of Kimchi Mom shared with us. Her recipe uses green cabbage, but savoy cabbage is often used in place of green cabbage. Whatever type of cabbage you have leftover after the holidays, you can find a recipe for kimchi!
Once you have your kimchi made, there are countless ways to enjoy it. Our favorites are on Buddha Bowls that also incorporate other leftovers, like turkey and brisket. We can't wait to see how creative you get with your cabbage! Or if you decide to dig into this kimchi with a spoon, like us. Either way, you're giving new life to your leftovers! Here are some of our favorite kimchi recipes to use: