Hello Steamy Kitchen Family! We have made it to the GRAND FINALE of our Spring Into Love Giveaway series!
How fun has the last 7 days together been? We hope you have been enjoying the daily reveal, getting your names in and telling any of your jewelry loving friends about our giveaways!
To read about the story behind this giveaway, read the blog post, We're Giving Away $9,000+ Beautiful Jewelry!
Now, what we have all been waiting for! Let's dive into the Grand Finale Prize!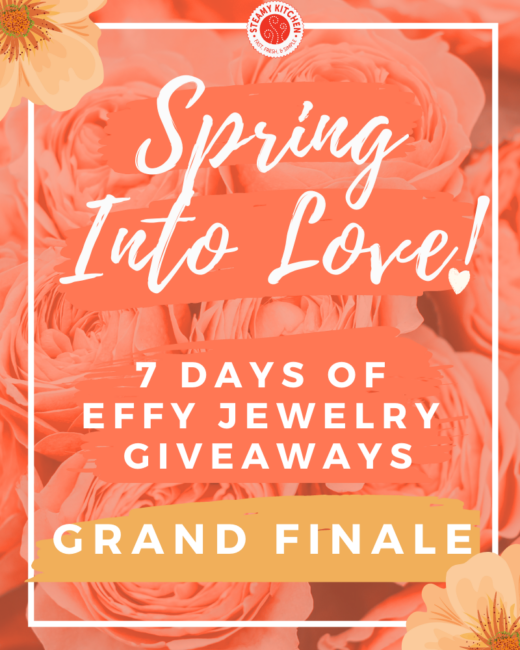 FAQ's…Because I Know You're Curious:
Yes, the jewelry is authentic. The original Effy tags with retail prices are on each piece. The Effy jewelry was purchased directly from Sears, one of the largest retailers of genuine authentic Effy jewelry, and we have a receipt from Sears.
Am I really giving away this jewelry? YESSSSS….and I can't wait to see the happy faces of our winners!
Are you REALLY giving away $167,380.00 worth of jewelry? Ugh, that sounds like a lot of money, doesn't it? $167,380.00 is the full retail price of all the pieces. I purchased the jewelry at the liquidation prices, so I only spent a small fraction of that.
Why are you giving away the jewelry? I've been publishing Steamy Kitchen for FOURTEEN YEARS!!! We've hosted giveaways since day one, and started with very small items, like cookbooks and little kitchen doo-dads. Over the years, and especially the past 8 years, we've made giveaways/sweepstakes a big part of our business strategy. Our income comes from advertising on the website (I know….everyone hates ads….but it's what funds the prizes.) Do I think I'll make my money back from giving away the inventory of jewelry? Probably not….but we do make plenty of money from the rest of the website, and this year has been pretty darn good for us. It seems that Covid has forced everyone to stay home, cook and have a little fun entering sweeps on SteamyKitchen.com. This year has been very good to us, and we'd love to share the good fortune and good prosperity flow.
How do we know if we've won? Every single one of our giveaway winners are listed here. We announce new winners each week in our weekly newsletter, and also in a weekly blog post. Many (most) of our winners provide us with a smiling photo that we publish so that you can see real people won real prizes. We email winners directly (make sure you add hello@steamykitchen.com in your contacts, and drag our newsletters out of "promos" folder and into your "inbox" so that you don't miss our emails!
Meet the Grand Finale Prize Valued at $2199!
About the Ruby and Diamond Heart Pendant Necklace
Hello to our Grand Finale Beauty! This stunning ruby and diamond heart necklace is priced at $2199! With 0.26 carats of diamonds and 1.26 carats of rubies, the shape, the gems and the quality are incredible! The way it hangs around your neck is so pretty and elegant.
Details to Know About This Piece
Metal: Sterling silver

Stones:

Value: $2199 USD
Make Sure To Enter Previous Days!
Enter the Spring Into Love Day 7 Giveaway
Enter Below.