Chinese Broccoli (Gai Lan) with Oyster Sauce
Learn how to cook Chinese Broccoli with Oyster Sauce, a simple recipe with just a few ingredients. Chinese Broccoli, or gai lan in Chinese, is one of the most popular Chinese vegetable dishes! Here's what you'll learn in this recipe:
How to choose the best Chinese broccoli at the market. Old Chinese broccoli is very bitter and stringy. It's very easy to tell whether or not the gai lan is to old!
Learn how to infuse the dish with ginger and garlic, without overpowering broccoli.
My favorite brand of oyster sauce & a vegetarian substitute.
How to buy Chinese Broccoli/Gai Lan
Old Chinese broccoli is very bitter and stringy. It's easy to tell whether or not the Chinese Broccoli is fresh and tender. Select a bunch, look at the ends of the stalk. If they are dry, crusted and shriveled, skip it!
The middle of the stalk should ideally be one color – a creamy, translucent color. If you see a solid white circle in the middle of the stalk, it may mean the Chinese Broccoli is a little old.
It still could be good – look at the leaves and the buds for more clues to how fresh it is.
Most Gai Lan have white flowers, though there are varieties that include both white and yellow flowers (probably a cross between gai lan and a Chinese leafy greens called yu choy) The flower buds should be tight and compact – there should be buds not open flowers. Lots and lots of open flowers means the stalk is older and past its prime for eating and it will be more bitter and chewy.
If you think that broccolini resembles Chinese Broccoli, you are right! Broccolini is actually a cross between gai lan and broccoli. If you can't find Chinese Broccoli at the store, substitute with broccolini. TIP: Broccolini stalks are thinner than Chinese Broccoli. Shave 30 seconds off your cooking time!
How to Cook Chinese Broccoli Recipe with Oyster Sauce
Ginger and Garlic for Chinese Broccoli with Oyster Sauce
As with many Chinese stir-fry dishes, the ginger in this dish is cut into 1/8″ coins – the large pieces gently infuse the cooking oil and aren't necessarily meant for eating. When we cook family-style, my Mom just leaves the ginger coins in the finished dish, and we just push them out of the way when we eat. Of course, you can remove them prior to serving if you'd like.
The whole garlic also infuses the cooking oil and after toasting, it becomes soft and wonderfully sweet. Sometimes, I double the amount of garlic cloves because I just love eating the cloves of garlic!
For this Chinese Broccoli with Oyster Sauce recipe, we use both ginger coins and gently toasted garlic cloves.
My Favorite Oyster Sauce Brand
My favorite brand of oyster sauce that can be easily found is Lee Kum Kee Premium Oyster sauce.
Lee Kum Kee makes many different oyster sauces, so it's important to look at the table. The label on the bottle shows a woman and a boy, on a boat.
Oyster sauce is savory, sweet, thick, and caramely. The premium brand is made with real oyster essence.
The lower quality brands are made with corn syrup, artificial colors and MSG.
If you're vegetarian, a great substitute is Lee Kum Kee Vegetable Stir Fry Sauce.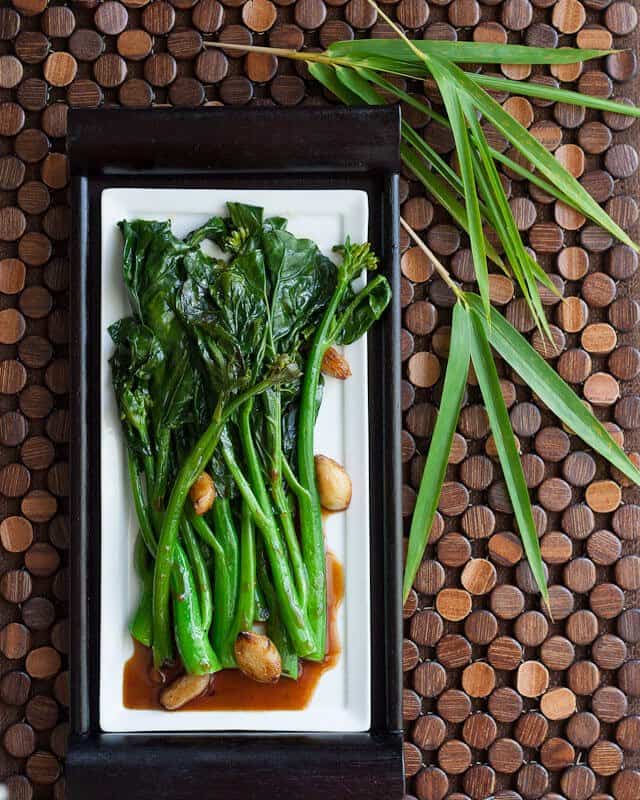 Chinese Broccoli with Oyster Sauce Recipe
Course: Side Dish
Cuisine: Chinese
Servings: 4 people
Calories: 117 kcal
Ingredients
1 pounds Chinese broccoli (Gai Lan)
1 1/2 tablespoons cooking oil canola or vegetable oil
5 garlic cloves peeled and gently smashed but left intact
1/4 cup vegetable stock
1 tablespoon Chinese rice wine or dry sherry (optional)
1 inch fresh ginger cut into 1/8" coins and smashed with side of cleaver
3 tablespoons oyster sauce
1/2 teaspoon sesame oil
Instructions
To wash the Chinese Broccoli, trim 1-inch from the ends of stalk and discard. In large wok or pan (large enough to hold all stalks), heat just 1 tablespoon of the cooking oil over medium heat. When the oil is just starting to get hot (the garlic should sizzle upon contact) add the whole garlic cloves and let them fry until golden brown on all sides. Be careful not to burn the garlic, you just want to toast them - if the garlic starts turning dark brown, turn the heat to low. Toasting the garlic should take about 2 minutes. While the garlic is toasting, in a small bowl mix the stock and Chinese rice wine (optional) and set aside.

Turn the heat to high and add the ginger, fry for 30 seconds. Add the Chinese Broccoli stalks and use your spatula to scoop up the oil so that every stalk has been bathed with the ginger/garlic-infused oil for 30 seconds.

Pour the stock mixture into the wok and immediately cover the wok with a tight fitting lid. Turn the heat to medium and let the vegetable steam for 3-4 minutes, until stalks can be easily pierced with a paring knife or fork.

Remove the gai lan to a plate, leaving any remaining stock mixture in the wok. To the wok, add the oyster sauce and sesame oil and bubble and thicken on high for 1 minute. Pour the sauce mixture over the gai lan and serve.
Nutrition Facts
Chinese Broccoli with Oyster Sauce Recipe
Amount Per Serving
Calories 117 Calories from Fat 45
% Daily Value*
Fat 5g8%
Sodium 461mg20%
Potassium 15mg0%
Carbohydrates 11g4%
Fiber 1g4%
Sugar 2g2%
Protein 4g8%
Vitamin A 2030IU41%
Vitamin C 105.2mg128%
Calcium 91mg9%
Iron 1mg6%
* Percent Daily Values are based on a 2000 calorie diet.
More recipes to explore
Chinese Spinach Recipe (Yu Choy)