Happy HAPPY Friday Steamy Kitchen. Today we are giving away four kitchen gadgets items from amazon and a few tips on how to save time in the kitchen.
How to Save Time in the Kitchen
Make a plan, envision your meal and what leftovers you could make purposefully. Check out this handy menu calendars on amazon that you can stick to the fridge and look at throughout the week. No more stressing about what you will make for dinner the night of!
Find meats and protein that you can cook fast. There are different sorts of fish and cuts of steak that you can sear and have ready in under 10 minutes, like in this recipe for Shrimp and Zucchini Stir Fry With Crispy Basil or this recipe for Asian Rice Noodle Salad with juicy flank steak.
Go with the flow. The recipe cards should be more like guidelines! if you don't have time to go to the store or there's something you want to sub out, DO IT. There's nothing stopping you. Check out our Buddha Bowl recipes for great recipe guidelines and tons of substitution recommendations.
Reverse meal plan! Plan your meals… but backwards. Start with what you already have in your pantry and THEN go grocery shopping to fill in the shelves of your kitchen with proteins or carbs or whatever is missing. Use blank canvas recipes to batch food for multiple yummy meals.
Be organized. Know where everything in your kitchen is located and keep it clean! It is much easier to find a flow in the kitchen when you don't need to think about which rack the oregano is on or where you set down the damn olive oil.
Check out our amazon page for the best kitchen organization tools and don't forget to enter the Jaden's Monthly Favorites Instant Win Game, k i t c h e n o r g a n i z a t i o n themed.
Now for Instant Win prizes!!
Sondiko Butane Torch
Safe and durable with safety lock prevents accidental ignition and a wide set base helps to prevent it falling over. Long angled nozzle and burn-free finger guard keep your hand safely away from the flame. Made with durable Aluminum alloy body for long lasting use.
Mueller Austria Pro-Series 8 Blade Slicer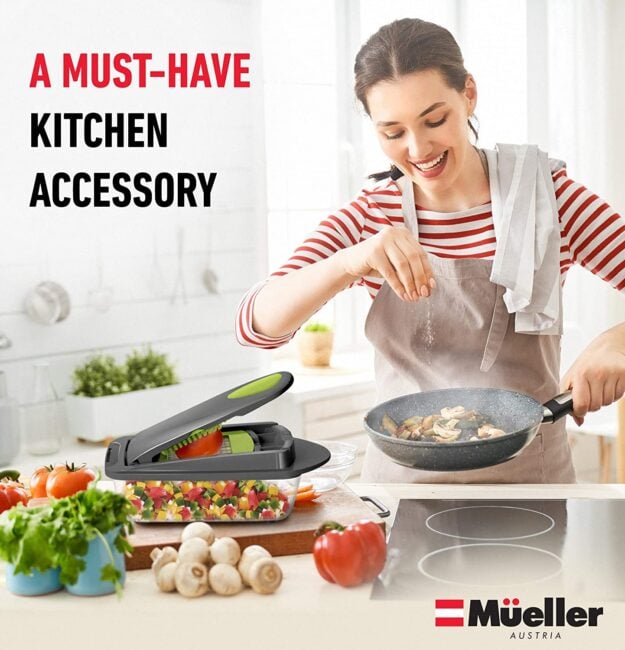 Chop, Dice, Slice or Grate with our newest Multi Chopper and Slicer by Mueller! This functional kitchen gadget will alleviate your prep time to just a couple of minutes. Manufactured with top-notch materials like stainless steel blades and food-grade material, it will without a doubt improve your health.
Pulled Pork Shredder Claws
These shredder bear paw shaped claws are made so you shred any meat with ease! These claws are heat resistant so they can also to be used to pick up and carry hot foods in the kitchen without dropping them or burning your hands. Use these claws to carve any large food like melons or a roast.
Automatic Salt Pepper Grinder
This salt and pepper grinder is a durable battery-operated gravity grinder has a sharp, rust-proof ceramic core that easily and smoothly grind any spices without altering its flavor. Perfect for all your seasoning needs and also makes a great gift for your dear ones who loves to cook!
Kitchen Gadget Instant Win Game
Spin to win below!!