Chinese New Year begins Monday, February 8th! It's the Year of the Monkey.
Because the Chinese in particular are extremely superstitious, there are "rules" for what to do and eat (and NOT) to usher in the New Year and ward off bad spirits. (click for larger image)
The specific recipes in the infographic are in my cookbook, Healthy Asian Favorites, on sale at Amazon.com for $18.99.
Below is a big list of recipes FREE, on SteamyKitchen.com:
Gong Hay Fat Choy!
Chinese New Year Recipes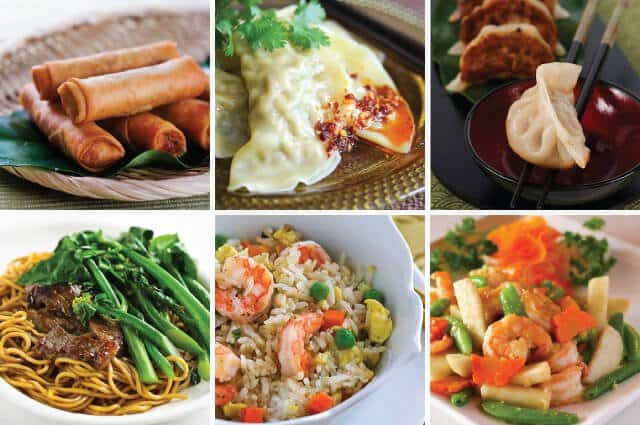 From top left:
From top left:
See more Chinese New Year Recipes on Steamy Kitchen!
More Chinese New Year Recipes
Thai Larb Lettuce Cups from my good friends Diane and Todd of White on Rice Couple
Dan Dan Mien from Jeannette's Healthy Kitchen
Jiaozi Dumplings – from my friends Nate & Mary Kate on Epicurious (who just came out with their Chinese cookbook Feeding the Dragon!)
Chicken Lettuce Cups – Nate & Mary Kate on Epicurious
Stir Fried Prawns with XO Sauce – Noob Cook
Stir Fried Leeks with Vegetable – Noob Cook
Chinese Almond Chicken – Appetite for China
Braised Bok Choy – Taste Hong Kong
Sichuan Wonton – Appetite for China
Steamed Pork & Shrimp Dumplings (Sui Mai) – Flavor Explosions
Steamed Chicken in Lotus Leaf – RasaMalaysia
Stir Fried Pine Nuts with Corn and Peas – RasaMalaysia (dish means "full of gold and jade")
Stir Fried Broccoli and Scallop – RasaMalaysia ("richness and abundance")
Baked BBQ Pork Buns – RasaMalaysia
Soy Sauce Chicken – RasaMalaysia (though serve your chicken whole & cut at table for Chinese New Year. Cooking a whole chicken or duck represents health — carving it before serving would meant to "cut" your health)
Flank Steak with Fried Noodles – Food Network
Ketchup Prawns – Sea Salt with Food
Egg Dumplings – Show Shanti
Homemade Chili Oil – Show Shanti
Singapore Black Pepper Crab – Sea Salt with Food
Chinese Long Beans – Washington Post (long beans = longevity)
Chinese Almond Cookies – Simply Recipes (beautiful, Garrett, just beautiful!)
Fortune Cookie Recipe – Martha Stewart
Fortune Cookie Recipe video – Cookbook Maniac (love her tips for fortune cookies)
Chocolate Fortune Cookies – Martha Stewart
Vegetarian Buddha's Delight – Epicurious
Orange Peking Duck – recipe from Ken Hom, author of Ken Hom's Top 100 Stir Fry Recipes
Sweet & Sour Pork – recipe from Grace Young, author Breath of a Wok
Buddha's Delight with Tofu & Brocooli– Cooking Light
Peanut Sesame Noodles – Appetite for China
Soy Sauce Chicken – Appetite for China
Water Chestnut Cake with Ginger – Appetite for China
Dragon Well Tea Shrimp – Appetite for China
Dan Dan Mian – Appetite for China
Stir Fried Noodles, Taiwanese Style – Explore Hong Kong
Chinese New Year Cake – Asian Grandmother's Cookbook
Scallion Pancakes – Tigers and Strawberries (perfect recipe. we made these many times)
Chinese White Cut Chicken – Sunday Nite Dinner (serve your chicken whole & cut at table for Chinese New Year. Cooking a whole chicken or duck represents health — carving it before serving would meant to "cut" your health)
Tea Smoked Duck – Cooking Channel
Nian Gao Cake – Asian Grandmother's Cookbook
Shanghai Style Nian Gao – Donna Cooks ("rising higher each year" This dish is a must for our table – I love the soft, chewy noodles. This is also one of my Dad's hometown dishes)
Stir Fried Shanghai Nian Gao – mmm-yoso
Lion's Head Meatballs – NY Times (lion = strength; big round meatballs = family togetherness)
Fuscshia Dunlop's Braised Pork Belly – Cookbook Maniac
Chinese Walnut Cookies – Lily's Wai Sek Hong
Paper Lined Cup Sponge Cake – Lily's Wai Sek Hong
Dragon Cookies – Lily's Wai Sek Hong (love this idea – we'll make these dragon cookies w/my kids)
Almond Cookie Cresents – Lily's Wai Sek Hong
Double Sided Gold Noodles – Lily's Wai Sek Hong (one of my favorite noodles as a kid)
Steamed Pork Bun Recipe + how to fold Chinese buns video – Christine's Recipes
Braised Chinese Mushrooms – Christine's Recipes (easy dish to make, we always have whole Chinese mushrooms on CNY)
Egg Custard Pastry – Christine's Recipes (with a cheater crust! brilliant)
Stir Fried Glutinous Rice – Christine's Recipes
Stir Fried Broccoli with Fish Fillet – Christine's Recipes
Tomato Chili Prawns – Christine's Recipes (shrimp = laughter and joy)
Butter Cookies – Christine's Recipes
Braised Chinese Mushrooms – Christine's Recipes
Baked Coconut Cake – Christine's Recipes
Radish Cake – Christine's Recipes