My Sushi for One dinner
Last week I taught a hand-on sushi class with 20 students in the studio kitchen. We had such a fun time making Temaki hand rolls, large inside out rolls and small Maki "cigar" rolls. Of course we had leftover ingredients, so the next evening I had a little Sushi for One party. In the photo above, I made myself a Spicy Crawfish-Mango Handroll. Do you want one? I"ll make you one too!
Other ingredients above included: Unagi (sea eel), Grilled Salmon, Crawfish Tails (found a package of frozen tails at my grocer), Mango, Cucumber, Red Bell Peppers, Green & Yellow Beans and Carrots, Soy Sauce, Wasabi, Nori Sheets and Seasoned Rice.
Ok, so lets talk about How to Host your Own Sushi Party at Home (Temaki Party) because its so easy and fun. If you love sushi but hate restaurant prices – you must try this! Basically, its a make-your-own-handroll party where all the ingredients are laid out on the table and each guest makes their own delicious creation. This is my favorite way to host a party when I have picky eaters. If it don't taste good, sho' ain't my fault…NOBODY TOLD YOU TO MIX NUTELLA WITH CRAB.
I don't live near a Japanese supermarket, so most of the ingredients I either got at the generic Asian market or regular supermarket. So some of the ingredients I have listed below might not be the traditional Japanese stuff. Unless you are buying your sushi grade fish from a respected fishmonger or Japanese market, I wouldn't recommend raw fish at your home sushi party. If you are lucky enough to get good sushi-grade fish, I am so envious of you.
To learn how to roll a hand roll – scroll down to the bottom. There is a link to a step-by-step photo slideshow.
Vegetables and Fruit
Cut Vegetables: Cut all of your vegetables up in uniform size. They should be in skinny, long 1/3″ wide 4″ long strips. Avocado should be cut at last minute or tossed with lemon juice to prevent browning. Find English or Japanese cucumbers. The regular cukes are too watery and have too many seeds. Take the cucumber, cut in half, and use a spoon to scrape out the innards – seeds and part of the flesh. You want to be left with the skin and maybe 1/4″ of the flesh. Cut in strips.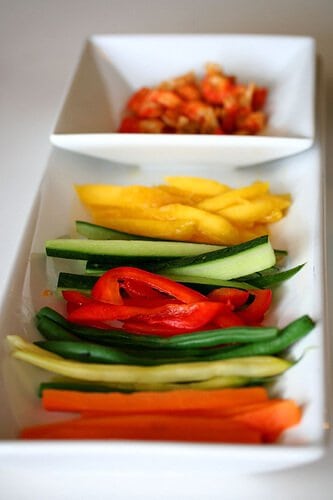 Blanch Vegetables: Any hard or chewy vegetables, like carrots, green beans should to be blanched briefly first. Why? Because when you bite into a handroll, you want a nice, easy clean bite. If you had a raw carrot stuck in there, you'd bite and wrestle with the roll making a mess. Plus, it makes the carrot and green bean tasty and sweeter – blanch in instant dashi stock for even better taste. You don't have to do this, but I like it this way. Vegetables that are crispy yet soft enough, like the red pepper can go raw. TIP- If you are making miso soup, make your dashi stock first, blanch vegetables, fish them out and then use the dashi to go ahead and make your miso. Gives extra flavor and nutrition to your miso soup.
Grill Vegetables: I love portabella mushrooms. Scoop out the gills and throw them on the grill or frying pan to cook. After cooking, cut into strips. Asparagus can be steamed, blanched, grilled or roasted….just briefly though, you want the asparagus cook a bit, still crisp. If you cook too long, the asparagus turn soggy, chewy and stringy.
Here are some ideas: carrot, red onions, roasted bell peppers, arugula, zucchini, grilled portabella, green beans, mango, enoki mushrooms, green onions, lettuce leaves, cucumber (Japanese or English), shiso leaves, sprouts, tofu (grilled), blanched spinach (squeeze water out), tomatoes (flesh only, scoop out seeds, slice in strips), shredded fried egg, grilled eggplant
Seafood/Meats
Cut: If you have sushi grade fish, cut them into long 1/2″ – 1″ wide, 4″ long strips OR little tiny cubes. Basically, if your pieces are too wide or big, it will be very difficult to roll the sushi. Think roll-friendly shapes.
Broil: This is Unagi (grilled eel) – its sweet, savory and one of my favorite things to put in a sushi roll. Its found in the frozen section of my asian market. Unagi comes frozen in a whole fillet form, cooked already. Defrost by running cold water over package. Unwrap and broil on high, skin side up for 3-5 minutes. You really need to watch this, because it's sweet and burns so quickly.
Grill: Seafood like shrimp, soft shell crab, fish, scallops, chicken (brush with some teriyaki sauce, cut into strips). You may want to run a knife through the shrimp and lg scallops after grilling.
Bake: Use Rasa Malaysia's recipe for Creamy Spicy Scallops
– use small bay scallops instead. I also added chopped shrimp to the recipe. It was SO GOOOOOOODD.
Mix: Chopped shrimp/scallops with a little mayo & Sriracha hot sauce to make a spicy concoction. Not too much mayo – you don't want it to be wet. Or you could mix sushi grade tuna with chopped scallions, soy & wasabi.
Other Ingredients
– I LOVE smoked whitefish. Just make sure you take all the bones out first. Shred with your fingers and then re-check for bones. You don't want a guest choking over a very small, transparent, flexible bone. – Store-bought seafood spread – in my grocer's seafood dept, they have a variety of fresh made spreads, one of them includes chopped salad shrimps + imitation crab.
– Kayln's Mango Salsawith Red Bell Pepper
The salsa would make a killer handroll with grilled salmon!
– Teczcape's Chicken Katsu
without the curry sauce. Just fry the chicken katsu and cut into strips. – I was able to get Masago (orange roe) frozen at the Asian grocer. But I also had caviar from the supermarket too. Oh, I have to share – at BJ's, my local warehouse, I found a jar of Whitefish Caviar for less than $10!!!! It was not the gucci gucci good stuff, but it was not bad. In the sushi roll, it was really good!!! You wouldn't want to waste the expensive stuff inside a sushi roll anyways. I just wanted the briney pop-in-your-mouth feeling. How cool is it to pretend like a pooh -pooh rich person scooping a big giant spoonful straight into your mouth?!
– Also found frozen crawfish tails at the market (Publix $9.99 for 1 lb). Mix with some Japanese mayo, masago and Sriracha.
– How to make sushi rice from Beyond Salmon. General rule for a Sushi Party – 1 cup of raw rice per person is plenty. You never want to run out of rice in the middle of a sushi party! You can make separate batches of rice, just keep your cooked sushi rice covered with damp towel. You don't want to serve hot rice – which would make the seaweed soggy, room temp is fine. 1 cup raw rice makes about 2 cups cooked rice, enough for about 4-5 hand rolls per person. (If you have hungry guests, make an extra batch of rice just in case) *Note – if you are using a rice cooker, estimate 1.5 rice cooker cups of raw rice per person. The cups that come with rice cookers are much smaller.
– Spam! Fried Spam slices. I know. I promise this will be the last post this month that mentions Spam. But just to prove that I'm not the only crazy one – Wandering Chopsticks also ate Spam Sushi.
– Ahn's Sesame Miso Tofu
Instead of tofu squares, cut the tofu into long blocks, grill then slice into thinner rectangular pieces
– Make Miso Soup
– its super easy and only takes 10 minutes max.
– Serve some Edemame, boiled soybeans. Boil them in dashi stock instead of salted water. Much better tasting!
How to Roll a Temaki Sushi Handroll
Easiest to give you a photo tutorial: