Luscious sour cherries….saffron….basmati rice….if there ever was a rice dish that could tease me into submission, this would be it. When I lived in Hollywood, I used to frequent a Persian restaurant and order just a big ginormous platter of cherry saffron rice with two 16″ spears of hunky shish kababs. A dish designed for two, consumed by one, me.
By the way that I talk about food, you'd think I have an eating disorder addiction obsession. When presented with a food that seranades me to a sweet trance, I simply must consume. In fact, I eat more than my 5'11" 195 pound husband. I have no idea where it all goes. Maybe, just maybe I am a chosen one and possess something extraordinary. There are some who are gifted with such lovely musical talents they can bring you to tears with a single note. Some artists can create gorgeous landscapes that make you feel lost in its beauty. And others are so mathematically inclined they can complete the Rubic's Cube in 60 seconds (my husband.)
My talent? I have been blessed superhuman strong toes (I can strangle a snake with a single, swift motion…which comes in handy when living in Florida), I can wiggle both my ears without touching them (don't ask my why I consider that a talent) and I have a bottomless belly (one serving is never enough). If I were a super hero, I'd be Bottomless Belly Babe!
Thats SO SEXY you know.
How that all relates is beyond me. Did I stand in the wrong line when God handed out talents? Did I oversleep when the auction took place and I got the obscure, leftover talents? Anyhow, back to the rice. Imagine a golden rice dish dancing with the intoxicating flavors of saffron, tart cherries and drizzled with a sweet, dark, sticky cherry syrup. Thats what Persian Sour Cherry Saffron Rice is.
I order my sour cherries from Quality Spices. This brand, Zergut, is great – its imported by Indo-European based in Glendale, CA. My mom in Los Angeles buys this at the Middle-Eastern store. You can use canned sour cherries for pie making as well, found at your standard grocery store. With the quality is not quite as good as Zergut, it definitely will work. Just get the canned version that has sour cherries packed in light syrup, not heavy syrup. See photo below: the clear bowl contains boiled-down sugary syrup for drizzling on rice.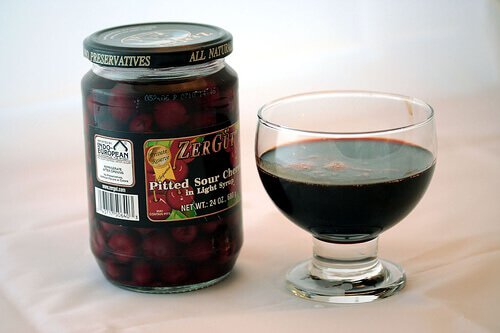 Persian Sour Cherry Saffron Rice
Ingredients
1

24-oz jar of sour cherries in light syrup (or 1 can sour pie cherry, light syrup), drained and SYRUP RESERVED

1/2

teaspoon

saffron, soaked in 2 tablespoons hot water

3

cups

basmati rice

1/2

cup

butter, melted (I use clarified butter, but regular butter will work)

1

cup

sugar
Instructions
Soak the rice: Wash and soak the basmati rice in water for 2 hours. This step is not totally necessary, but it does produce a more tender rice.

Make the rice: Drain the rice. Fill a large pot with water and boil. Add the rice and boil on medium heat for 8 minutes exactly. Drain the rice and rinse with cool water to stop the cooking. Drain. In the same pot over high heat, add half of the butter. When hot: Add half of the drained rice Pour half of the saffron+soaking water over the rice Stir a bit Add half of the drained cherries Add remaining rice Pour rest of saffron+ soaking water Add remaining butter Stir just this layer a bit Add the remaining drained cherries *Traditionally, this is done in a pyramid shape. I'm not coordinated enough to handle that request. The wider the pan you have, the more crusty rice crust you get.

Wrap your lid with a thin kitchen towel and cover the pot. This helps the steam stay in the pot, which is important because you aren't adding any additional liquid to the pot. Cook on high for 10 minutes (to create a nice crunchy crust). Turn heat down to super-low for 20 minutes. Turn off heat and let sit for 5 minutes.

Make the syrup: While rice is cooking, cook syrup + 1 cup sugar over medium heat for 30 minutes until it reduces down to a sweet, sticky syrup. Set aside.

Serve: When the rice is done, drizzle 1/2 cup of the syrup over the rice. See the nice crust of rice at the bottom of the pan? Its well known that household bribery, deception and wars have erupted over who gets to eat that part!
Thanks for guessing what was in the rice. Ashley & Wandering Chopsticks were spot-on. A question for my Indian and Middle Eastern friends – are the words Biryani and Polow both used similarly? I always thought Biryani was an Indian dish and Polow is Persian. Is there an Indian version of cherry rice that is different than the Persian? -Tigers & Strawberries has a version with lamb -Chopoholic made Persian Sour Cherry Saffron Rice with Chicken Kebabs seasoned with Pomegranate Paste.