Frito Pie with 1 Hour Texas Chili
So, here's the dilemma:
When I freak out, I procrastinate. When I procrastinate, I shop. When I shop, I get hungry. When I get hungry, I eat. When I eat too much, I freak out.
Okay, freaking is a bit too strong of a word, but it certainly is an emotionally charged word and certainly helps justify the destructive chain of events that happen following the initial emotional breakdown.
So, I'm on deadline for this book — well, truth be told, I'm past deadline (thus the freaking out) — and now all I can think about are these dishes, these glasses, chubby hubby bars and Frito Pie….as in homemade 1 Hour Texas Chili spooned on top of a mound of Frito chips.
Frito Pie is a Texas delicacy, popular at county fairs and considered good tail-gaitin' eats. It's an easy enough treat to make – a 10 minute prep and then let it simmer an hour on the stove. Rip open a package of Fritos, pour it on and eat straight out of the bag.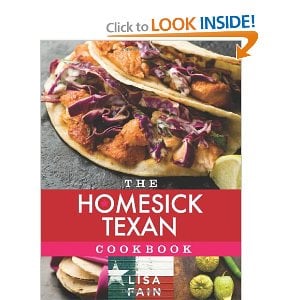 The recipe comes from one of my favorite cookbooks of 2011 – Lisa Fain's Homesick Texan Cookbook – slightly modified to shave off a few minutes of the hands-on involvement in the recipe.
You can customize this recipe any way you want, including adding a can of Rotel diced tomatoes, a can of beans or using ground turkey, but there's one thing you don't want to change: use dried chiles instead of just chili powder.
Lisa's recipe calls for dried ancho, chipotle and pequin — though I only used ancho and chipotle (couldn't find pequin). The dried chiles will last forever in your pantry and all you need to do is rehydrate them in water and add them in the blender along with dried oregano, ground cumin, clove and cinnamon. This homemade chili base that has so much more depth and flavor than just ground chili powder.
The kids loved it – it's not spicy-hot (top it with chopped jalepeno peppers if you want) and they thought I was the coolest mom letting them eat out of a chip bag. 
Frito Pie: best freakout food ever.
 Serve with a side of Collard Greens, another recipe from Lisa.
More recipes from Homesick Texan Cookbook:
Texas Caviar – Simply Recipes
Carnitas – What's Gaby Cookin'
Austin Style Black Beans – Sweet Life
Poblano Mac & Cheese – Nutmeg Nanny
Pork Tacos Dallas Gas Station Style – Bo's Bowl
Frito Pie with 1 Hour Texas Chili Recipe
Servings: 8 servings
Prep Time:10 minutes
Cook Time:1 hour
Ingredients:
6 dried ancho chilies, stems and seeds removed
2 dried chipotle chilies, stems and seeds removed
1 tablespoon cooking oil, bacon grease or lard
1 onion, roughly chopped
4 garlic cloves, chopped
4 dried pequin chilies
1 tablespoon ground cumin
1 teaspoon dried oregano
1/2 teaspoon ground clove
1/2 teaspoon ground cinnamon
2 teaspoons kosher salt (1 teaspoon table salt
freshly ground black pepper
2 pounds ground beef
2 tablespoons lime juice
2 big bags Fritos or individual snack-sized Fritos, at least for each person
8 ounces shredded cheese
Directions:
1. In a bowl, soak the ancho and the chipotle chilies in 1 cup of hot water for 10 minutes.
2. In a large pot or Dutch oven, heat the cooking oil over medium heat. Add the onions and brown for 3 minutes. Throw in the garlic and cook for another 30 seconds. Place the onions and garlic in the blender.
3. Add the soaking chiles with the water into to the blender. Add in the pequin chilies (no need to soak these). Add in cumin, oregano, clove, cinnamon, salt, pepper. Blend until smooth.
4. In the same large pot (as step 2) – cook the ground beef, stirring occassionally until lightly browned, about 5 minutes. Add the chili puree and 4 cups of water. Bring to a boil then turn the heat to low and simmer uncovered for 45 minutes, stirring occassionally.
5. Taste and adjust seasonings, if needed. (At this step I added an additional teaspoon of kosher salt and more black pepper). Stir in lime juice. Serve over Fritos and top with shredded cheese.