Okay, all you smoking fans! Here's your chance to win an ammmaaaazing package – a 30″ Masterbuilt Electric Smoker worth $349.00 and an autographed copy of "Dadgum That's Good!" by John McLemore. Good luck! ~Jaden
Masterbuilt Electric Smoker Giveaway
Included in this giveaway:
one (1) 30″ Masterbuilt Electric Smoker
one (1) autographed copy of "Dadgum That's Good!" by John McLemore
From Masterbuilt:
Masterbuilt started in 1973 in the McLemore family's backyard.  At only 8 years old, John would load up his red wagon with
fern stands his dad made and sell them from door to door.  Since then, Masterbuilt grew from the backyard to a well-known manufacturer of cooking products and automotive accessories.  Some of our most popular products are the Butterball Indoor Electric Turkey Fryer and our electric smokers.
John McLemore has been writing his new cookbook – "Dadgum That's Good, Too!" – which is set to release on August 15.  In this new book, he's smoking, grilling and frying with family and friends.  It will have over 125 recipes, smoking charts, grilling tips and so much more.  He even shares stories, pictures and memories from his life throughout the book.
Masterbuilt 30″ Stainless Steel Smoker Features
You don't have to be an expert to enjoy slow-smoked barbecue at your next cookout. With the Electric Smokehouse by Masterbuilt, even you can impress your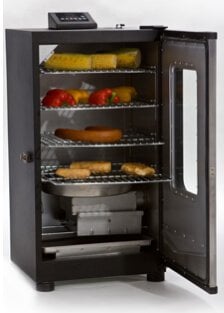 friends with mouth-watering barbecue. The NEW Remote Control along with thermostat controlled temperature and cooking timer allows for even, consistent cooking for award-worthy results without fear of overcooking. The Masterbuilt Electric Smokehouse makes slow smoking as easy as grilling.
Easy to Use…it's Electric so all you do is plug it in, set the cooking temperature and cooking time, load wood chips and you're ready to slow smoke.
Versatile – The Masterbuilt Electric Smoker comes in 2 sizes…a large 30" and an extra large 40" size allows you to feed even the largest of crowds
Thermostat Temperature Control…means there's no tuning the cooking temperature in, you can set it and the cooking temperature will remain as consistent as your kitchen oven
Safe – Automatic shut-off prevents over heating
Convenient – uses your favorite, regular wood chips with a side chip loader so you can add chips without opening the door and letting heat and smoke escape
NEW REMOTE CONTROL (in select models) allows you to ADJUST cooking temperature and time, CHECK cooking temperature, time and meat temperature up to 100 feet away…while you're watching the football game or cooking the rest of the meal
Integrated Meat Probe Thermometer – means you can cook your food to the perfect temperature every time
Built-in Viewing Window – you can watch your food slow smoke without opening the door and letting heat out
Easy Cleaning – with a built in bottom drip pan and a rear mounted drip tray
Adjustable door latch and air damper – for an airtight seal and controlled smoking
This giveaway is sponsored by Masterbuilt.com.

How to Enter Masterbuilt Electric Smoker Giveaway
Fill in entry form below.
For good contest karma, follow Masterbuilt on Facebook and Twitter