Ruth's Chris Sweet Potato Casserole Recipe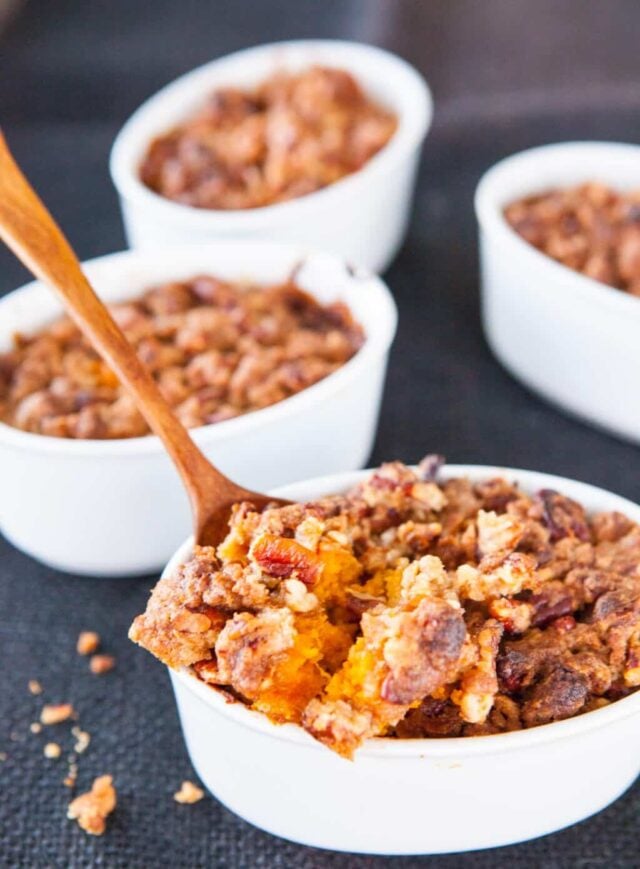 Years ago, we dined at Ruth's Chris Steakhouse in Sarasota. The kids were itty bitty, but they got dressed up with fancy new clothes. The special occassion, none, other than my in-laws were visiting from Clarence, New York for the holidays.
My late father-in-law, George, was a lover of steak. Super-seared, almost burnt on the outside, but red-rare on the inside. If it wasn't cold and moo-ing in the middle, it wasn't cooked right.
In Sarasota, there were only two restaurants that knew how to do steak "George's way" and wouldn't give a fuss if he sent it back: Ruth's Chris and Flemings.
We each ordered our favorites: my husband and mother-in-law love the delicate filet mignon. I can go to any steakhouse, and without even cracking open the menu, just call for a rib-eye, medium-rare
The kids just poached off everyone's plates, except for George a.k.a."Papa's," as their little nubby teeth couldn't chew rare cow.
The one dish we all agreed on was the Ruth's Chris Sweet Potato Casserole, a creamy-sweet dish served individual ramekins, topped with a crunchy, brown-sugar and pecan crust.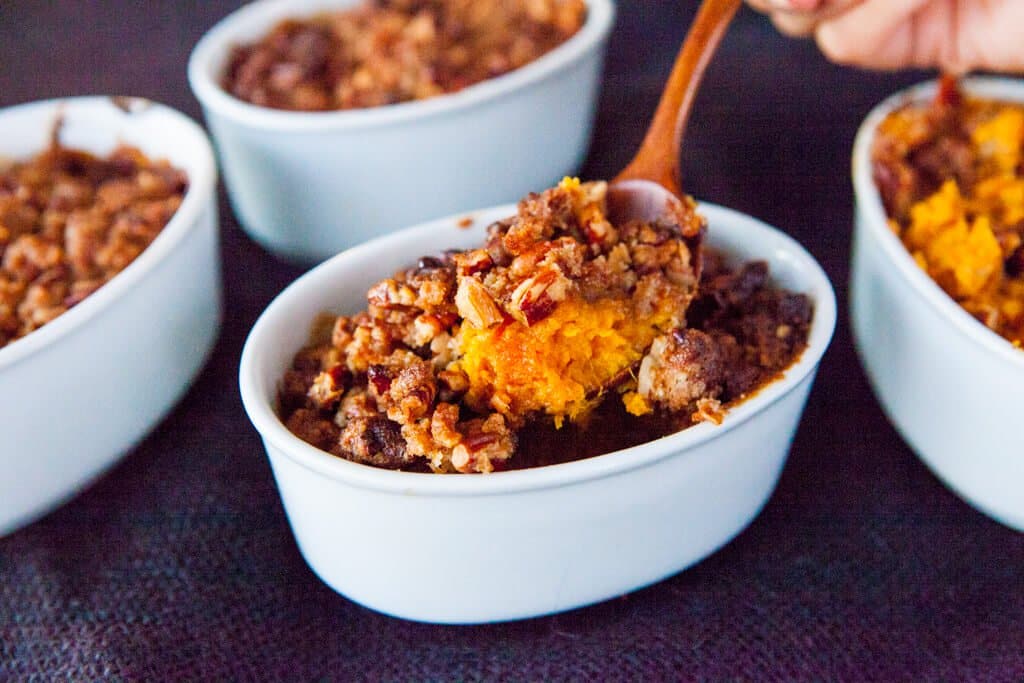 This will be our second Christmas without "Papa." We will enjoy a charred-on-the-outside steak in his honor (but medium-rare for us) and this Ruth's Chris Sweet Potato Casserole.
We'll dine together and remember Papa, fondly. Scott will tell stories of how Papa would rig his BBQ grill at home to produce exactly the steak he liked.
And perhaps, in heaven, there are angels who grill Papa's steaks perfectly, every time.
This sweet potato casserole recipe comes directly from Ruth's Chris Restaurants – they've generously allowed us to reprint and adapt their recipe.
The homemade version is perfect to serve with a traditional steak dinner. We normally pair it with our Perfect Prime Rib Recipe with Red Wine Au Jus.
The two distinct textures of this Sweet Potato Casserole go so well together that we decided to go a little overboard on the topping so that each bite of mashed sweet potato could be accompanied by a generous scoop of the crunchy, sweet, nutty topping.
Right before publishing this post, I went to my computer to see if I could possibly find a photo of that night at Ruth's Chris, out of the 32,051 photos in my archive (life of a food blogger.)
Within seconds, I spotted the photo. From 2007, after our amazing dinner, waiting for the valet in front of Ruth's Chris Steakhouse. By this time, the kids had enough of good behavior. They were DONE! 🙂
How to make Ruth's Chris Sweet Potato Casserole
Note: You can use CANNED sweet potato, to save this step.
Peel and cut each sweet potato in half. If it's a really large/thick sweet potato, you might want to cut into thirds. The key is to keep the pieces relatively the same size.
Boil the sweet potatoes for 20 minutes, until easily pierced with a sharp paring knife (no resistance)
The sweet potatoes are mashed and mixed with just a bit of vanilla extract for extra flavor.
The Pecan Crumb Topping is so simple to make, we added extra pecans.
All that's left is to to do is fill individual ramekins and top with spoonfuls of the crunchy pecan topping. Bake at 350F.
More recipes to explore
How to turn "cheap choice steak" into "Gucci Prime" steak (Steamy Kitchen)
Perfect Prime Rib with Red Wine Au Jus Recipe (Steamy Kitchen)
Jim Lahey's No Knead Baguette (Steamy Kitchen)
Flank Steak with Bloody Mary Salsa (Steamy Kitchen)
Creamed Spinach Recipe (Tyler Florence)
Cauliflower and Broccoli Au Gratin (NY Times)
NY Style Chopped Salad (The Pioneer Woman)
Ruth's Chris Sweet Potato Casserole Recipe
Servings: 4
Prep Time:15 minutes
Cook Time:45 minutes
Ingredients:
1.5 pounds sweet potatoes, peeled (about 4 medium-sized)
Crust Topping Mixture:
3/4 cup brown sugar
1/4 cup flour
3/4 cup chopped nuts (pecans preferred)
1/4 cup melted butter
Sweet Potato Mixture:
3/4 cup sugar
1/4 tsp salt
1/2 tsp vanilla
1 egg, well beaten
1/4 cup butter
Directions:
1. Cut the sweet potatoes half and add them to a pot of salted water. Bring the pot to a boil, and cook for 20 minutes, or until the sweet potatoes are cooked through. They should be easily pierced with a fork. Drain.
2. Preheat the oven to 350F. Mash the sweet potatoes with the Sweet Potato Mixture ingredients. Combine thoroughly and pour into a baking dish.
3. In a separate bowl, combine Crust Topping Mixture, and sprinkle Crust Mixture evenly onto the surface of the sweet potatoes.
4. Bake for 30 minutes at 350°.