Jim Lahey's No Knead Baguette Recipe (Stecca)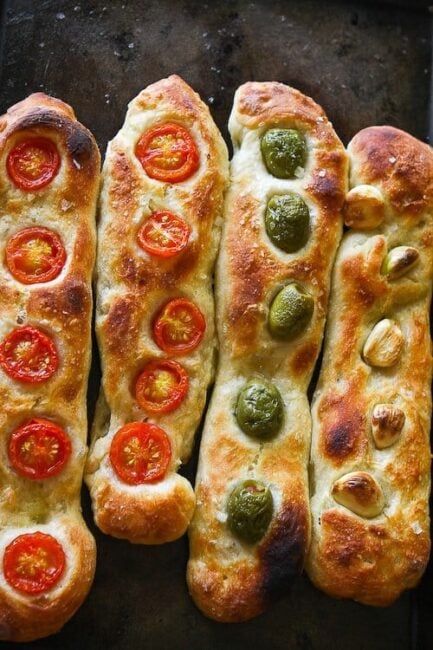 I'm thrilled to share that I'm featured on Oprah's Holiday website along with some other fantastic bloggers and good friends like Gluten Free Girl & The Chef, Kalyn's Kitchen, Stephanie O'Dea, Jennifer Perillo and Fuji Mama!
I'm a lazy lazy baker.
My oven never gets sweet action unless I've got someone else to help me along in the kitchen — my kids even are forced to bake their own birthday cake. So much for winning Mom of the Year award, eh?
And this is exactly why I love this No Knead Baguette recipe and other No Knead breads like the No Knead Sticky Pecan Caramel Cinnamon Rolls (beware…I just gained 2 pounds saying that out loud), No Knead Pizza Dough: Pear and Gorgonzola Flatbread with Baby Arugula, No Knead Nutella and Hazelnut Challah. A couple years ago, when Andrew was 4 years old, he even made the original No Knead Bread (if he can do it, you can do it)
First things first…you've gotta mix the dough the night before. Or at least 10 hours, up to 18 hours (though secretly I've let it go 24 hours…see I told you I'm a lazy lazy baker!)
Mix together bread flour, salt, sugar, yeast, water. This is the night before and the boys are making bread in their PJ's. Nathan wanted me to send along a message, "please don't make fun of my pajamas or my Mom will kick yer butt."
Cover the bowl with plastic wrap and let it sit at room temperature for 10-18 hours. But wait. It's winter. Your "room temperature" might be different that mine. If your house is cold, put the bowl in the warm spot. Or you could let the dough hang out for 24 hours to give the chilly yeast more time to do its magic.
And if your house is REALLY cold, put the dang bowl under your covers and cuddle with it 😉
Once you've let it hang for 10-18 hours, scrape the dough out on your floured counter. Wet your hands and fold the dough over a couple of times to shape it into a flattened ball. Wet hands prevents the dough from sticking to your hands.
Set the dough ball seam side down, tuck the edges and seams under.
Brush dough with olive oil, cover loosely and let rise for 1-2 hours. So hey, that red towel? Bad idea. Even though I dusted with flour, it still stuck.
Divide the dough into 4 equal parts.
The dough should be soft 'n stretchy. Stretch each dough ball into a long, thin baguette.
Place each baguette on a nicely oiled baking sheet and embed some goodies in each one.
Brush with olive oil. Actually, it was more like drizzle and dab the olive oil.
Sprinkle generously with salt. Go easy on the olive one – olives are salty already.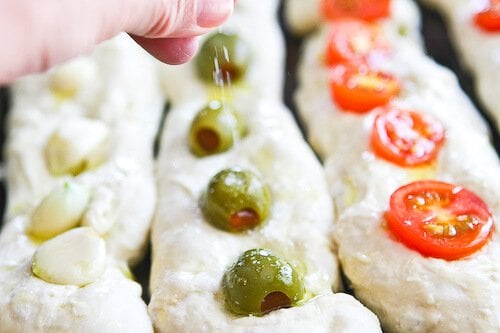 My favorite one was the tomato, so I made 2 of those.
Send 'em to the oven to bake for 15-25 minutes 500F. If your oven doesn't go that high, crank it up as high as you can and add a couple more minutes to baking time.
Voila!
Beautiful.
Festive.
Eat right away…the salt on the bread will make the bread soft once it cools down. If you're not eating right away, you can pop 'em back into the oven for a few minutes right before serving to crisp up again.
Of course, you can cheat and instead of making your own dough, just go to the store and get a fresh pizza dough ball at your supermarket (usually refrigerated in the bakery department) and stretch them out into thin baguettes. Now that's way lazy. I like it.
More Recipes to Explore
No Knead Pizza Dough: Pear and Gorgonzola Flatbread with Baby Arugula and Shaved Parmesan (Steamy Kitchen)
No Knead Bread: so easy a 4-yr old can make it! (Steamy Kitchen)
No-Knead Nutella and Roasted Hazelnut Challah (Steamy Kitchen)
No-Knead Sticky Pecan Caramel Cinnamon Rolls (Steamy Kitchen)
Tear Away Cheese Bread (Food Network)
Peasant Bread (YummyHealthyEasy.com)
No Knead Baguette Recipe - Jim Lahey's Recipe
Servings:
Prep Time:
Cook Time:
Recipe from My Bread: The Revolutionary No-Work, No-Knead Method by Jim Lahey. If you want to keep the baguettes plain, just skip the step of embedding the garlic, olives and cherry tomatoes.
Ingredients:
3 cups (400 grams) bread flour
1/2 teaspoon table salt
3/4 teaspoon sugar
1/4 teaspoon instant or other active dry yeast
1 1/2 cups (350 grams) cool 55-65F water
additional flour for dusting
20 pieces of the any combination of following: whole garlic cloves, whole olives, halved cherry tomatoes
1/4 cup extra virgin olive oil
3/4 teaspoon coarse sea salt or kosher salt


Directions:
1. In a medium bowl, stir together the flour, table salt, sugar and yeast. Add the water and, using a wooden spoon, mix until you have a wet, sticky dough, about 30 seconds. Cover the bowl and let sit at room temperature until the surface is dotted with bubbles and the dough is more than doubled in size, 10 to 18 hours (24 hours if you have a cold cold home.)
2. When the first rise is complete, generously dust a work surface with flour. Use a bowl scraper or rubber spatula to scrape the dough out of the bowl in one piece. Fold the dough over itself to her three times and gently shape it into a somewhat flattened ball. Brush the surface of the dough with some of the olive oil and sprinkle with 1/4 teaspoon of the coarse salt (which will gradually dissolve on the surface).
3. Grab a large bowl (large enough to hold the dough when it doubles in size. you could also use a large pot) and brush the insides of the bowl with olive oil. Gently place the dough, seam side down into the bowl. Cover bowl with a towel. Place in a warm draft free spot to rise for 1 to 2 hours. The dough is ready when it is almost doubled. If you gently poke it with your finger, it should hold the impression. If it springs back, let it rise for another 15 minutes.
4. Half an hour before the end of the second rise, pre-heat the oven to 500F, with a rack in the center. Oil a 13" x 18" x 1" baking sheet.
5. Cut the dough into quarters. Gently stretch each piece evenly into a long, thin, baguette shape approximately the length of the pan. Place on the pan, leaving about 1 inch between the loaves. Embed the garlic cloves, olives or cherry tomatoes into the loaves, about five pieces per loaf. Drizzle, tab or brush olive oil on each loaf. Sprinkle sea salt or kosher salt over each loaf, remember to go light on the olive loaf since the olives are salty.
6. Bake For 15 to 25 minutes, until the crust is golden brown. Cool on a pan for five minutes, then use a spatula to transfer the baguette to a rack to cool thoroughly.
Note: The baguette may become a bit soggy in just a few hours because of the salt on the surface. If that happens, reheat the loaves in a hot oven until crisp.