The Wüsthof Classic 8″ Über Cook's Knife just launched this Fall, with two major improvements to their Classic Cook's Knife. We'll review the PROs and CONs of this new Über design.
Wüsthof Classic 8″ Über Cook's Knife Review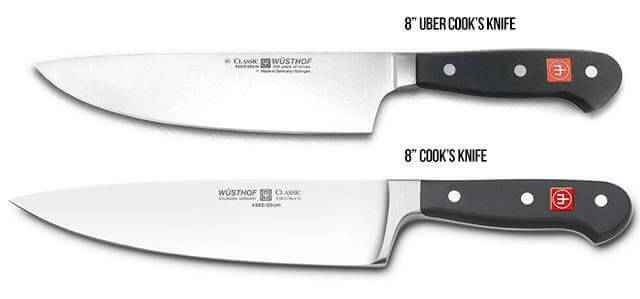 First, let's look at the differences between the new design (top) and the traditional classic design (bottom). While both knives have an 8″ blade, the Über Cook's Knife looks shorter because it has a more pronounced belly, or "curve" to the blade.
Also, notice that the bolster (the thick part between the handle and blade) is a half bolster vs. a full bolster.
Okay, let's start with the PROs:
Wüsthof Classic 8″ Über Cook's Knife PROs
After a week of using the Wüsthof Classic 8″ Über Cook's Knife, here are what I consider the PROs of this knife:
Curved belly makes it easier to chop
Mincing a chopping require a "rocking" motion with your knife – as you can see from the comparison photo, the Über knife's more pronounced belly allows you to rock more easily. I can mince, dice and chop faster.
Thicker vegetables, like fat carrots, are so much easier to chop when I have more clearance between the cutting board and blade.
Half Bolster = more control
The proper way to hold a chef's knife is to pinch the blade, like below:
This gives you more control over the blade, prevents it from wobbling and gives you a more secure grip. Your wrist stays straight, parallel to the blade.
The half-bolster of the Über Cook's Knife allows my fingers to have a better grip on the blade, without having a giant hump to get in the way.
I've never like full bolsters. While it is supposed to create better balance in the knife, it makes the knives heavier, gets in the way, and doesn't allow me to use the full length of the blade. Sharpening knives with full bolsters is incredibly difficult, and after a few rounds of sharpening, the blade is not longer perfectly balanced as the end of the blade by the bolster cannot be sharpened. Note: honing with a honing steel rod is not sharpening. I'm talking about true sharpening, creating a new edge for the blade.
8-inch Knife is perfect size
For most home cooks, 8″ is a great size. Long enough for most of your everyday cutting needs. Length of blade is really a personal preference thing. But for everyday cooking, the 8″ is not too big, not too small. If you're doing a lot of squashes, watermelons, massive roasts, then maybe a longer 10″ knife is better for you.
Thinner, more Asian style blade
Asian knives are generally thinner, and have a 15º blade facet vs. a European knife with 20º facet.
This graphic is from Chef's Choice, my favorite knife sharpening tool company, and it explains the difference.
European knives tend to be thicker, sturdier, heavier. They are made for cutting big, thick food in Western cooking – like potatoes, whole chicken, pork roasts, beef steaks, etc.
Much of Asian cooking is stir fries – vegetables are sliced thinly so that they cook fast. Meats are used sparingly, also cut into thin slices for even cooking. Smaller, thinner, sharper knives are easier to use. (Note: Chinese cleavers and Japanese deba knives are the thicker, heavier and used for the heavy-duty cutting and whacking.)
The Wüsthof Classic 8″ Über Cook's Knife features a 14º edge, which is just slightly sharper than the normal 15º edge, which gives you more precise cutting. Wüsthof started making knives with a thinner edge, to compete with the Japanese knives.
Whether you cook Asian style or not, a sharper degree of edge is probably more suited for modern, global style of cooking. You'll find yourself reaching for a lighter, more nimble chef's knife.
14-degree edge
I asked Wüsthof why they chose to create a 14º edge vs. a traditional Asian 15º edge. Here is their reply:
"CLASSIC knives feature WÜSTHOF's patented Precision Edge Technology, (PEtec). WÜSTHOF's newest state–of–the–art technology, Precision Edge Technology, incorporates a new computer controlled method for putting the edge on forged knives. With this patented technology, the knives are made sharper to 14 degrees per side. This refinement doubles the sharpness retention because exacting angles and edges last longer than edges sharpened by hand, and CLASSIC knives now maintain their edge twice as long." –Wüsthof rep
Wüsthof Classic 8″ Über Cook's Knife CONs
The downside to that big belly
While I really do like the curved belly of the blade, I don't think it's good for inexperienced cooks. The higher you lift the blade's edge from the cutting board, the less control you have.
The Über rocks so well and so fast and so easily, great for chefs and for cooking enthusiasts, but for beginner cooks it's almost too much and easy to lose control when mincing and chopping.
For beginners, a traditional chef's knife might be better – the sharp blade stays closer to the cutting board.
Where to purchase
Williams Sonoma and Cutlery and More are authorized retailers for this knife.
Giveaway: Wüsthof Classic 8″ Über Cook's Knife
Wüsthof is providing a Classic 8″ Über Cook's Knife for a giveaway.