We're reviewing the Breville Thermo Pro Clad Cookware (10-piece set). As with all of our reviews, we feature both PROs and CONs of the product.
Breville Thermal Pro Clad Cookware Review
The 10-piece set comes with:
10 Piece Set Includes:
8.5″/22cm Open Skillet
10″/25cm Open Skillet
1.5 qt/1.4L/14cm Saucepan with Lid
3 qt/2.8L/18 cm Saucepan with Lid
3.5 qt/3.3L/26cm Sauté pan with Lid
8 qt/7.6L/26cm Stockpot with Lid
Material/Performance
Tri-ply aluminum and steel clad construction joined to a warp-resistant, magnetic stainless steel base. Aluminum core conducts heat very well. Use on any cooking surface, including induction.
PRO: Heats fast because of the aluminum core. Induction friendly. Its triple-layer material keeps heat even, steady. No hot-spots. Oven and broiler safe to 500°F. Set includes limited lifetime warranty. The cookware has won 2 awards: iF Design Award and the prestigious Red Dot Design Award for 2016.
Design of the Breville Thermal Pro Clad
PRO: Lots of curves and flares. Flared edges allow you to pour drip-free! No liquid dripping, no spills, just nice, even pouring.The inside of the pot is curved, so that you can use a spatula, whisk or spoon to get to the edge and sides.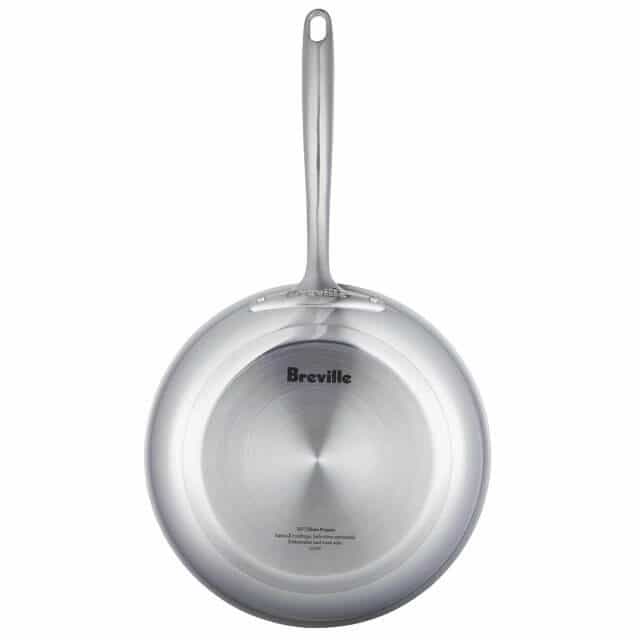 PRO: The Breville Thermal Pro Clad Cookware has volume measurements etched on the sides in both quarts and liters. I love this feature! Also etched on the bottom of every pan is the name of the pan and capacity. Recipes often call for "5-quart pan" and now you know which one to use.
CON: No helper handles, which makes it more difficult to lift up the larger pieces (like the 3.5 quart saute pan). If you're buying the pieces separately, you can get the frying/skillet pan with a helper handle, as well as the 5 quart covered saute pan with helper handle.
PRO: The handle for lid, as well as the stockpot handles are generous in size and flared. Perfect for oven-mitted, clumsy hands to grasp.
Rivets and Logo
CON: I feel like I've been complaining about this a lot! I'm not a fan of rivets and textured logos on cookware. Grease gets trapped in and around these little crevices! It's difficult to clean at the handle. The Breville logo is indented, so you need a very small, stiff brush to give it a good wash and clean inside the logo.
Then again, unless a pan is all one-piece and cast-iron, it will always have rivets 🙂 I'll just have to deal with the rivets on stainless steel cookware.
Dishwasher-safe
PRO: Dishwasher safe. Personally, I don't wash my fancy, expensive cookware in the dishwasher, so I haven't tested how well this works.
The best way to take care of high end cookware, especially stainless steel, is to wash with soapy hot water immediately after cooking. The moment I'm done with the pan, while it's still hot, I take it to the sink and put a little bit of water in the pan. Because the pan is still hot, the water heats up immediately, helping loosen any bits of food. Scrubbing with a little bit of dish soap and the hot water will make removing oil and any stubborn food.
Have you ever made a recipe that asks you to "deglaze the pan with wine"? It's surprisingly easy, even with a wooden spatula, to scrape up the caramelized meat bits after adding a bit of water, broth or wine to deglaze the pan. That's because the pan is hot and the liquid helps loosen the food.
If you wait until the pan is cool, it's harder to clean. A cool pan also means the oil has hardened. Food bits are now dried and stuck. Getting the grease off of the sides of the pan is a pain!
Oh, while you are washing your pan, make sure you scrub the outside as well, at the same time. When I was younger (and lazier), I ruined a really nice set of cookware by neglecting to wash straight away. The grease collected on the outside of the pan, in the little rivets, and it was impossible to clean. Those pans never looked shiny and new ever again.
Those big love handles!
PRO: Look at the belly of that handle! The handle is generous, ergonomic! My previous set of high-end cookware had thin handles that dug into my hand. The Breville Thermal Pro handles are one of the best features of the cookware – they are comfortable to use. Plus, the big, rounded handles makes it easier to lift and pour food out of the pots and pans.
Purchasing
(These are NOT affiliate links)
The Breville Thermo Pro Clad Stainless 10-Piece Cookware is sold at Bed Bath & Beyond for $599. BBB also has a video you can watch on that same page (sorry, I couldn't find the video on YouTube to embed).  Dillards also sells the set for same price.
PRO: The price is very reasonable! Similar products:
All-Clad Tri Ply 10-Piece Set $699
Williams Sonoma Thermal Clad 10-Piece $799
Breville's cookware performs beautifully. I also have the All Clad d5 set, but time and time again, I reach for the Breville – it's more comfortable to use, the volume measurements are handy and I think the rounded shape of the pans are easier to cook in. I just would love some helper handles! 🙂
Breville Thermal Pro Clad 10-Piece Cookware Set Giveaway
We're giving away a set! You'll love this cookware.