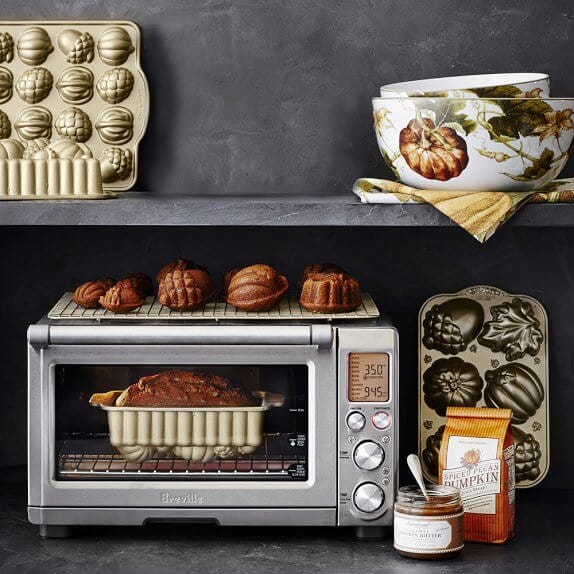 This is a review of the Breville Smart Oven Pro, featuring both PROs and CONs, after testing for 2 weeks. The product can be purchased at Williams Sonoma (photo above) or online at Amazon.
Breville Smart Oven Pro Review
There are so many features of the the Breville Smart Oven Pro, that it really does take a 20 minute infomercial to go through them all. The product was also sold on QVC (video embedded below).
This is no ordinary toaster oven, and it better not be at the price of $269! The Breville Smart Oven Pro is like an efficient, 1800-watt convection second oven for your home.
First, let's talk about the design.
Design
PRO: Looks are deceiving. The oven looks just like a standard toaster oven (in size), and yet it will fit a 13″ pizza. With a generous 0.8 cu ft interior, it will fit 12″x12″ roasting pans and even a large-sized dutch oven.
This is a solid oven. Even the included broiling rack and roasting tray is heavy-duty accessories that are even better quality than what came with my $3,000 big oven.
The oven has an "industrial" look, with thick knobs and bold handle bar.
PRO: The digital display is BIG. No squinting necessary. Also, the 11 main preset functions are text, and are permanent on the screen, and rotating the knobby dial will point to the function.
Why did I highlight this as a PRO? Because several other countertop ovens I've been testing are so difficult to use – their preset functions are hidden until select it…and the presets are icons vs. text.
For example, if you wanted "Roast" you'd have to dial through until you saw a picture of a chicken appear. But wait, was the chicken bake or roast? Was the wavy line icon for broil or convection?
So many times, I'd get confused and spend minutes just dialing back and forth through the options.
With the Breville Smart Oven Pro, you can immediately see that 3rd option is bake.
Little design elements make a big difference
I know it's a little thing, but the hole in the plug is so innovative that Breville holds a patent for it.
My favorite design feature of the oven is the self-ejecting rack. The oven door has 2 strong magnets that pull out the rack a few inches upon opening. No more burnt knuckles trying to reach in the oven. Rack slides right back in easily just by closing the door.
The back of the oven has 2 rubber bumper guards to ensure adequate ventilation space.
So many options
As I mentioned, there are 10 preset options, each setting optimizes time/temperature, and adjusts the 5 heating elements, what Breville calls, "Element IQ."
"5 Independent quartz heating elements move the power where it's needed most, above and below the food. Each element adjusts automatically for the setting you choose, to deliver the right cooking temperature at the right time ensuring the precise cooking process for the meal you are creating." –Breville 
The fancy Element IQ means that your bread will toast evenly, your pot roast will cook without burning, and your souffle will rise high.
The Breville Smart Oven Pro is so precise that you can specify how many pieces of bread you want to toast.
CON: 10 Preset functions is a lot and can be confusing. The level of detail may be too intimidating for some. Do I really need to tell the machine I want to toast 3 slices of bread?If I'm making cupcakes, do I use bake or cookies? English muffins – toast or bagel? If all you are looking for is a counter top appliance to make toast and occasionally roast a small serving of vegetables, there are less expensive appliances to choose from.
On Breville's site, there are 6 different versions of the countertop oven, it can be overwhelming to go through each to make a purchase decision. Here's an incomplete chart (doesn't include the Breville Smart Oven Air).
PRO: I love the Slow Cook function. It's a feature that I've not seen in any other countertop ovens, and it will make your separate slow cooker appliance obsolete. We tested pot roast slow cooked on low setting for 8 hours in a covered dutch oven. Perfect.
How about some pizza?
We wanted to show you the "pizza" function on the Breville Smart Oven Pro to demonstrate the Element IQ.  How do you bake the crust perfectly without burning the toppings? Here's our pizza.
You can use store-bought fresh dough, or make your own. We made individual-sized pizzas.
Brush a little olive oil and spoon on some pizza sauce.
Mozzarella cheese and thin-sliced Capocollo. The key is to not overload the pizza with too many or too much toppings.
Select the PIZZA preset function, and also de-select the frozen icon to tell the oven that we are cooking FRESH pizza.
Oops, I forgot to use the included 13″ pizza pan. But here it is to show you.
Nice and bubbly.
Pizza, glorious pizza.
Baked fresh in a toaster oven! I made another one, this time with anchovies, prosciutto and fresh ricotta cheese. The second pizza turned out better – the crust browned much better than the first. That's because I turned ON the CONVECTION option in the PIZZA preset function (see what I mean about having so many functions it can get confusing?)
Thoughtful Chef-Inspired Design
Only a bagel connoisseur or a chef would make the distinction between toasting bread vs. toasting a bagel! Toasting bread requires high heat on both top and bottom of the oven. Toasting the perfect bagel, on the other hand, would require high heat on top and bottom, then dimming the bottom heat partway though so that you get a lightly toasted bagel top, warm and soft center and bottom.
That's precisely why I love Breville's products. They also have a team of chefs that create innovative recipes for all of their products – watch some of these videos.
QVC Video
Thank you for supporting Steamy Kitchen!
Even if you don't buy the product shown, starting your Amazon shopping here helps our small family business. We get a small commission from Amazon that helps keep this site running free!
Breville Smart Oven Pro Giveaway