This is a Espressotoria Caprista review, including both PROs and CONs.
Espressotoria Caprista is a capsule based espresso system with a optional milk warmer and frother.
Espressotoria Caprista Review
The Espressotoria Caprista is a sleek, Nespresso look-a-like system at an affordable price.
PRO: The machine is less than $100 (Amazon has the Caprista white for $75, Walmart sells it for $99).
CON: The pods are about 75 cents each, which I think is high, especially since Nespresso's own capsules are 70-75 cents each, and Nespresso-compatible capsules are 33 cents each.
The Nespresso-compatible capsules are not compatible with the Caprista machine. I feel like if the company is positioning themselves as a budget alternative to Nespresso or Keurig, that the coffee should also be lower in price.
There are three different varieties of espresso: Espresso, Colombian Single Origin, Decaf and Latte.
PRO: The pod is recyclable. Peel off the top seal and discard, compost the coffee grounds and recycle the pod.
My favorite part of the Espressotoria Caprista system is the milk warmer and frother. You can hook it directly to the machine for power, or use the included power cord to plug directly in wall.
While your espresso brews, the milk will simulanetously heat up and froth.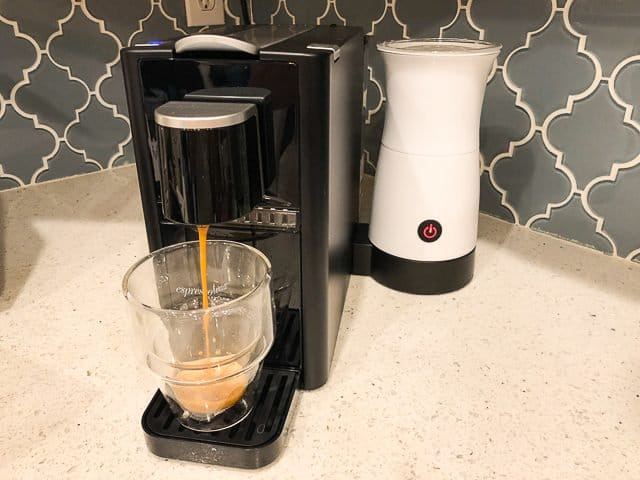 PRO: Inside the milk frother, the spinning arm is attached via magnets. It's super easy to assemble and clean. Very well designed. The milk is creamy, perfectly frothed and hot.
The Espressotoria Caprista makes wonderful espresso-based drinks. The coffee is rich, fresh-tasting. The machine is simple to use, though I wish it had an auto-off feature. My parents came over last week, I made Mom a latté with the machine and the moment she took a sip, I knew the machine was going home with her! 🙂
Espressotoria is owned by Vittoria Food & Beverage Company, a family business in Australia. The company started over 60 years ago, importing Italian food and beverage products to Australia.
The company has won multiple awards, including Australian Family Business of the Year.
Espressotoria Caprista Review & Giveaway