This is a Hestan NanoBond Cookware review, including both PROs and CONs. We've been testing the Hestan NanoBond 8″ Frying Pan for the past 2 weeks. -Jaden
Hestan NanoBond Cookware Review
I've found my new favorite cooking surface. Brace yourself….it's expensive….a 10 piece set will set you back $2,000 (though it is on sale for $1,500 at the moment).
The Hestan NanoBond surface is stainless steel bonded with thousands of titanium and chromium-based alloys. There are no chemicals used in this cooking surface. That means a cooking surface that's environmentally friendly and incredibly durable….4x harder than stainless steel. The cookware is so innovative, that Hestan owns 14 global patents for the fit and finish.
Cooking with Hestan NanoBond Cookware
Out of all the stainless steel based cookware that we've tested over the years, the NanoBond Cookware releases food the best. That's because the surface is so dense, hard and smooth, food slides easily.
The egg test: frying an egg with just a quick spray of olive oil in center of pan.
Eggy no sticky.
Actually, the egg just slides right off. Notice that there is no visible oil in the pan – that's how little oil I used!
Burnt cheese test: After cooking an omelet in the pan, I kept the pan on high heat and threw a handful of shredded cheddar cheese with no additional oil.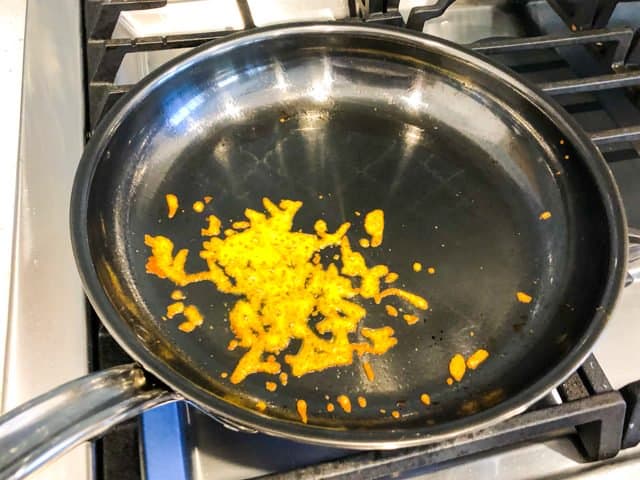 Scrapes easily off.
Cheesy no sticky.
The pan is easy to clean, but difficult to keep polished.
After using the pan everyday for 2 weeks, the pan doesn't stay shiny.
Also, I'm pretty hard on my pans while they are on the stove. The metal grates will often scratch the bottoms of my cheaper pans and/or discolor the pan.
The Heston NanoBond cookware came with a bottle of stainless steel polish. Just rub a little on with a soft cloth.
Back to shiny again. Wash with soapy water by hand and it looks brand new. No scratch marks!
What I love about the Hestan NanoBond Cookware
Virtually indestructible (thanks, titanium!)
Polishes to a shiny finish…the pan looks brand new!
Conducts heat 35% more efficient than stainless steel cookware
It's GORGEOUS!!!
Made in Italy
My FAVORITE feature is this:
The rivets are FLUSH!!!!! It's so easy to clean, no scrubbing around bumpy rivets. If you've been reading my cookware reviews over the past 10 years, you'll know that this is my biggest pet peeve of cookware. Grease, food bits get stuck around bumpy rivets and it's almost impossible to keep clean.
What I don't like about the Hestan NanoBond Cookware
The mirror finish of the cookware will drive those who are OCD a bit crazy. Have stainless steel polish and a cloth on hand.
It's expensive. I want this wok with lid so bad, but it's $520! The 10 piece set will set you back $1,500. That being said, the Hestan brand is high-end. In fact, Chef Thomas Keller's Per Se Restaurant is equipped with Hestan Commercial appliances.
Luckily, the 8 1/2″ frying pan that I'm using, is on sale for $149.99, which is affordable. By the way, my husband makes omelets every single morning, and he loves this skillet. We're using half the amount of oil with this pan. Buy this pan while it's on sale!
Hestan NanoBond Cookware Giveaway
Giving away one 8 1/2″ Hestan NanoBond Skillet.