If you are looking for a fresh, easy, summery one-bowl meal recipe, then your search is over. This rotisserie chicken Buddha Bowl with pomegranate sauce can be made in just 20 minutes and will satisfy the entire family.
All About Buddha Bowls
Buddha bowls are fun nutritious meals that you can make by combining just about anything that you already have in your fridge or pantry.
For each recipe we will always start with a base of grains or greens and a couple scoops of veggies. Next, a side of lean protein and a nice sauce and crunch to top it off with.
Anytime you create a bowl with all of those flavor profiles, you are making a Buddha Bowl!
The Beauty of Buddha Bowls
Buddha bowls are so easy to make because you can use leftovers or anything that you already have on hand. It is simple to get creative with substitutes and use any veggies that you happen to have. Just remember this simple formula: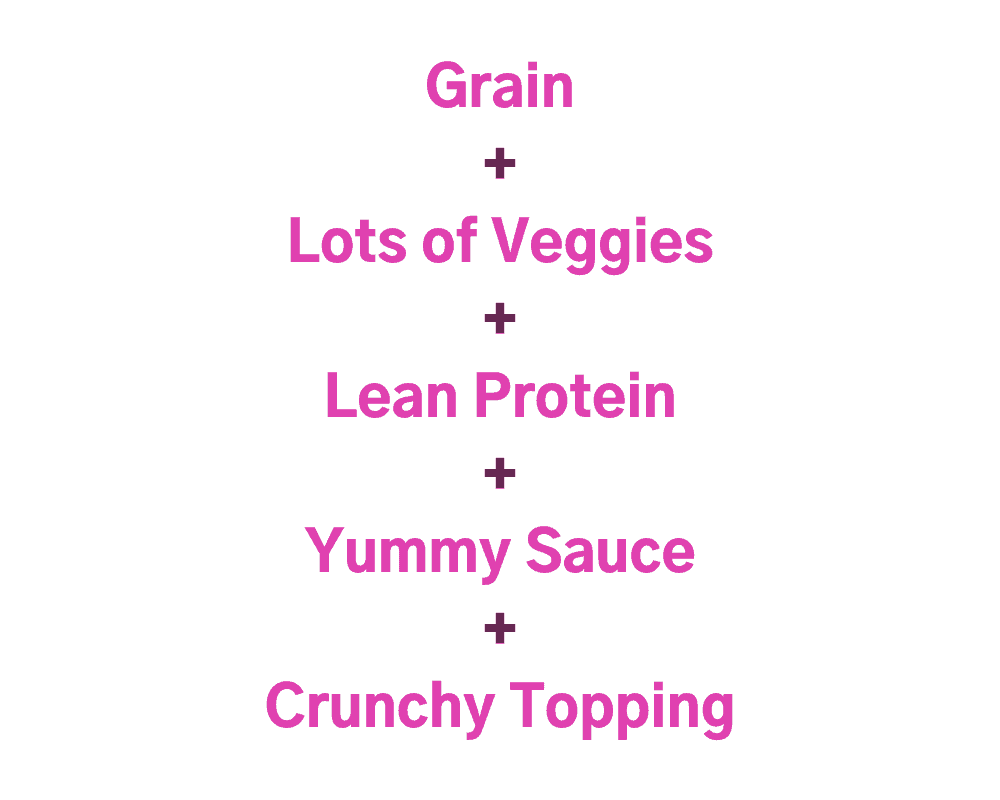 For this fresh bowl, we will create a combination of herbs and sweet pomegranate sauce that will leave you feeling healthy and full.
+ For GRAINS: Check the pantry! Quinoa? White or brown rice? Perfect!
+ For VEGETABLES: What's in your refrigerator? Let's use your favorite salad ingredients.
+ For PROTEIN: We used a store bought rotisserie chicken. Easy enough, right? You can also use: leftover chicken from other meals, frozen pre-cooked chicken breasts, pre-marinated chicken breasts, or just cut up sandwich meat.
+ For SAUCE: We will be making a sweet pomegranate sauce with a wonderful ingredient called Pomegranate molasses, which is a sweet, tart syrup popular in Middle Eastern cuisines. If you don't have this at the store, don't worry, we'll teach you how to make it.
+ For CRUNCH: A combination of pomegranate seeds and any nuts.
Use Store-Bought Rotisserie Chicken
Using a store bought rotisserie chicken helps cut back on a lot of time. You don't need to worry about seasoning or anything like that, making it this a great meal option for during the week.
If you want to take this recipe a step further, try making your own rotisserie chicken.
My favorite large appliance is the Ronco Rotisserie. I LOVE THIS THING. It makes the very best rotisserie chicken (2 at a time even) and a 1-step prime rib roast that's foolproof.
Sweet Pomegranate Sauce
The sauce starts with pomegranate molasses, a popular condiment in Middle Eastern and Mediterranean cuisine. It's thick, syrupy and has a sweet and tangy bite. Look for this online or in the grocery store.
To make Pomegranate SAUCE from the MOLASSES – thin out the molasses with a couple tablespoons of water and olive oil. We want a nice sauce to drizzle on the Buddha Bowl….not a thick, sticky syrup.
Make your own Pomegrante Sauce
Starting with store-bought Pomegranate Molasses is always easiest, but here's a simple recipe to start from scratch.
Ingredients for Sweet Pomegranate Sauce from Scratch:
4 cups Pomegranate juice (store bought)
2 tablespoons Lemon juice
1/2 cup Sugar (or more)
Simmer until it reduces to a thin syrup (about 20 minutes). It should lightly coat a back of a spoon….a good drizzling consistency.
p.s. If you want to make Pomegranate molasses, simmer for a total of 1 hour. It should be syrupy and thick.
To Top It All Off
Go nuts! Pick any nuts that you like, we love sesame seeds, almonds, cashews, pistachios, pecans, etc.
Don't forget the pomegranate seeds too! Pomegranate seeds add a yummy pop of tartness and the crunchy fruit adds amazing texture to your Buddha Bowl.
Tips for removing pomegranate seeds:
Do this under water! This keeps everything in the bowl, and prevents staining of your hands, the counter, your clothes (pomegranate is notorious for staining everything!)
Fill a large bowl or sink with water
Cut the top and bottom off of the pomegranate. Using a paring knife, score around the fruit, like you would peel an orange.
Submerge the pomegrante into the bowl of water, use your hands to pry apart the sections and loosen seeds.
Submerge the pomegranate in the water and use your fingers to remove the seeds, notice the seeds will sink and the bitter white pith pieces float to the top
Remove the loose white pieces and the outer skin, drain water
Rotisserie Chicken Buddha Bowl with Sweet Pomegranate Sauce
Make a fresh summery Buddha bowl with fragrant rotisserie chicken and a sweet pomegranate sauce. Sub out chicken for tofu or sweet potato cubes. Store extra sauce in the fridge for up to 5 days.
If you want to make Pomegranate Sauce from scratch – the recipe is at the very bottom.
Ingredients
For the GRAIN
2 1/2

cups

water

1 1/4

cups

quinoa

1/2

tsp

salt or other seasoning
For the VEGGIES
2

cups

broccoli florets

2

ounces

fresh sprouts

1

cup

shredded carrots

1

large

avocado

sliced
For the PROTEIN
1/2

store bought rotisserie chicken

chopped or shredded
For the SAUCE
1/4

cup

pomegranate molasses

2

tablespoons

water

2

tablespoons

extra virgin olive oil
For the CRUNCH
1/4

cup

chopped nuts of your choice

1/3

cup

pomegranate seeds
Instructions
Prepare the quinoa
Wash and drain the quinoa in a bowl of water until it runs clear. Drain water.

Combine 2 1/2 cups water, 1 1/4 cups quinoa and salt in a pot over high heat and bring to a boil. Cover, turn heat to medium, and let simmer, until all of the water is absorbed, about 15 minutes. Remove from heat, fluff with fork. Keep covered until ready to serve.
For the Pomegranate Sauce
In a mason jar with tight fitting lid, add in the pomegranate molasses, olive oil, 2 tablespoons of water. Season with salt and pepper, if you'd like. Cover with lid tightly and shake.

If you would like to make the Pomegranate Sauce from scratch, see very bottom of recipe.
Assembling the bowls
The assemble the Buddha Bowl, divide the quinoa amongst the bowls. Add in the vegetables, chicken. Drizzle on the Pomegranate Sauce and top with crunch.

Store the leftover Pomegranate Sauce in the refrigerator. It should last for 2 weeks.
Notes
To make Pomegranate Sauce from scratch (if you cannot find Pomegranate Molasses)
4 cups Pomegranate Juice + 1/2 cup sugar + 1 tablespoon lemon juice.
All all ingredients to a saucepan. Bring to a boil, reduce heat to low, and simmer until the sauce has thickened to about 1/2 cup. This should take 20 minutes. Keep an eye on the pot. The sauce should lightly coat the back of a spoon. It should be a nice sauce like consistency, add a tablespoons of water if needed to thin it out. The sauce is HOT. Please be careful. Let it cool a bit in a spoon before tasting. Adjust with more sugar or lemon juice, if needed.
Once the sauce has cooled, add the sauce to a mason jar with a tight fitting lid. Add in 2 tablespoons of olive oil, and salt & pepper. Cover lid tightly and shake.
Nutrition
Serving:
1
g
Calories:
637
kcal
Carbohydrates:
68
g
Protein:
36
g
Fat:
26
g
Saturated Fat:
4
g
Cholesterol:
72
mg
Sodium:
605
mg
Potassium:
1022
mg
Fiber:
12
g
Sugar:
5
g
Vitamin A:
5703
IU
Vitamin C:
51
mg
Calcium:
82
mg
Iron:
5
mg
Check Out These Fresh Buddha Bowl Recipes
If you have tried making this rotisserie chicken Buddha Bowl with sweet pomegranate sauce, or any other recipe on my blog, then please rate it and let me know how it turned out in the comments below!