Whether on the stovetop or in the oven, you can create and customize homemade croutons with this easy recipe and finally step up your soup, salad, and Buddha bowl game!
Tired of stale store-bought croutons? Making your own is easier than you think, whether in a pan or in the oven!
Start with a loaf, or even a partial loaf, of leftover bread. It'll only taste fresher from here–believe us! But new bread won't hurt your results, either. 😉
Because–in case you didn't know— we're all about leftovers at Steamy Kitchen, and Buddha bowls present the perfect opportunity to enjoy them, in so many different shapes and sizes!
Picking the bread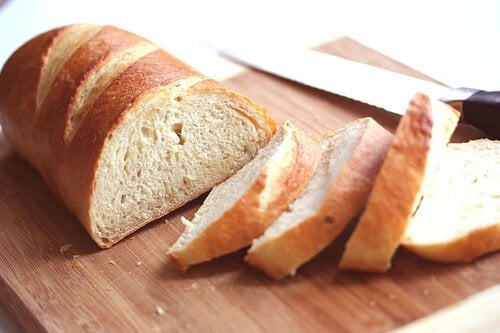 Gather up some day-old bread if possible. Virtually any slightly dried out white bread is a great candidate for absorbing the oil or butter that'll make for super crunchy croutons! We like airy, crusty breads like the classic French baguette. And you don't need a fancy loaf.
The $2 supermarket standard will do just fine, but if you're picky about you're croutons, don't hesitate to go beyond basic!
Taking it to Flavortown…
Croutons allow for endless customization of flavors. In this recipe we'll infuse the oil with garlic, but you can easily sub that for chilies, rosemary, or nothing at all, or just go with plain butter.
As long as you add enough butter or oil, you'll end up with crunchy, proper homemade croutons!
Just make sure to not let dried spices and herbs burn when pan-frying or baking the croutons. If you're the super careful type, just reduce the chance of burning by adding the spices in halfway through cooking time, which doesn't take long anyway.
Make these homemade croutons stand out!
Roasted Cauliflower Buddha Bowl Recipe with Dill Dressing
Rotisserie Chicken Buddha Bowl with Sweet Pomegranate Sauce
How to bake quite the garlicky flavorful croutons in the oven
Tip: Crush these croutons after toasting to spread them out further across yummy Buddha bowls!
Homemade Croutons Recipe
Choose between pan-fried stovetop croutons or baked ones; either way, you're only a few short steps away from a winning topping for soups, salads, and Buddha bowls galore!
Ingredients
1

8- to 10-inch

baguette, or crusty loaf of bread

2

tablespoons

cooking oil or butter

or to taste

2

cloves

garlic

crushed (optional)

Salt and pepper to taste

Additional seasonings such as onion powder

ranch powder, Italian seasoning, red pepper flakes, etc.
Instructions
Cut bread into 1- to 1 1/2-inch cubes.
ON STOVETOP:
Heat oil and garlic (optional) in a large pan over medium heat until fragrant. Remove garlic cloves. Add bread cubes to oil and toss. Cook, turning occasionally, until golden brown and crunchy, 5 to 6 minutes total. Season with salt, pepper, and other desired seasonings.
IN THE OVEN:
Preheat oven to 350 degrees F (175 degrees C).

Toss bread cubes with oil in a mixing bowl until well coated. Season with salt and pepper. Bake in the preheated oven, turning occasionally and adding additional seasonings, until golden brown and crunchy, 10 to 15 minutes.
Notes
Croutons keep in an airtight container for 3-5 days, or you can seal and freeze them.
Nutrition
Sodium:
7
mg
Calcium:
11
mg
Vitamin C:
2
mg
Sugar:
1
g
Calories:
259
kcal
Saturated Fat:
2
g
Fat:
28
g
Protein:
1
g
Carbohydrates:
2
g