Use leftover stuffing or dressing from Thanksgiving to make these irresistible Crunchy Mozzarella Balls! Wrap fresh mozzarella with a scoop of stuffing and shape into a ball. Roll in panko bread crumbs, fry and serve with marinara sauce.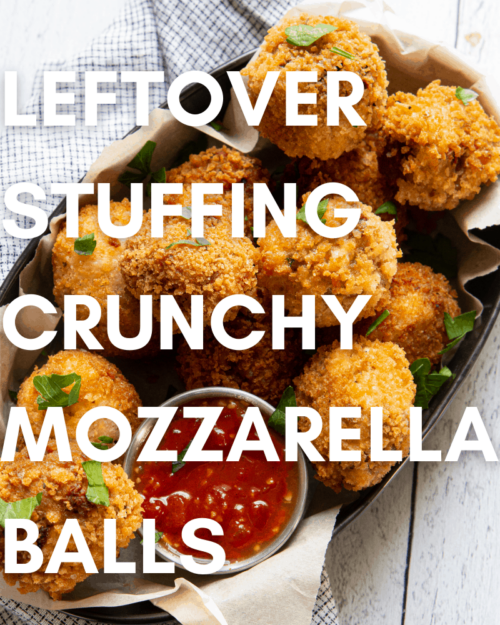 Our Mission: Help Give New Life to Your Thanksgiving Leftovers!
Our mission is to stop food waste at home, especially during the holidays, when families gather for that big massive feast! We have tons of ideas for turkey like:
and even a few for gravy, but what about the stuffing?
Give New Life to Leftover Stuffing
Nobody wants to throw away perfectly good food, but stuffing is one of those dishes that feels very Thanksgiving-y. You may think it's hard to repurpose and turn into something completely different, but I have a few leftover stuffing hacks that I use every year to get the most out of my leftovers without boring my taste buds.
Idea 1: Add Leftover Stuffing to Meatballs
If you've ever been to one of the most popular Italian American restaurants called Buca di Beppo, you'll be familiar with their World's Famous Ginormous Meatball which is a half pound monster of a meatball topped with marinara and ricotta cheese. Check it out below, then use your leftover stuffing to make this showstopper of a meal.
Most meatball recipes call for breadcrumbs. Instead of using breadcrumbs, just pulse your stuffing in a food processor a few times to cut it into smaller pieces and use that instead! You won't believe how deliciously your meatballs turn out.
Idea 2: Add Leftover Stuffing to Hashbrowns
Stuffing has all of the qualities that make it the perfect addition to any breakfast or brunch: it's basically toast on steroids. My favorite way to use stuffing when I'm making breakfast is to add it to hashbrowns. Mix in leftover stuffing into your hashbrowns for a crunchy potato brunch treat.
Idea 3: Leftover Stuffing to Make Crunchy Mozzarella Balls
Hear me out: stuffing makes THE BEST Crunchy Mozzarella Balls, and they're so easy! All you do is wrap a piece of fresh mozzarella around a tablespoon of stuffing. From there, you bread it up by rolling it egg and then dipping it into cheesy panko breadcrumbs. Deep fry. Serve with a side of marinara sauce to dip. You won't believe how delicious it is. By the way: you can also do this hack with leftover mashed potatoes.
How are you going to repurpose your leftover stuffing? Let us know in the comments!
Leftover Stuffing Crunchy Mozzarella Balls
Use leftover stuffing or mashed potatoes from Thanksgiving to make these yummy crunchy mozzarella balls!
Ingredients
1 1/2

cups

leftover stuffing or mashed potatoes

4

oz

fresh mozzarella

torn into small pieces

1

egg

lightly beaten

1

cup

panko breadcrumbs

oil for frying

vegetable, canola, or peanut
Instructions
First, make the mozzarella balls: wrap a small piece of mozzarella in 2 tablespoons of leftover stuffing or mashed potatoes, sealing completely.

Bread the mozzarella balls: coat lightly in beaten egg, then coat in panko. Set aside on plate until all are breaded.

Add the oil to a deep, heavy bottomed pan and bring oil to 350°. If you don't have a thermometer, flick a very small amount of water into the oil to see if it sputters. It's ready if it does!

Fry the mozzarella balls for about a minute on each side until golden brown. Transfer to a plate lined with a paper towel, and enjoy immediately!