Even after so much Thanksgiving day food, sometimes we miss those holiday flavors. So, with this leftover recipe we are using a trifecta of leftovers: turkey, stuffing, and cranberry sauce. It's a super easy recipe that comes together quickly with traditional, nostalgic Thanksgiving day flavor, but reinvented into something brand new!

Giving New Life to Leftover Turkey Recipes
Our mission is to stop food waste at home, especially during the holidays, when families gather for that big massive feast.
When using leftover turkey for a new meal, the biggest secret is to make sure it tastes COMPLETELY different than your holiday meal. Because let's face it – holiday leftovers never taste as good as the first time around! Nobody wants to relive that same meal four nights in a row.
Also in this Giving New Life to Leftover Turkey series: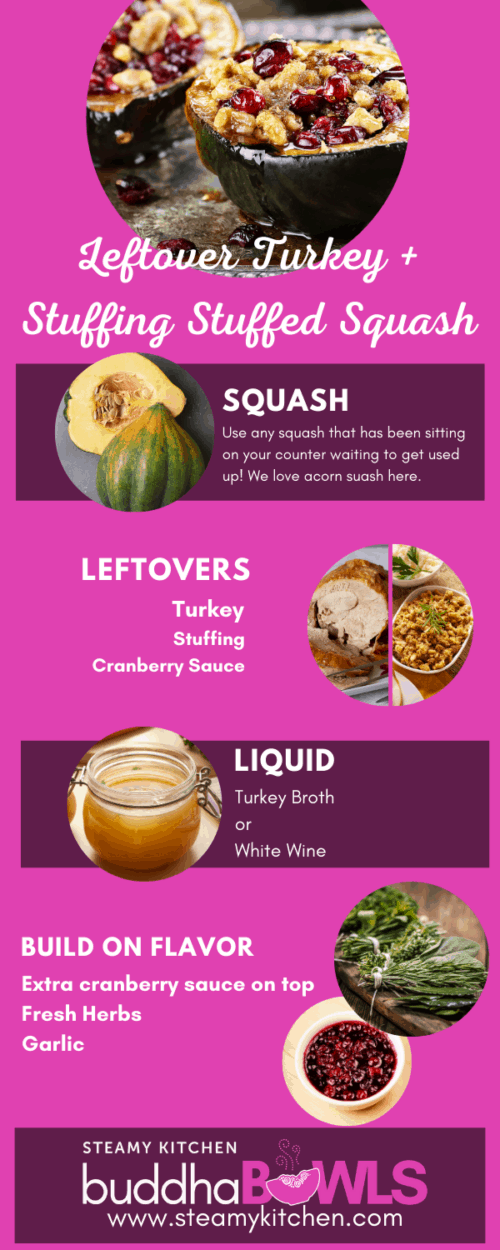 What's in this Thanksgiving-Leftovers Stuffed Squash?
We are using a wealth of leftovers to create this fun recipe:
Leftover turkey
Leftover stuffing
Leftover cranberry sauce
Turkey broth or wine
Onions
Garlic
Acorn Squash

Tips to Make the Most Out of this Leftover Turkey and Stuffing Stuffed Squash:
Turkey Broth: Make your own turkey broth! If you aren't using your leftover turkey bones to make your own broth you are missing out on so much flavor! Use this recipe to create a quick and flavorful broth. (You can leave out the dashi and miso if you want too.)
Cubed or Diced: The size and how you cut up your turkey for this stuffed squash totally matters here. You want the turkey and the stuffing to be roughly the same size. If you cubed your bread for the stuffing, cube your turkey. If you diced it, dice your turkey.
Cranberry Sauce: It might seem like a lot, but it helps keep everything moist, along with the broth, and adds just enough sweetness.
Squash: You can use just about any squash you'd like, but our preferred squash is acorn. It's a little sweet and cooks quicker than some of the other larger squashes. Pre-roast your squash with a little olive oil and salt to begin to build that flavor.
Leftover Turkey and Stuffing Stuffed Squash
This leftover turkey and stuffing stuffed squash is a fun way to let the thanksgiving food last a little bit longer and has nostalgic holiday flavors.
Ingredients
2

acorn squash

about 1-1/2 pounds each

2

tablespoons

olive oil

1

large yellow onion

finely chopped

3

garlic cloves

minced

2

cups

leftover turkey

cubed

2

cups

leftover stuffing

cubed

3/4

cup

leftover cranberry

whole berry is best

1/3

cup

turkey broth or white wine

Salt and pepper

to taste
Instructions
Preheat oven to 400 degrees F and line a baking sheet with parchment paper.

Cut the squash in half and remove the seeds and save them for roasting.

Brush the flesh with olive oil and sprinkle with a little salt.

Put the squash, cut side down onto the prepared baking sheet and roast for 40 minutes.

While the squash is roasting, make your filling.

In a large skillet over medium heat add olive oil, onion, and sprinkle with a pinch of salt.

Let the onion soften for about 3 minutes then add the minced garlic.

Stir in the turkey, stuffing, cranberry sauce, and broth and mix well to combine.

Remove squash from oven and carefully fill each half with the filling.

Lay a piece of foil over the squash and bake for about 20-25 minutes, until the squash is easily pierced with a fork.