Master this easy recipe for how to cook quinoa in a pressure cooker, whether you have an Instant Pot, or other brand.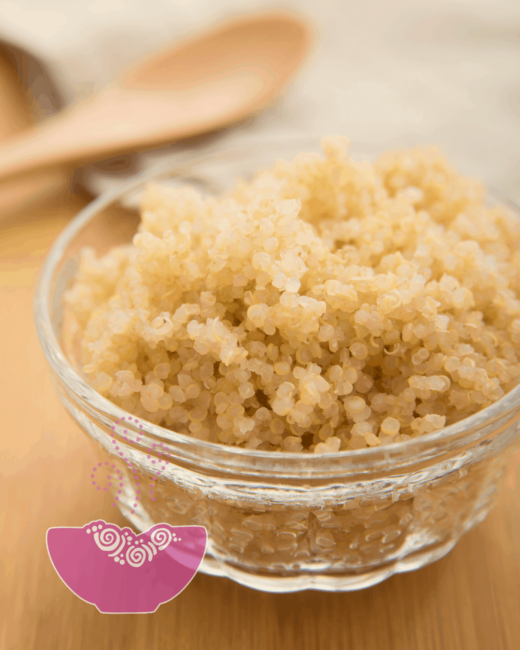 It'd be an understatement to say that electric pressure cookers have changed the game.
Cooking grains (or seeds, in the case of quinoa) offers an easy, useful way to break in your Instant Pot. Even if you've never cooked a full-on dish in one of those, just cooking beans, rice, and other grains alone will keep your pressure cooker busy!
Have it plugged in while you carry on with the other ingredients for your dish…Buddha bowls are great for this easy kind of multi-tasking.
Make sure to read my in-depth review of the Instant Pot.
Pressure Cooking Grains
At Steamy Kitchen, we like to build healthy one-bowl meals on a sturdy foundation of grains and greens. Think brown rice, couscous, quinoa, crispy salad greens, even farro–to name a few. Of course, go half-and-half if you like! We want to help you find your favorites–delicious grains/greens you can make time and time again.
And just like that, a Buddha Bowl is born!
Although quinoa is technically a seed, not a grain, it is typically prepared like any traditional grain such as rice–used in salads, casserole bakes, pilafs, you name it! Buy it in plain beige (white) or rainbow varieties, you'll enjoy the same fragrant but pleasantly neutral taste.
The job of the pressure cooker? Deliver fluffy, not-too-dry, definitely not gummy quinoa so you can get on to blinging up the rest of your Buddha Bowl!
Tips for Perfect Pressure Cooking Quinoa
Lubricate that pot! Either use cooking spray or toast the quinoa beforehand in oil.
If you have extra time, rinse quinoa thoroughly to get rid of extra bitterness. Most quinoa comes pre-rinsed, but true quinoa freaks won't forget the ol' rinse 'n shake!
Add the right amount of water to avoid soupy, mushy quinoa. Don't worry, the ratio couldn't be simpler! Use 1 cup water or broth for every cup of quinoa.
How to Cook Quinoa in a Pressure Cooker – Step by Step
1. Toast the quinoa (optional step)
Select "SAUTE" mode on your Instant Pot®. Heat some oil up and stir in the quinoa to coat. Cook and stir until lightly toasted and fragrant, about 3 minutes.
*If you wish to skip this step, lightly coat the inner pot of your pressure cooker with cooking spray.
2. Pressure cooking time!
Add water and salt to the toasted quinoa. Don't skip the salt! Stir everything one more time before sealing the valve and cooking on Manual high pressure for 1 minute.
*Some folks say to cook for "0" minutes; point is, quinoa cooks up super quickly. Most of the cooking takes place during the time it takes for the pot to come to pressure–typically about 5 minutes (more if you've doubled or tripled the recipe).
Use the natural release mode and let it simmer down for about 10 minutes.
The whole process should take less than 15 minutes and is so hands-off, you'll be glad you recruited your Instant Pot®!
See also: Stovetop Quinoa Recipe
Delicious uses for quinoa
Rainbow Buddha Bowl with Tahini-Lemon Dressing
How to Make Crispy Quinoa Without Oil – for use as a topping
You might also like: How to Cook Quinoa in the Microwave
Other Pressure Cooker Recipes
Pressure Cooker Chinese Sausage with Brown Rice
White Bean Chili Frito Pie in the pressure cooker! Get ready for a wild ride.
See our whole collection of Buddha Bowl grains
*Did you find this recipe useful? Let us know in the comments! Always appreciate hearing your thoughts!
How to Cook Quinoa in a Pressure Cooker Recipe
This pressure cooker recipe for cooking quinoa makes it quick and easy to cook fluffy quinoa in an electric pressure cooker, like your Instant Pot!
Ingredients
½

tablespoon

oil

or cooking spray as needed (optional)

1

cup

quinoa – rinsed and drained

1

cup

water or broth

¼

teaspoon

salt
Instructions
Either coat the inner pot with cooking spray or toast the quinoa. To toast, select Saute mode on your electric pressure cooker. Add oil to the pot once hot and stir in quinoa until coated in oil. Cook and stir until lightly toasted and fragrant, about 3 minutes.

Mix water and salt in with quinoa. Close and lock the lid. Select "MANUAL"; set timer for 1 minute on high pressure according to manufacturer's instructions. Allow about 5 minutes for pressure to build.

Release pressure using the natural-release method, about 10 minutes. Carefully release any remaining pressure. Unlock and remove the lid. Fluff quinoa with a fork or a rice paddle.
Nutrition
Calories:
172
kcal
Carbohydrates:
27
g
Protein:
6
g
Fat:
4
g
Saturated Fat:
1
g
Sodium:
150
mg
Potassium:
239
mg
Fiber:
3
g
Calcium:
20
mg
Iron:
2
mg