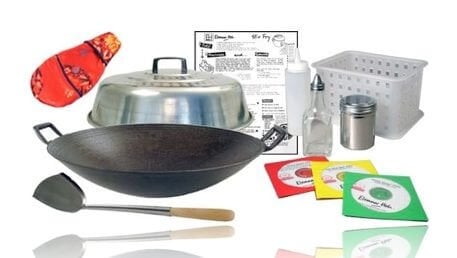 My friend, Eleanor Hoh is the genius behind Wok Star Kit (value $145.00) – a light cast iron pre-seasoned wok and instructional set.
It's one of my favorite woks and does magic for stir fries. She's giving us one set to give away!
With the Wok Star Kit you'll achieve delicious, homestyle dinners in thirty minutes with little cleanup.  What's unique about the Wok Star Kit is that both the tools and techniques are provided so you'll have a complete experience.

The no-recipe, no-measuring, no-calorie counting technique is simple and
easy to follow. It's Easy Style Cooking with an Asian Flair.

One of the essential elements of wok cooking is high heat.  If you have
an electric cooktop, it will not work with a round bottom wok.  Please
read "A Note About Your Heat Source" on the Stir Fry Stove page.
Wok Star Kit Includes:
15″ Pre-seasoned, Lightweight Cast Iron Wok with lid, spatula & my unique magnetic wok mitt
Instructional videos
A laminated stir fry crib sheet for your fridge door
Caddy basket organizer with "squirt, squeeze, & shake " dispensers for your Asian seasonings
Free Asian seasonings to get your started