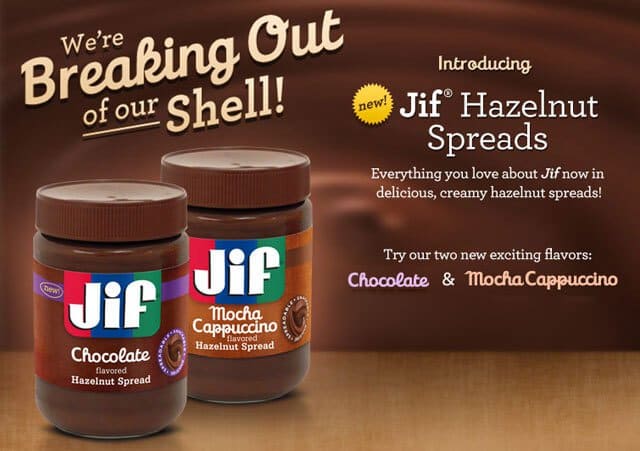 We are thrilled to share the most exciting thing to happen since – well – peanut butter itself!
The makers of Jif recently launched two delicious new hazelnut spreads – Jif Chocolate Flavored Hazelnut Spread and Jif Mocha Cappuccino Flavored Hazelnut Spread. Both varieties offer a new way to spread the love and make anything – and any moment – just a little sweeter.
To celebrate, you can win everything needed – right down to the spoon – to sample Jif Hazelnut Spreads with friends and family.
Jif Hazelnut Spread Tasting Kit (ARV $100):
Jif Chocolate Flavored Hazelnut Spread
Jif Mocha Cappuccino Flavored Hazelnut Spread
Homemade Marshmallows
Graham Crackers
Pillsbury Chocolate Fudge Brownie Mix
Folgers Black Silk Coffee
Silver Spoon
Recipes and Tips
$50 AMEX Gift Card
Come up new ways to give favorite snacks, desserts and beverages a hazelnut twist! To get started, here are some tips for ways to use Jif Hazelnut Spreads:
Breakfast: Spread on top of toast, waffles or pancakes for a delicious way to start the day.
Hot and Cold Beverages: Add to coffee, hot chocolate or a milk shake for a unique twist on a favorite beverage.
Snack: Use in S'mores instead of chocolate bars for a tasty treat or simply enjoy with pretzels or graham crackers.
Dessert: Use as an icing on your favorite brownies or drizzle over ice cream.
Giveaway sponsored by Jif.