Chicken Satay with Peanut Noodles
It was just last week that I confessed to wasting a lot of food in my line of work during the process of recipe creating and testing. It's horrible, I know, but at least you'll have the comfort of knowing that each recipe IS tested and not just made up randomly in my head AND that the food scraps either go to the chickens or the worm compost. Believe me, the chickens and worms love it.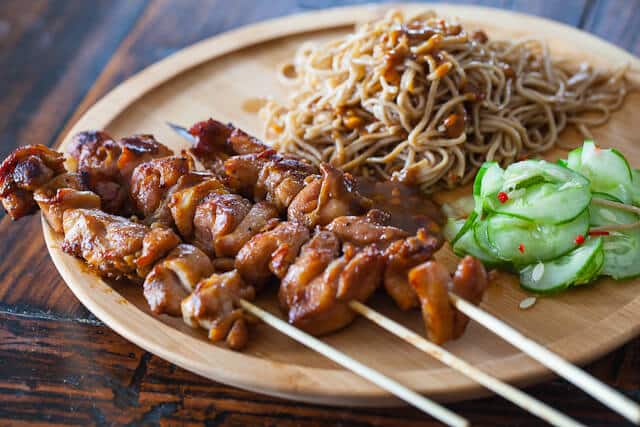 However, I do have a solution for cutting down on buying too much grocery – The Fresh 20 by my friend, Melissa Lanz. Basically, it goes like this: Every week, The Fresh 20 will send you a grocery list of 20 fresh ingredients (i.e. vegetables, meat, seafood, fruit, dairy). With those 20 fresh ingredients and your pantry staples, you can make 5 meals to feed your family.
Genius, right? This plan eliminates the guesswork of "What's for dinner?" and "What groceries to buy?"
While the service is a monthly fee, the cookbook, with 80 recipes (that's 5 recipes each week for 16 weeks) is on sale at Amazon for less than $20. The week that I chose included 20 fresh ingredients that made this Chicken Satay with Peanut Noodles, along with:
Greek-Style Lamb Tacos with Cucumber Yogurt Sauce & Salad
Orange Jalapeño Shrimp with Broccoli and Brown Rice
Guacamole Tostadas with Fried Eggs
Lamb Penne with Simple Green Salad
There are options for Vegetarians and Gluten Free diets too. Easy peasy.
Chicken Satay with Peanut Noodles Recipe Video
***
Chicken Satay with Peanut Noodles Recipe
Servings:
Prep Time:
Cook Time:
Ingredients:
FOR THE CHICKEN SATAY
1 tablespoon reduced-sodium soy sauce
2 teaspoons cooking oil
2 garlic cloves, finely minced
1 tablespoon grated fresh ginger
1 teaspoon ground cumin
freshly ground black pepper
2 boneless skinless chicken breasts, cut evenly into bite-sized pieces
wooden skewers, soaked in cold water for at least 10 minutes
FOR THE PEANUT NOODLES
1 teaspoon cooking oil
1 garlic cloves, finely minced
1 teaspoon finely minced red chile pepper
1/2 lime, juiced
2 tablespoons honey
1/4 cup peanut butter
2/3 cup hot water
2 tablespoons reduced-sodium soy sauce
8 ounces spaghetti, cooked
FOR THE CUCUMBER SALAD
1 medium cucumber, very thinly sliced
1 teaspoon white wine vinegar or rice vinegar
1 tablespoon honey
1/2 teaspoon finely minced red chile pepper


Directions:
For the chicken satay: In a non-aluminum container, combine all ingredients together. Marinate in the refrigerator for 10 minutes or up to 24 hours. Heat the grill to medium-high. Skewer the chicken pieces on the soaked skewers and discard the marinade. Grill the chicken for 3-4 minutes per side, until cooked through. Serve the chicken warm with the peanut noodles.
For the peanut noodles: In a small saucepan over low heat, combine the oil, garlic and peppers and saute for 1-2 minutes or until the garlic becomes fragrant. Add the lime juice, honey, peanut butter, hot water and soy sauce and simmer for 3-5 minutes, stirring occasionally. Toss the pasta with half the peanut sauce. Serve the remaining sauce for dipping the chicken satay.
For the cucumber salad: In a small bowl, toss the cucumber slices, vinegar, honey and peppers. Serve alongside the chicken satay and peanut noodles.