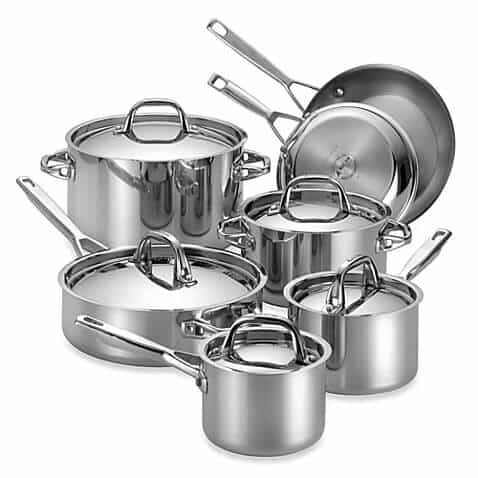 This review of Anolon Tri-Ply Clad Cookware Set features both PROs and CONs. We tested this cookware for 10 days of everyday cooking.
Anolon Tri-Ply Cookware Set Review
What is Tri-Ply Clad?
Tri-Ply Clad cookware means there are 3 layers: 2 stainless steel layers with an aluminum core sandwiched in between.
Stainless steel is non-reactive, strong, resists scratching and denting, and also retains heat well. However, the material tends to take a long time to heat up, and also doesn't allow the heat to transfer well.
Aluminum, on the other hand is quick to heat, distributes heat well, but is not strong (think aluminum cans and tin foil). Plus, aluminum reacts to acidic foods, like tomato.
Cookware manufacturers discovered that sandwiching the aluminum between sheets of stainless steel gives the cook the best of both worlds.
To make "Clad" cookware, Anolon first layers the stainless steel-aluminum-stainless steel materials into a sheet. Then the sheet is pressed and molded into the cookware shape (the cooking vessel only, not the handle).
That means the thickness of the sides of the cookware is the same as the bottom of the cookware.
In contrast, "Disc-bottom" cookware uses a thinner layer of metal to mold into shape. Then, thicker layers of other conductive material is bonded to the bottom of the cookware. This results in a heavy bottom that conducts heat well, but thinner sides, which means uneven heating top to bottom.
Clad cookware is worth the money, if you are an avid cook: you'll get more even heating, faster cook times and less burning. Sauces, soups need less stirring, as the heat transfers up the side of the pan.
How did Anolon Tri-Ply Clad Cookware Perform?
PRO: Our tests show that the Anolon cookware heats very evenly. Onions sautéed in the middle of the pan browned the same time as the onions on outer edges of the pan.
PRO: The handles on the frying pan, sauce pans and saute pans are pretty comfortable, they each have a "Y" shaped handle that makes it easier to grip with your thumb if you needed.
Those with smaller hands, weaker arms will find this useful. Imagine trying to transport a very full pan with just one hand! The thumb grip gives you more steadiness and leverage.
CON: That same Y shaped handle also means it's harder to clean. Grease splatters that end up in that little space is almost impossible to scrub out. My advice is to wash and scrub the pan while it's hot – before the oil hardens and turns into a sticky, discolored grease. The Anolon logo that's indented into the handle is also a magnet for grease — and it's in a tough spot to clean with a scrubby.
PRO: The lids, stockpot handles and helper handles are generously sized. They are big enough for clumsy oven-mitted hands to fit and get a good grip.
CON: After cooking in the sauté pan, I realized that the lip is straight. That means the only mess-free way of transporting food from pan to serving dish is to spoon the food out.
Pouring from the straight-edge (vs. flared edge) results in spilling and dripping.
Other details
Everything is oven safe up to 500F, even the lids.
Suitable for all types of cooking surfaces: gas, electric, induction, glass.
Dishwasher safe (though I highly recommend hand-washing, right after you take it from the heat)
Lifetime warranty
PRO: The Anolon Tri-Ply Clad 12-piece set has all basics you should look for. No frills, essential pieces that will serve you well, at a price that's reasonable.
CON: Inconsistent pricing. If you're looking to buy this set, search online for best prices. I've seen prices for the same set vary from $499 to $250.
Anolon's online store sells the set for $399, and includes a bonus 3-Quart Covered Braiser. The size of the braiser is a little small – too small for a family of 4 meal. It's an awkward size for a braiser. You can braise a couple of chicken thighs in a curry sauce, few sausages in tomato/veg sauce. But anything larger than that really should be done in a larger pan. My advice is to search for cheaper pricing and forgo the bonus pan.
Anolon Tri Ply Clad Cookware Set Giveaway
Anolon is providing a 12-piece set plus bonus braiser pan for our giveaway.